Russell Wilson Just Revealed His Key To Performing in the Clutch
Russell Wilson is one of the top quarterbacks in football. That means that he's more than just a talented athlete. He also prepares plenty for each opponent. He spends time in the film room and on the practice field getting ready to play every Sunday. But playing football at a high level is about more than just practicing the same plays repeatedly. There's a mental aspect to the game that separates the truly great players from the average ones.
There's no question that Wilson possesses the mental ability and strength to maintain his high quality of play. It's also served him in tight situations where he needed to make a big throw in an important spot. Wilson was recently interviewed about performing in the clutch, and he had some enlightening things to say about how he manages to come up big when it matters most.
Russell Wilson has been improving his entire career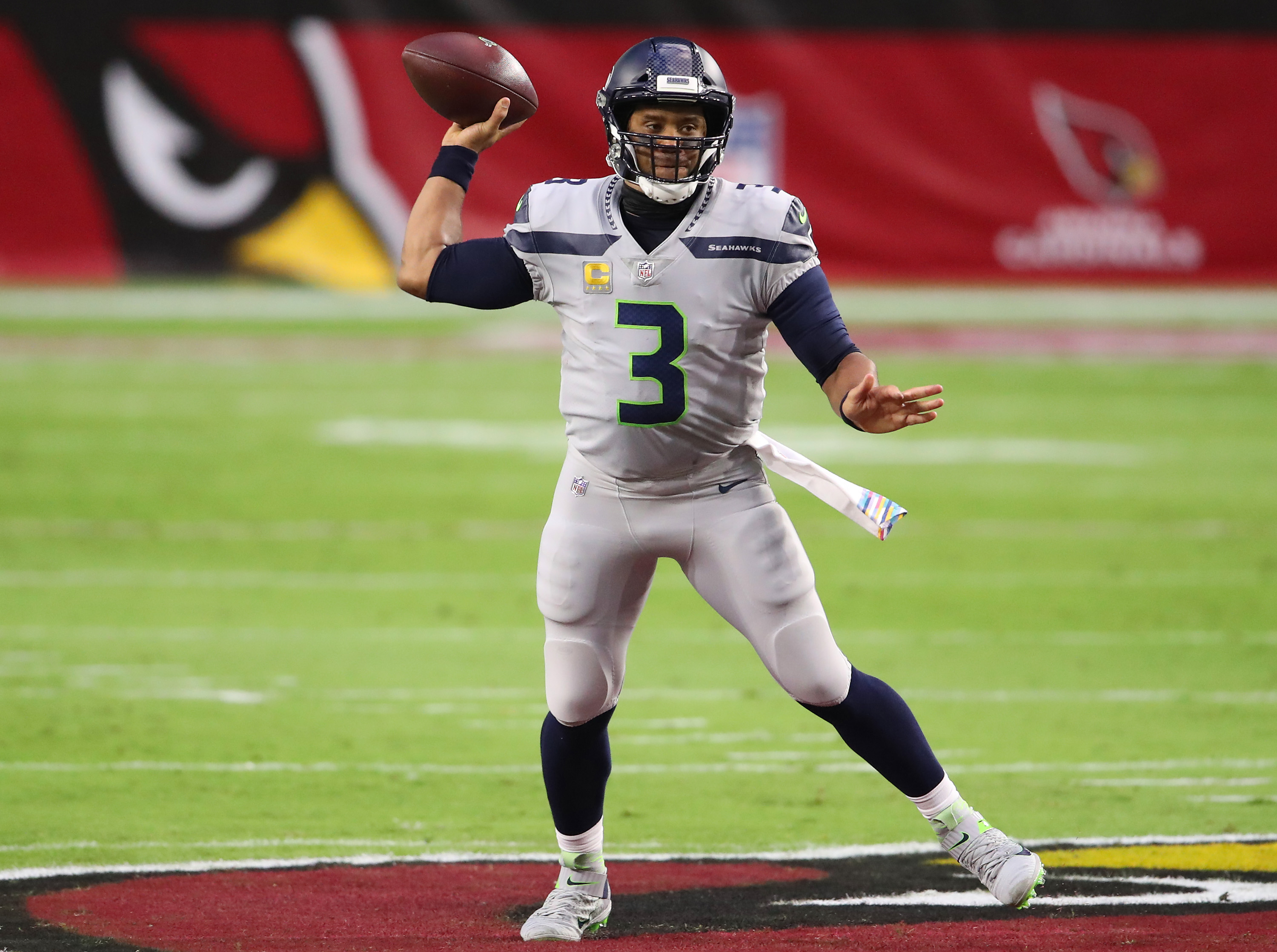 Wilson's always been a player who overcame long odds. He was the 75th overall pick in the 2012 NFL Draft. Wilson played at both Wisconsin and North Carolina State in college, and he was seen as something of a long shot heading into the NFL.
Wilson was undersized and there were question marks surrounding his game. He has obviously answered those questions. 
In 134 career games, he's thrown for 249 touchdowns and 31,624 yards. He's also become the unquestioned leader of the Seattle Seahawks. When he was a rookie, the Seahawks were very much led by their outspoken "Legion of Boom" defense.
Now that many of those players have moved on and Wilson has matured? It's undoubtedly Wilson's team. Though he hasn't been back to a Super Bowl in several years, it seems like only a matter of time before he gets the ever-competitive Seahawks back to the promised land. 
How Russell Wilson has persevered despite the odds
RELATED: Russell Wilson's MVP Campaign Faces an Unexpected Threat
After leading his team to one Super Bowl victory and another appearance where they got tantalizingly close, there's no question Wilson is now one of the game's best.
Consider the 2012 NFL Draft as a way to gauge his success. That year, the top two overall picks at quarterback were Andrew Luck and Robert Griffin III. They were seen as can't-miss prospects, while Wilson had to wait well into the third round to hear his name called.
Despite this fact, Wilson has had a better career than both Luck and Griffin. Luck has retired from football while Griffin is now a backup with the Baltimore Ravens. 
So how has Wilson managed to play at such a high level? Two words: mental toughness.
How to remain neutral in clutch situations
RELATED: Russell Wilson Is So Athletic He Needs Special Practice Drills Made Just for Him
Wilson appeared on The Bill Simmons Podcast recently. He spoke about performing in the clutch. His secret is simple: stay neutral. 
"The biggest thing to me is the mental game. The mental game is so important…..listen, I'm a positive person by nature….the reality is when you're down by a bunch, you're down by 16, whatever it may be….it's really hard to be positive….being negative is never going to get you anywhere."
Wilson goes on to say he "shifts into neutral," with a "neutral mindset." He doesn't try to be too positive or negative. He also talked about "limiting the chaos." There's something to be said for Wilson's approach.
Rather than get too high or too low, he never lets the moment overwhelm him. He keeps an even keel no matter what the situation. It has to be a reason why he's been able to make big plays in so many important moments. To win in the clutch, Wilson simply stays calm and performs. 
All stats courtesy of Pro Football Reference