Russell Wilson Becomes the Next Player to Feel Terry Bradshaw's Wrath: 'Shut Your Mouth, Play Quarterback'
Terry Bradshaw made headlines recently when he blasted Aaron Rodgers for his displeasure with the Green Bay Packers. However, Rodgers wasn't the only one Bradshaw called out, as the former Steelers star also took issue with Seattle Seahawks quarterback Russell Wilson.
After it looked as if he was going to be the next quarterback on the move earlier this offseason, reports around Wilson have been quiet of late. But when asked about Wilson's issues with the Seahawks, Bradshaw didn't hold back.
Quarterback Russell Wilson had issues with the Seahawks
Wilson is coming off a season where he threw a career-high 40 touchdown passes. However, he has also been sacked 47 or more times in each of the last three seasons.
This led to him voicing some displeasure with his team in February in two separate interviews, as he seemed to be frustrated with his pass protection (or lack thereof). He also revealed his desire to have more of a say in the team's personnel decisions.
Some reports ultimately said that Seattle received multiple calls about potential trades for Wilson, and ESPN even reported that the Chicago Bears aggressively pursued him.
However, general manager John Schneider and head coach Pete Carroll recently said everything has been great of late.
"There was some stuff that was said that had to be dealt with, and it has been," Carroll said, per ESPN. "So Russ is in a great place right now, and he's been in a great place throughout the offseason. We have communicated throughout all of the things just like I always have."
Terry Bradshaw blasted the Seahawks' quarterback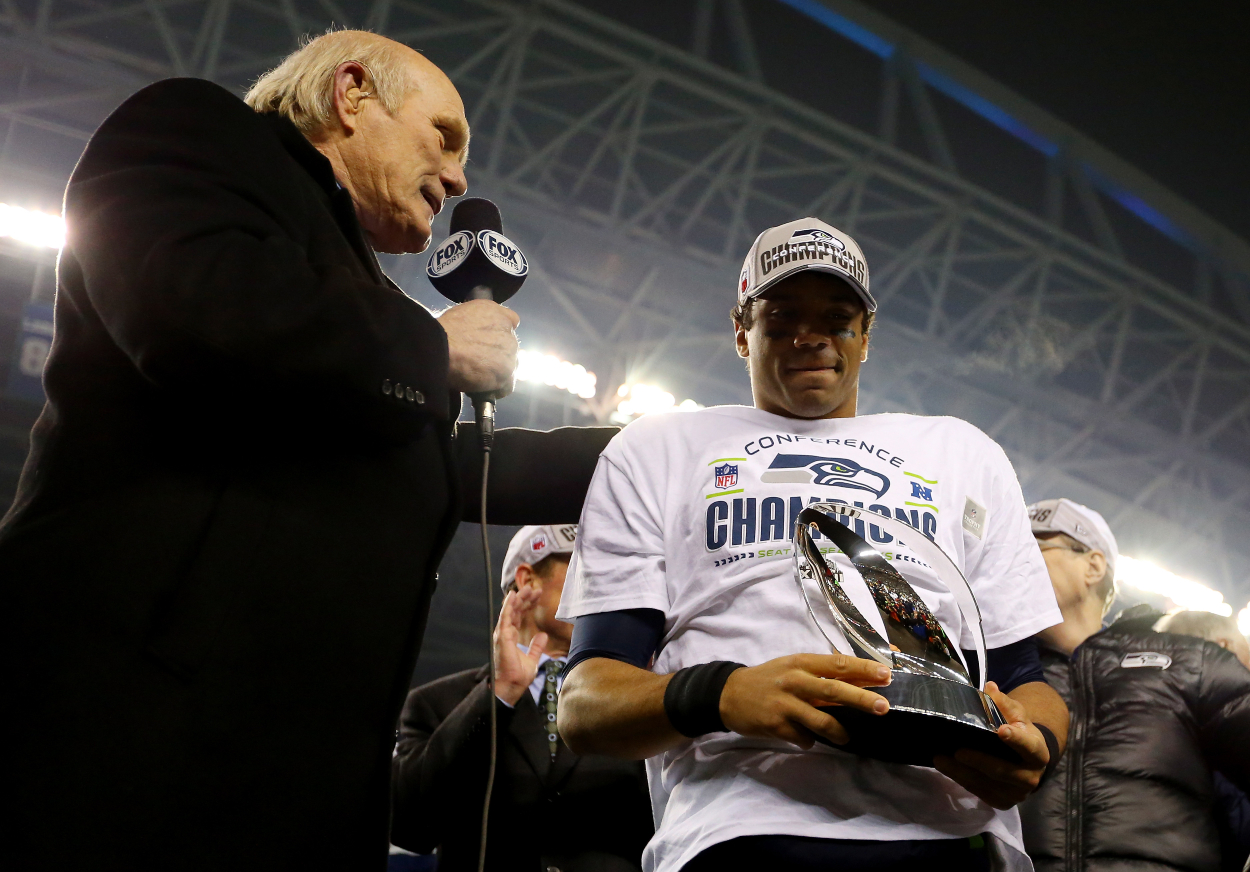 While no new reports regarding Wilson's unhappiness have emerged lately, Terry Bradshaw received a question about it in relation to Aaron Rodgers and his beef with the Green Bay Packers' front office. ESPN reported that Rodgers has discussed with people in Green Bay's organization that he could potentially not return in 2021.
When discussing the Seahawks' quarterback, Bradshaw did not hold back.
"I'd say the same thing to Russell: 'shut your mouth, play quarterback,'" Bradshaw said on WFAN's Moose and Maggie. "You are a blessed man; he be making millions that all of us on this Zoom call right now would give anything to make that in a lifetime of earnings. I have no respect, I have no patience with people that do that. Russell Wilson: just shut your mouth, play your game."
Bradshaw added that he thinks Wilson and others just need to let TV and radio personalities criticize the teams. The players need to be team-first, in his opinion.
"Let us say how bad they are; we'll defend you," Bradshaw said. "But when you start shooting your mouth off, that takes me out of the equation. I'm not gonna defend you at all. … Where does a player have a right to criticize the front office when, in fact, they are the stars of the football team, and they're making all this money, and all of sudden they think that empowers them to have a position? A place to go and say, 'Hey, I want this. I want that'? (The teams) know what they need. They're not stupid. … But to have a player make these threats and demands, it drives me nuts."
Terry Bradshaw also called out Aaron Rodgers
Bradshaw certainly didn't hold back when talking about Wilson, but the Seahawks' quarterback hasn't been the only one to get called out by Bradshaw recently.
With all these reports coming out of Rodgers wanting out of Green Bay, Bradshaw made headlines with his comment about the Packers' QB.
"With him being that upset shows me just how weak he is," he said on Moose and Maggie. "Who the hell cares who you draft? I mean, he's a three-time MVP in the league, and he's worried about this guy they drafted last year at No. 1?"
Bradshaw also discussed the topic on the Parkins & Spiegel Show.
"Well, (Rodgers is) just dumber than a box of rocks, isn't he?" Bradshaw said, per NESN. "I mean, he signed that contract, he didn't have to sign that extension. He got all that money. I don't know what happened there, they draft (Jordan Love) last year and he wasn't happy about it. He goes out and becomes the MVP of the league, now he wants out. Now he's claiming that they said they would trade him or what."
Bradshaw has made his position clear: if you're an unhappy player who chooses to voice your opinion, he has no respect for you.
We'll see if any other players end up on the other side of Bradshaw's wrath in the future.
Stats courtesy of Pro Football Reference