Russell Wilson is Officially the Greatest Seahawks Quarterback of All Time
The Seattle Seahawks' 30-24 win over the Carolina Panthers in Week 15 added another bullet point on quarterback Russell Wilson's resume. Yet, in one sense, he came up short.

Wilson owned most of the Seahawks major passing records coming into 2019. He had the most wins, the most touchdowns, and the highest completion percentage of anyone who logged significant time under center. But it took until Week 16 of the 2019 campaign for Wilson to set one huge milestone for Seattle.

Let's take a look at how Wilson's skills developed to the point that he may be the best QB in Seahawks franchise history.

How Russell Wilson's career got to this point
Russell Wilson wasn't built to be a quarterback. Or, at least, that's what North Carolina State head coach Tom O'Brien told him as a young player.

"Listen, son, you're never going to play in the National Football League," O'Brien — now famously — told the future Seahawks superstar QB. "You're too small. There's no chance. You've got no shot."

Wilson was a two-sport athlete, drafted by the Colorado Rockies as a second baseman in 2011. That's common for football players, but O'Brien bristled at the idea. He went with Mike Glennon as his starter instead. Glennon played in the NFL, but he won only six games.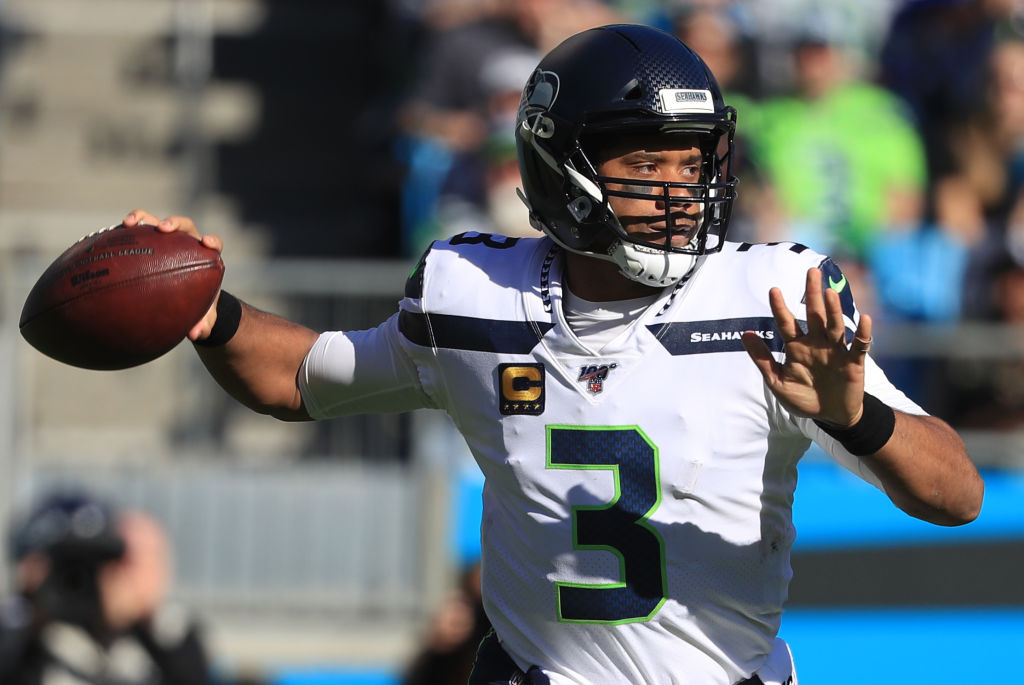 In contrast, Russell Wilson is, well, Russell Wilson. He packed up and moved to Madison, where he played for the University of Wisconsin for his final year. The Seahawks saw what O'Brien didn't, and drafted Wilson in the third round.

Since 2012, Wilson has been the man for the Seahawks offense, where he hit the ground running as the starting QB from week one of his rookie season. Among his many accomplishments, he is most known for leading Seattle to back-to-back Super Bowls, including a win in his first go.
In the process, he's slowly climbed the ranks of the Seahawks legacy, with some objective receipts backing up his claim for being one of the best QBs to play for the team.

Russell Wilson's current Seahawks records
The result of the game — a loss against the Cardinals — wasn't ideal, but there was a silver lining for Russell Wilson. He overtook Matt Hasselbeck as the leader in total passing yards with the franchise.

Wilson's record is actually just one of the biggest of a string of franchise-leading accomplishments in his name.

Wilson holds the franchise titles for most passes and most touchdowns thrown. This year, he set a new standard for consecutive winning seasons, starting with a QBs' rookie year.

That one, in particular, is not just a Seahawks franchise record, but an NFL record, as well. Not a single QB in the entire 100-year existence of the NFL has eight winning seasons beginning with their rookie year as a starter.
Except for Russell Wilson. So what comes next for a career that already includes so much objective greatness?

What it means for Wilson to break Matt Hasselbeck's record
Matt Hasselbeck is Seahawks royalty. And the biggest gem in his crown was his total passing yards with the organization: 29,434. Now, it's a royal title that belongs to Russell Wilson. While it's rewarding to own yet another franchise record, it wasn't high on the list of goals for Wilson this season.

In an interview with Sports Illustrated, he made it clear that he has his eyes on a different prize.

"I just think whenever you go into a year, the number one thing is to win the Super Bowl and try to do that. I think all the other accolades come by success and how you're playing and production," Wilson said.

That's likely the mindset that got him to the Super Bowl twice already. Whether he pulls off that feat this year is impossible to predict. But the end of Hasselbeck's leaderboard topping all-time passing record? That one's a bit easier to predict.