Russell Wilson Reveals His Ambition to Be an NFL Owner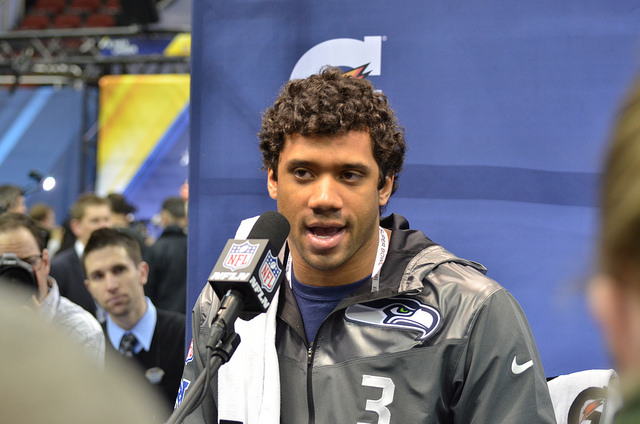 Russell Wilson, quarterback for the Seattle Seahawks and largely ceremonial second baseman for the Texas Rangers, disclosed his ambitions toward team ownership — football or baseball – in a discussion with the Wall Street Journal earlier this week. Wilson, who was instrumental in keeping the Seattle Seahawks steady on their way to victory over Peyton Manning and the Denver Broncos in Super Bowl XLVIII, was famously selected in the 12th round of the 2012 NFL draft with the 75th pick. Well after Andrew Luck, RGII, Nick Foles, and Brandon Weedon, who have a total of zero Super Bowl wins between them.
Wilson, who spent the days after the Super Bowl win on a media blitz, is slated to show up to spring training with the Rangers, and although he'll be in uniform he's not expected to do very much on the field. Why squander his precious off-season hanging around in Texas? In addition to providing a championship-tested voice for less-accomplished athletes (Russ will mainly be used as a sort of in-house motivational speaker, Rangers manager Ron Washington told NBB Sports), Wilson plans to use the opportunity to network and further his goals towards ownership of a team.
Citing his relationship with Microsoft, the Seattle quarterback said that the most important thing about his adventure with baseball was to get around as many people as possible while putting his best foot forward. Wilson, who's 2013 season salary of $526,217 is equal to about five ten-thousandths (o.oo5 percent) of the Texans $1billion net worth, answered a question about the rookie-scale contracts under the new CBA from the Wall Street Journal by saying that he takes the field everyday to prove to the Seahawks that he is "a franchise type of player." When the question of a new contract came up, Wilson brushed it off, saying that "hopefully, when the time comes, they'll take care of me."
When pressed further by the Journal, Wilson let it be known that, "[He'd] never been good at math," and that his focus was on going out onto the field and playing the game, rather than worrying about when to begin renegotiating his contract — the NFL salary cap is projected to rise at the outset of the 2014 season. Wilson's relentlessly upbeat nature, refusal to be baited into anything controversial and single-minded focus on goals are nothing new for the Seahawks.
According to some of their players, Russell Wilson could be a robot. The evidence is compelling.