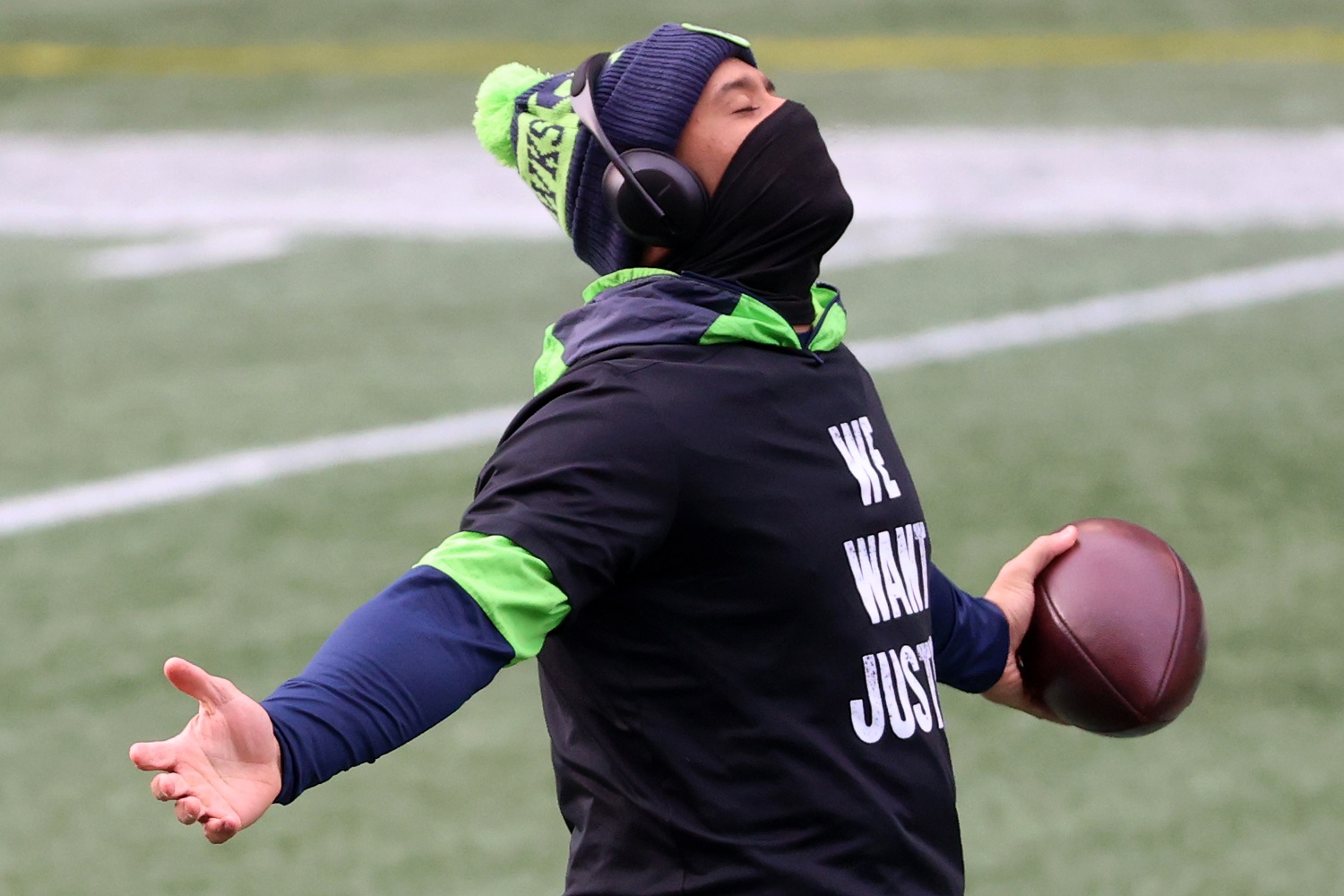 Russell Wilson's Time in Seattle Is a Little Less Safe Than It Already Was
Russell Wilson had already expressed concern about his offensive line, and now he's lost a veteran blocker to retirement.
It's an exaggeration that no quarterback other than Patrick Mahomes or Tom Brady is secure this NFL offseason – but not by much. Russell Wilson should be on the untouchable list, too, but teams have been calling the Seattle Seahawks just in case. Then again, it's been a while since Wilson has had a reason to feel safe.
Wilson has been sacked an average of three times a game over the past three seasons and recently made it known that he wants a better offensive line. It's led to coach Pete Carroll and the Seahawks getting those inquiries.
The callers knew that a trade was a longshot at best. However, Wilson has a fresh reason to worry about his remaining time in Seattle.
Russell Wilson is too good to let go
The first half of Russell Wilson's 2020 season was better than the second, but the numbers still added up to another solid year for the Seattle Seahawks. Wilson finished with 40 touchdown passes and one completed dump-off pass from a career high in yardage. His completion percentage in the "Let Russ Cook" season was a career high, and his 105.1 passer rating was at its usual stellar level.
However, there was that matter of Wilson taking 47 sacks, one below his league-high total of a year earlier. The shock of the 30-20 loss to the Los Angeles Rams, making for a one-and-done postseason, had barely worn off when the rumblings started that Wilson was demanding better protection in 2021.
Pro Bowl selections are a dicey way to judge, but only four Seahawks offensive linemen have earned that honor since Wilson joined the Seahawks in 2012 and stepped right into the lineup: center Max Unger (2012 and '13), and left tackles Russell Okung (2012) and Duane Brown (2017). The line has never rated higher than 16th in pass blocking in that time, The Seattle Times reported by way of Pro Football Focus.
Through it all, though, Wilson has led Seattle to a victory in the Super Bowl, has thrown 267 touchdown passes in nine seasons, and has secured seven of those Pro Bowl invitations for himself.
How can the Seahawks get better up front?
Russell Wilson's ability to extend plays by scrambling is well known. That results in some big plays, but there are also times when he runs himself into sacks. Still, he
 has been sacked a league-high 394 times in his nine NFL seasons, and there's not a quarterback alive who can blame all his sacks on his protection.
So, what can the Seahawks do to remedy shortcomings on the line? Spotrac.com projects the Seahawks at $14.45 million of cap space pending the usual offseason moves, so there might be some room there to pick up a free agent.
The NFL draft is another option, but Seattle has less capital than most after trading its first- and third-round picks to the New York Jets in the Jamal Adams  deal. Clearly, this is not the optimal year to make up for picking only five linemen in the last four drafts.
Russell Wilson's safety has received another blow
Quarterback Russell Wilson and coach Pete Carroll have received more bad news about the offensive line. Longtime center and guard Mike Iupati told The Spokesman-Review on Feb. 22, 2021, that he is retiring after 11 pro seasons with 11 teams.
Iupati arrived n 2019 after four seasons with the Arizona Cardinals and started 25 games over two seasons with the Seattle Seahawks. Injuries limited him to 10 games in 2020.
"My body was telling me it was time to close the door," he told the paper.
Iupati's departure means that's one more move the Seahawks will have to make to shore up their line as they chase their 10th straight winning season and a fourth straight trip to the playoffs.
Like Sportscasting on Facebook. Follow us on Twitter @sportscasting19.