Russell Wilson Trade: Top 4 Landing Spots For Seahawks QB
The quarterback market is as robust as it has ever been. Names such as Deshaun Watson, Aaron Rodgers, Carson Wentz, Jimmy Garoppolo, and Russell Wilson are all rumored to be traded this offseason. Lately, the rumors with Wilson are picking up after the Seattle Seahawks QB erased all mentions of the team from his social media.
The drama regarding Wilson is one of the biggest storylines to watch, especially with Rodgers more likely to return to Green Bay for 2022. If the Seahawks decide to trade their star QB, many teams should be interested.
Assuming Wilson is made available, here are the four best landing spots for him, with the criteria being teams that can afford to trade for him and that he would want to play for.
Denver Broncos
Yes, the Denver Broncos are head over heels in an attempt to land Rodgers. The hiring of Nathaniel Hackett seems like a desperate move to attract Rodgers.
However, if that doesn't work out, Wilson isn't a bad consolation prize. In fact, Wilson might be a better option all around. The price should be less than the NFL MVP, and Wilson is younger than Rodgers and might be inclined to stay in Denver for another couple of seasons.
The pieces are in place for an average QB to take over and help lead the Broncos to the playoffs, and adding Wilson to a division that includes Justin Herbert and Patrick Mahomes would be something.
If Rodgers doesn't go to Denver, they should waste no time and put together a stellar package in an attempt to land Wilson.
Pittsburgh Steelers
The Pittsburgh Steelers being in the QB market feels weird. But, Ben Roethlisberger heading into retirement leaves them in need of a signal-caller.
With the offense in place and a loaded defense, Pittsburgh can't afford to rebuild and waste a season. So, Wilson to the Steelers makes a ton of sense for both parties.
The AFC North is as competitive as ever, and adding Wilson to a division that already includes Lamar Jackson and Joe Burrow would be quite something. Pittsburgh made the playoffs with a below-average Roethlisberger under center, so bringing in Wilson would instantly have Pittsburgh as one of the favorites in the AFC.
Philadelphia Eagles
Wilson going to the Philadelphia Eagles is perhaps the most interesting team on this list. The verdict is out on Jalen Hurts, and the Eagles have the draft picks to blow everybody else out of the water. Colin Cowherd even suggested that they offer four first-rounders for Wilson — which is a steep price.
Nick Sirianni would love to have Wilson and, with the volatility of the NFC East, who knows what the Eagles do next year with him under center. Perhaps they win the division and stun everybody and become this year's Los Angeles Rams, as some have said.
The Eagles made the playoffs this past year with Hurts running the show — and a cameo from Gardner Minshew — and Wilson would be a massive upgrade over the former Alabama quarterback.
Tampa Bay Buccaneers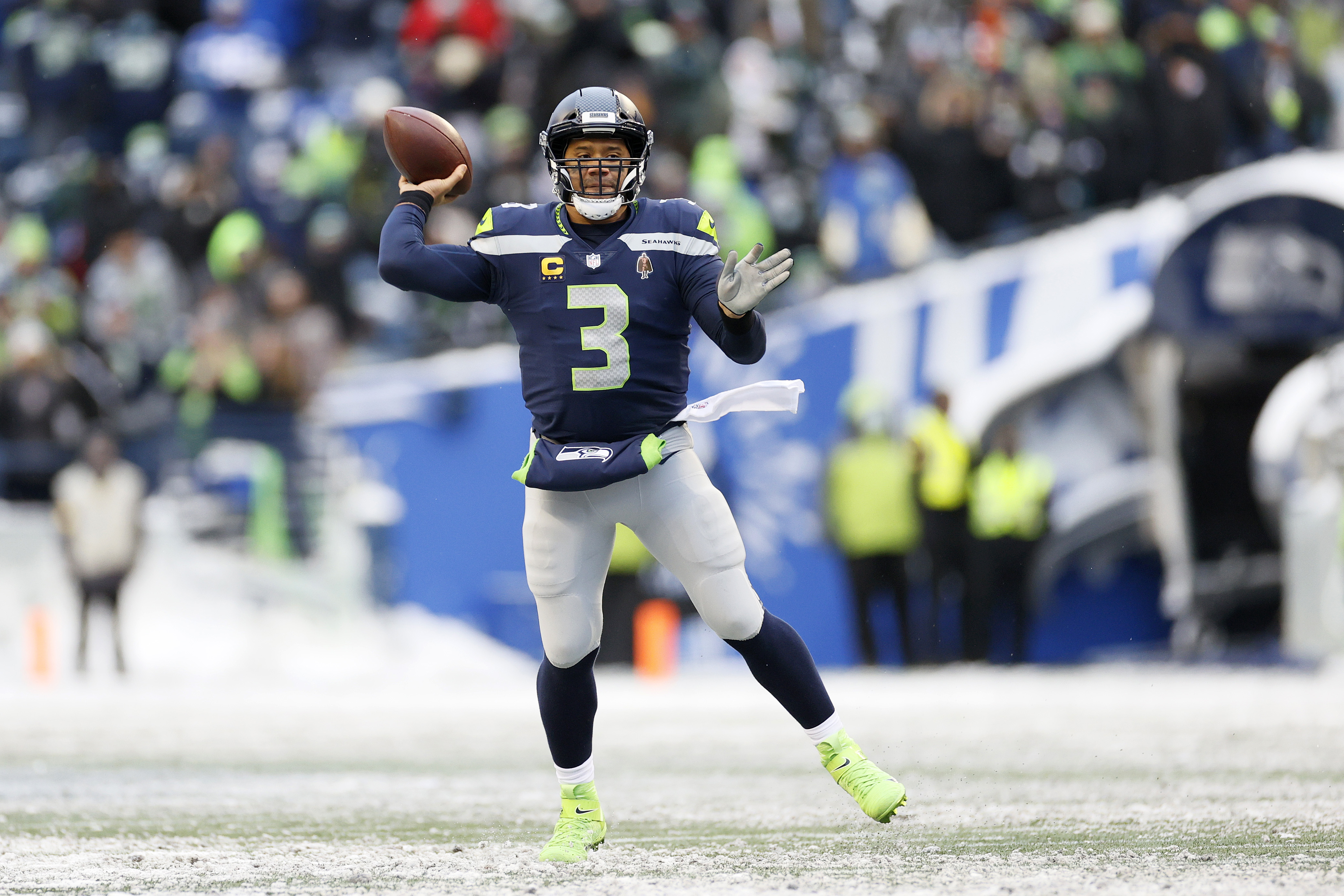 Oh, man. Let the fun times roll.
Tom Brady retired and left the Tampa Bay Buccaneers scrambling for a QB. Despite what Bruce Arians says, Blaine Gabbert is not the answer when the season rolls around. There just isn't any way they do that.
The Buccaneers championship window is closing by the season, but bringing in Wilson would be a huge upgrade over Kyle Trask, Gabbert, or essentially anybody else not named Rodgers or Watson.
It might take a lot, but with Arians likely coaching one final season before retirement, this move makes a ton of sense.
At this point, who knows what the Seahawks do with Wilson, but his patience must be running out in the Pacific Northwest, and his landing on any of these four teams would instantly boost their Super Bowl odds going into the 2022 NFL season.
Stats Courtesy of Pro Football Reference
RELATED: Russell Wilson Rumors: Is It Over in Seattle After the QB Scrubs Seahawks From His Twitter?