A Russell Wilson Trade Could Reportedly Ensure the Seahawks Draft Matt Corral
Article Highlights:
The Seattle Seahawks could reportedly pursue Ole Miss' Matt Corral if the team trades Russell Wilson
Corral, who is currently projected to go within the 2022 NFL Draft's first two rounds, totaled 31 all-purpose touchdowns for the Rebels last season
Corral makes sense for the Seahawks even if the team doesn't trade Wilson this offseason
Try as they might, it doesn't appear any NFL team is going to pry Russell Wilson away from the Seattle Seahawks. Although trade rumors have surrounded the nine-time Pro Bowler for a year, the indication is that he'll remain in the Pacific Northwest for the foreseeable future.
However, suppose the relationship between both sides officially falls apart ahead of the 2022 NFL Draft. If the Seahawks did trade Wilson within the next few weeks, they might not need to spend too much time pondering his potential replacement.
The Seahawks could reportedly turn their eyes to Matt Corral if Russell Wilson is traded
As of publication, there has been no credible indication that the Seahawks plan on trading Wilson this offseason. NFL Media's Ian Rapoport reported on Friday, March 4, that Seattle recently turned down the Washington Commanders' "strong" trade offer.
Of course, anything is possible, especially if Wilson doesn't like what he sees in free agency or if he feels a power play is in his best interest. According to WalterFootball's Charlie Campbell, the Seahawks feel strongly about Ole Miss quarterback Matt Corral's NFL potential and could pursue the All-SEC signal-caller if the situation with Wilson deteriorates to the point where a trade occurs.
Corral, who turned 23 in January, completed 67.3% of his passes for 8,287 yards, 57 touchdowns, and 23 interceptions in four seasons at Ole Miss. He also rushed for 1,338 yards and 18 touchdowns during his college career.
Following two years of backup duty, Corral took a significant leap forward when offensive mastermind Lane Kiffin arrived ahead of the 2020 season. After throwing for 29 touchdowns and 14 interceptions across 10 games in 2020, Corral only threw five interceptions and tallied 31 all-purpose scores (20 passing, 11 rushing) for the Rebels last year. He spent most of the 2021 campaign as a Heisman Trophy contender and finished seventh in the voting.
As of publication, Corral was projected to be selected within the 2022 NFL Draft's first two rounds. The Seahawks do not have a first-round pick after choosing to acquire New York Jets linebacker — er, we mean, safety — Jamal Adams in 2020.
Corral would be an intriguing developmental prospect even if the Seahawks don't trade Wilson
To be clear, the Seahawks have far greater draft needs than a quarterback. Seattle needs defensive playmakers, especially if the Super Bowl 48 champions intend on competing for a playoff berth next season. Wilson could also benefit from a young tight end such as Coastal Carolina's Isaiah Likely or Texas Tech's Jalen Wydermyer.
However, Corral might not be a wasted pick even if he fell to the Seahawks at 41st overall. Wilson is only under contract for two more seasons, and there is no reason to currently believe he will finish his career in Seattle.
If the Seahawks drafted Corral, they could allow him to use the 2022 season as a de facto redshirt year. Then, Seattle could decide if the best option is keeping Wilson for 2023, trading him to a team that would likely sign him to an immediate extension, or extending Wilson and trying to ensure he finishes his career in Seattle.
Obviously, that third option isn't ideal for Corral, who would likely spend his entire rookie contract blocked behind a perennial Pro Bowl selection. At least he'd be getting paid to ride the bench.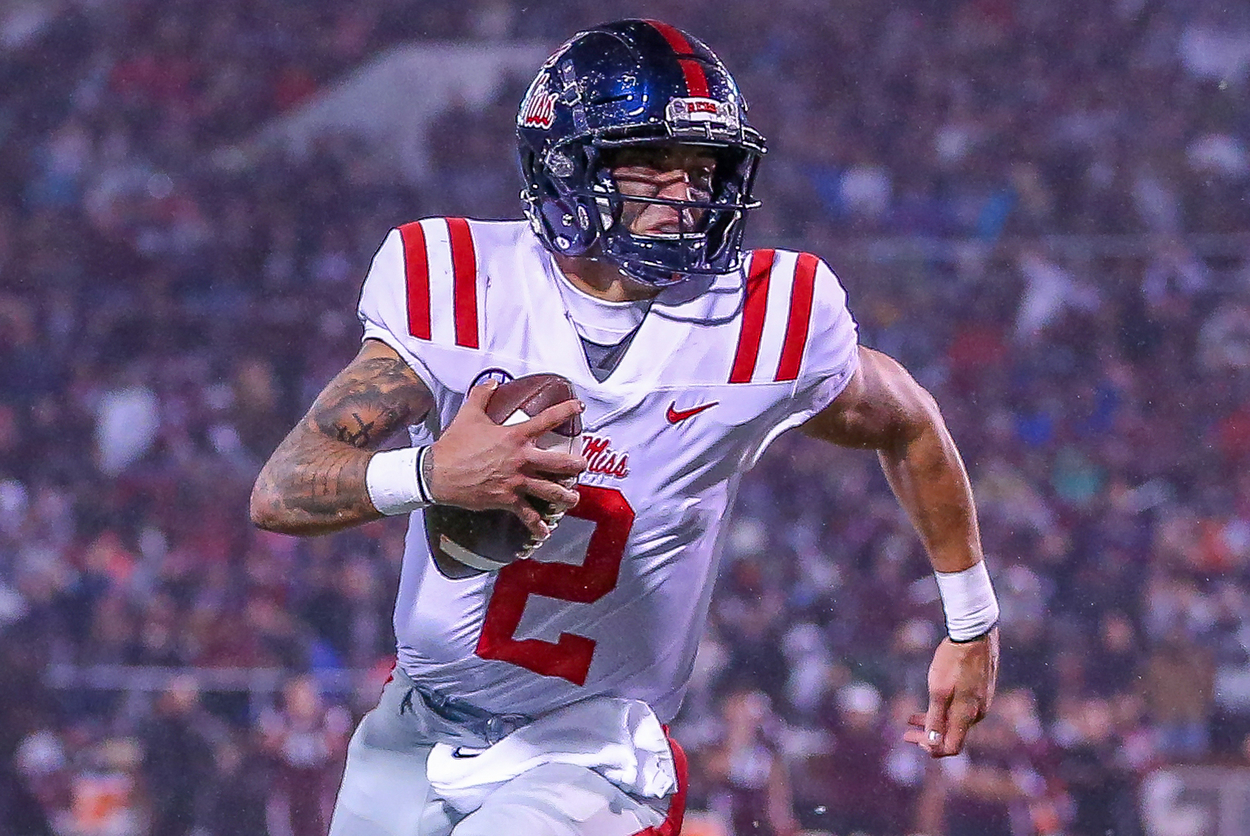 But, if the Seahawks do trade Wilson and effectively punt on the 2022 season, Corral isn't a terrible option to groom for a few months or even the entire season. He's a competitive quarterback who tries to make the most of every play, even if it means risking himself to injury.
Wilson has followed that playstyle for a decade, and things have certainly worked in his favor.
Fair or not, the Wilson trade rumors are lingering for a reason
The Seahawks insist on making it clear they don't want to trade Wilson regardless of the return. Fine. Tampa Bay Buccaneers head coach Bruce Arians recently remarked he'd only trade away Tom Brady's rights if someone sends him five first-round picks, so the combination of loyalty and stubbornness isn't specific to one team.
The problem here is the same one the Green Bay Packers have had with Aaron Rodgers and the same one the Buccaneers are having with Brady. No one ever wants to come out and tell the truth. Instead, it's always half-truths and vague comments that could fool maybe a toddler.
Maybe. Toddlers are smarter than they look.
Just once, it'd be great to see a veteran quarterback — in this case, Wilson — take the stage and say, "I want to finish my career in Seattle, and I plan on doing so if given the opportunity" or "I'm grateful for all that I've accomplished with the Seahawks, but I do believe it's time to move on."
During a recent appearance on NBC's The Today Show, Wilson said, "Seattle's the place I'm at right now," and he loves it in the Pacific Northwest. But why do we need the "right now?" Why does Brady continue teasing an NFL comeback only weeks after retiring?
Forget taking down the rival Los Angeles Rams and San Francisco 49ers. Corral might become beloved in Seattle if he becomes one of the few quarterbacks to genuinely speak his mind and avoid the nonsense.
Like Sportscasting on Facebook. Follow us on Twitter @sportscasting19.
RELATED: Russell Wilson and Jimmy Garoppolo Throw Chaos Into Quarterback Trade Market