Russell Wilson Trade Rumors: Why the Colts Are Foolishly Wasting Their Time
Despite previously trading a first-round pick for Carson Wentz, the Indianapolis Colts are reportedly looking for a new quarterback altogether. Wentz had a solid season from a numbers perspective. However, his shaky end-of-year performance against the Jacksonville Jaguars caused ownership to sour on him.
Colts owner Jim Irsay isn't exactly a secretive man. Since the season's end, he's repeatedly made it known that he wants to acquire a proper superstar at the QB position.
According to a new report, Irsay has lasered his focus on Seattle Seahawks QB Russell Wilson. Wilson is obviously one of the best passers in the NFL. However, this is an incredibly foolish idea for Indianapolis to pursue.
The Colts' interest in Russell Wilson makes sense at first glance
If Wilson does end up requesting a trade out of Seattle this offseason, nearly every team in the NFL should come calling for his services. Unless you have someone like Patrick Mahomes or Josh Allen at quarterback, Wilson represents an immediate upgrade at the most crucial position in sports.
Wilson is on the wrong side of 30. However, he's famous for the immense amount of energy he puts toward keeping his body healthy. He's suffered few serious injuries in his NFL career.
Taking all this into account, it does make sense — on paper — for Irsay to be a fan. Irsay clearly understands the value of having an elite passer under center, and Wilson is arguably one of the five best quarterbacks in football when healthy. If the Colts were in a position to acquire Wilson, it'd be an excellent fit.
The only problem? The Colts aren't in a position to acquire Wilson. In fact, they're not even close.
Why Irsay's interest in Russell Wilson is actually foolish
Indianapolis has the cap space to take on Wilson's lofty salary. However, it doesn't have the draft capital to swing such a franchise-altering trade.
The Colts' 2022 first-round pick is currently in possession of the Philadelphia Eagles. For Colts GM Chris Ballard to get a deal for Wilson done, he'd have to dip into 2023, 2024, and possibly even 2025 to find enough picks to outbid rival organizations. As great as Wilson is, giving up draft capital three years down the road is simply irresponsible.
Additionally, the Colts don't have as great a roster as Irsay believes. It's easier to blame Wentz for their struggles in 2021. However, the team's wide receiver room, offensive line, and secondary failed to deliver down the stretch as well. These position groups need serious attention.
The Colts can stick with Carson Wentz, or downgrade their QB position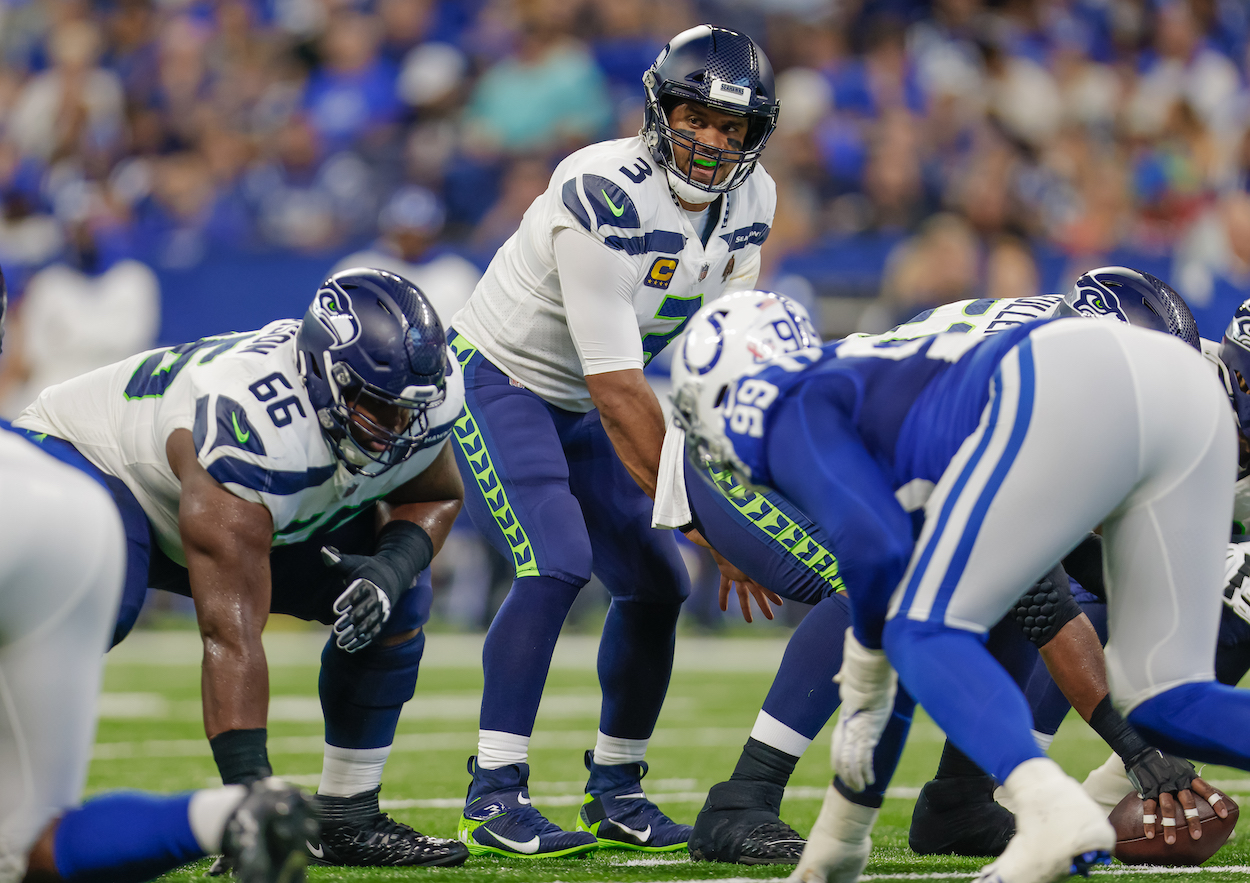 As much as Irsay seemingly dislikes Wentz, the numbers tell a far different story. Wentz finished 2021 with the ninth-best quarterback rating and 13th-best passer rating. He passed for 27 touchdowns and only seven interceptions. He's the primary reason the Colts knocked off the surging Arizona Cardinals on Christmas Day.
Irsay can complain about the end-of-year collapse as much as he wants, but replacing that type of production isn't as easy as he wants to believe.
The Colts have two realistic options. They can make amends with Wentz and improve the roster around him. Or, they can cut/trade Wentz and sign someone mediocre like Mitchell Trubisky or Jameis Winston. The better option is pretty clear when laid out like this.
Forget the Russell Wilson dream. The Colts need to live with their current investment and work toward finding solutions to the problems around Wentz.
All stats courtesy of Pro Football Reference.
RELATED: Lane Johnson Breaks Silence on Controversial Former Teammate Carson Wentz