Russell Wilson's Uncertain Future With the Seattle Seahawks Has 2 Politicians Getting Involved
Things have become tense between Russell Wilson and the Seattle Seahawks. There have been recent rumors that he could be traded from the team. Even though Wilson's said he's happy in Seattle, that doesn't mean teams or their politicians won't be recruiting him.
Wilson's talents under center make any team he joins instant contenders. Two mayors know this and are doing their best trying to convince the veteran quarterback that their team is the best one for him.
Russell Wilson's sticky situation with the Seattle Seahawks
RELATED: Stephen A. Smith Gives Strong Message About Russell Wilson, Says He Has Been 'Basically Abused'
Russell Wilson's relationship with the Seattle Seahawks began to deteriorate after the nine-year signal-caller spoke about his frustrations with the team on the Dan Patrick Show. Wilson discussed how he doesn't like being hit as much as he has. According to CBS Sports, he's been sacked 394 times in his first nine seasons, the most since the 1970 AFL-NFL merger.
The star's comments didn't sit well with Seahawks management, further creating a rift between the two sides. After more stories about Wilson butting heads with head coach Pete Carroll and Seattle's front office became public, trade rumors started to surface. Mark Rodgers, the 32-year-old quarterback's agent, added more fuel to the fire by listing teams his client wouldn't mind being traded to.
The Dallas Cowboys, Chicago Bears, Las Vegas Raiders, and the Saints are the four teams Rodgers gave ESPN's Adam Schefter as potential landing spots for Wilson. Despite the existence of this list, the quarterback said he is happy in Seattle and wants to stay there, according to Schefter.
With Russell Wilson's future with Seattle up in the air, the four teams he listed should be cautiously optimistic about acquiring the Pro-Bowl quarterback. The city of New Orleans would love to have him and his wife, Ciara, in their city, as their mayor just made her sales pitch for the Seahawk signal-caller to join "Who Dat Nation."
New Orleans and Seattle's mayors fight over Russell Wilson on Twitter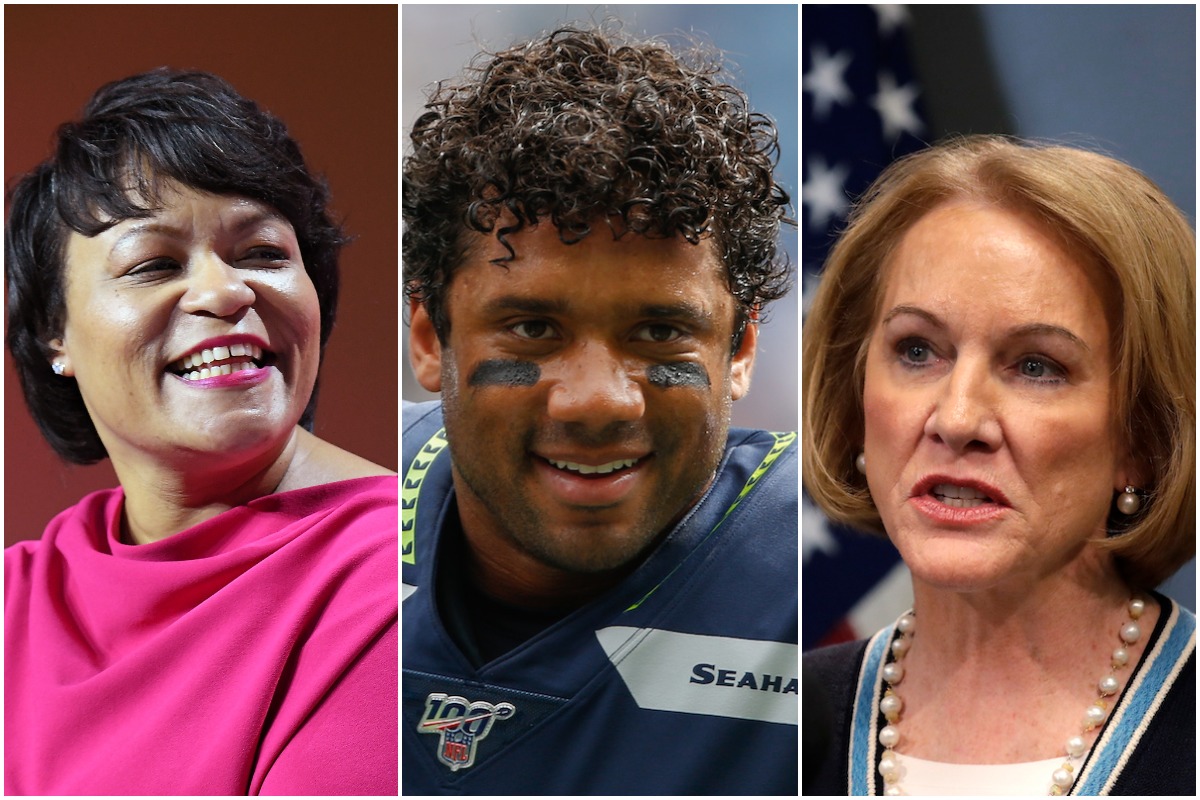 RELATED: Russell Wilson's 2 Hyperbaric Chambers Cost Over $200,000 But They're Worth It, Says the Seahawks Quarterback
The New Orleans Saints could be in the market for a quarterback. Jameis Winston will become a free agent, and Taysom Hill showed few signs that he could be a capable starter. Drew Brees is expected to retire, but no official announcement has been made. City Mayor LaToya Cantrell has heard her team as a potential landing spot for Russell Wilson if Seattle traded him.
"I've heard the rumors now, and I want to make sure that you understand that the city of New Orleans is a place for you and your beautiful family," said Cantrell in a Twitter video. "I can see us winning that Super Bowl championship once again. Just wanted to stop in to let you know that we not only admire you, we want you. The culture of the city of New Orleans awaits you."
The mayor even mentioned Ciara performing at the Essence Festival, appealing to his wife's professional endeavors. The mayor of Seattle, Jenny Durkan, saw Cantrell's pitch to her team's quarterback. She wasn't having any parts of the New Orleans mayor's efforts to steal the Seahawks signal-caller.
"I love you, Mayor, but keep your eyes off @DangeRussWilson [Russell Wilson]. His home is Seattle. #GoHawks," Durkan tweeted in response to Cantrell.
Is it logical that Russell Wilson joins the New Orleans Saints?
RELATED: The Dallas Cowboys Strike Down 'Utterly Laughable' Rumors of a Drastic Quarterback Trade
The two mayors fighting over Russell Wilson could be a waste of time. The Seahawks have him under contract for three more years, and he said that he wants to be there. Even if Seattle and New Orleans were to work out a deal, could the Saints even handle Wilson's contract?
The nine-year quarterback's base salary is $60 million over the next three years, according to Spotrac, which would be considered a bargain in today's quarterback market. However, the Saints will have one of the most challenging cap situations in football this offseason. The league salary cap will be at least $180 million, according to Adam Schefter. New Orleans would be $72.3 million over that number, according to SaintsWire. The team should be worried about saving money rather than spending it.
It is unknown if the team is even interested in acquiring the former Wisconsin Badger. Head coach Sean Payton has talked about Winston having a future with New Orleans, and Drew Brees recently sparked speculation that he could return to football after posting a workout video.
The Seattle Seahawks situation with Russell Wilson has city mayors getting involved. He is on the Seahawks for now, but that could change if things worsen between the veteran signal-caller and Seattle. The two politicians will have to wait to see what happens, just like the rest of us.