Russell Wilson Went From Peyton Manning's Football Camp To Beating Him in the Super Bowl
Russell Wilson has become one of the best quarterbacks in the NFL over the last decade. Part of that is because he learned from one of the best of all-time — Peyton Manning.
Wilson once attended Manning's football camp, and from there he would go on to become a superstar in the NFL He got so good, in fact, that his Seahawks once faced Manning's Broncos in the Super Bowl — and Wilson got the win over his mentor.
The careers of Peyton Manning and Russell Wilson
Manning is considered one of the greatest quarterbacks in league history. In 17 seasons, he made 14 Pro Bowls and won the MVP five times, with two Super Bowl rings, winning them with two different teams.
By the time he retired after the 2015 season, Manning held a number of NFL passing records, some of which have since been overtaken, but he still ranks in the top five in a number of stats. His 71,940 passing yards are third all-time, and he's also third with 539 passing touchdowns. And he led his teams to a record 43 fourth-quarter comebacks.
Wilson is entering his ninth season with the Seahawks. He has thrown for 29,734 yards and 227 touchdowns, with an incredible 68 interceptions in nearly 3800 passes — an interception rate of just 1.8%.
That's put him in a tie for the fourth-best interception rate in NFL history among qualifying passers. He has been named to the Pro Bowl six times, and Wilson led the Seahawks to the franchise's only Super Bowl title to date. He has a winning record in the postseason, with a 9-6 mark in his 15 games.
Wilson attended Manning's camp
Prior to the quarterbacks meeting in Super Bowl XLVIII, NFL.com says Wilson called Manning "one of the best football players to ever play the game" and an "example" for younger football players to follow — and Wilson should know.
He has been following Manning's example since attending the legendary quarterback's passing camp when he was a teenager. Wilson recalls there being thousands of kids there, but he was in the group of 12 or 15 kids who were led by Manning himself.
The quarterbacks meet for the title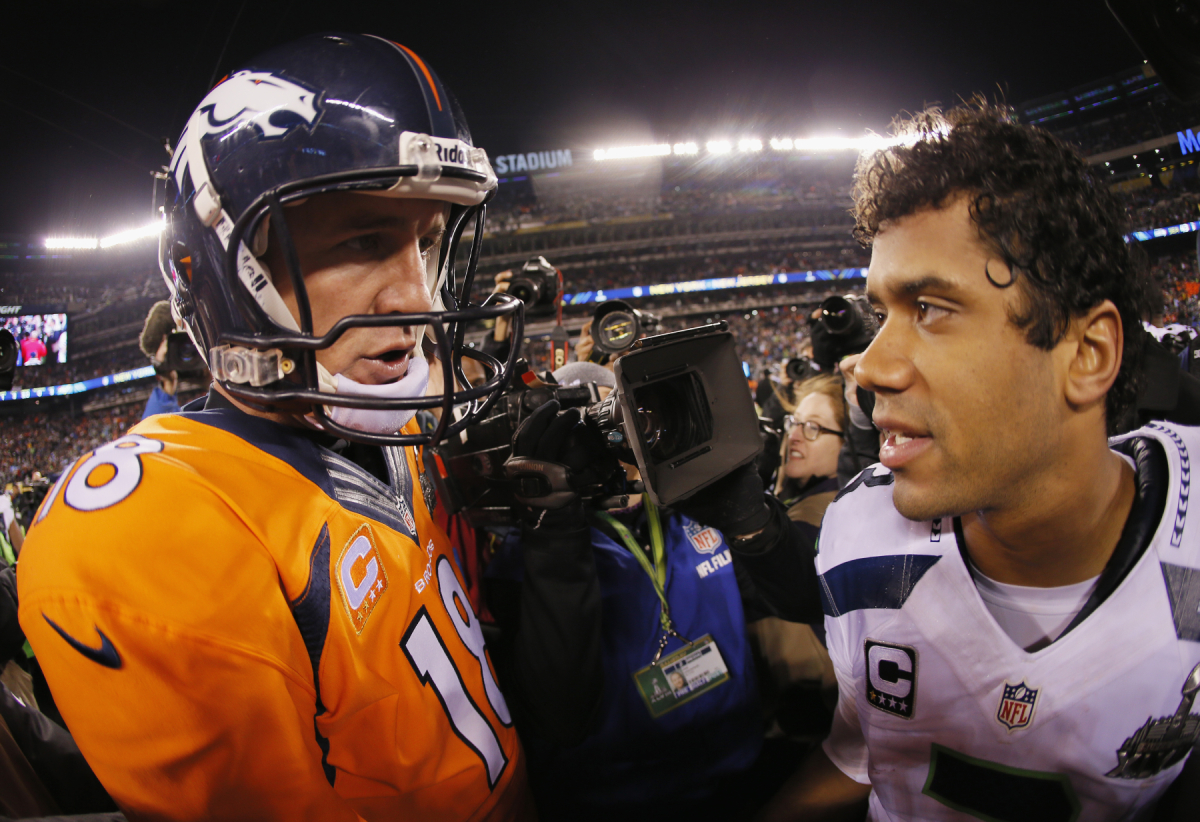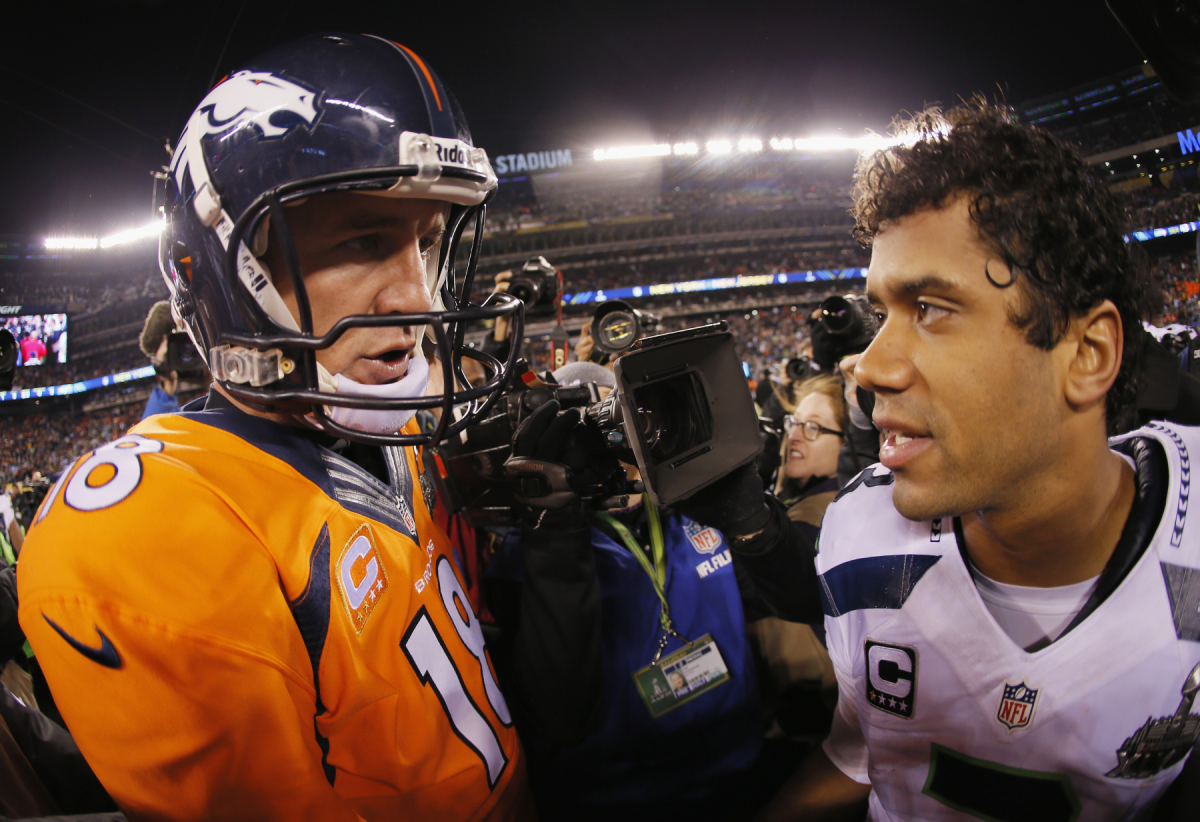 In February 2014, Wilson led the Seattle Seahawks into Super Bowl XLVIII against Manning and the Broncos, as the student hoped to defeat the teacher on the biggest stage of all.
It was a lopsided affair, with the Seahawks scoring in all four quarters and the Broncos putting just one touchdown on the board. The final score was a 43-8 rout in favor of Seattle, with Wilson earning his first ring and preventing Manning from getting his second.
Manning was 34-for-49 on his pass attempts, throwing for 280 yards and one touchdown. But he threw two interceptions, one of which was costly — eventual game MVP Malcolm Smith returned the pick 69 yards for a defensive touchdown. 
Wilson threw about half as many passes as Manning but was more efficient, completing 18 of his 25 attempts for 206 yards and two touchdowns. Wilson didn't throw any interceptions, giving him an impressive 123.1 passer rating, compared to Manning's 73.5.
At least in that one game, the student did better than the mentor. And it was a big game in which to do it, with Wilson solidifying himself as one of the best quarterbacks of the generation by winning a Super Bowl.
All stats courtesy of Pro Football Reference