Russell Wilson's Willingness to Make Personal Sacrifices for Star Teammates Could Keep Seahawks Atop the NFC West
It wasn't long ago that Russell Wilson's future with the Seattle Seahawks was in question. But the relationship has been repaired, and Wilson is willing to restructure his contract to help the team extend left tackle Duane Brown and safety Jamal Adams.
The Seahawks are trying to surround Wilson with talent as they try to maintain control of the NFC West. However, the star quarterback understands concessions might be necessary on his end. That awareness and sense of sacrifice bode well for Seattle.
Duane Brown and Jamal Adams are on expiring contracts
The Seahawks and general manager John Schneider face a couple of imperative decisions before the 2021 season begins.
Star safety Jamal Adams and former All-Pro left tackle Duane Brown want new contracts. Both are in the final seasons of their respective contracts, with Adams still on his rookie deal. Adam Schefter of ESPN reported Brown "isn't pleased" the Seahawks have yet to finalize an extension with him.
Seattle figures to drill into negotiations with both players. The Seahawks gave up a pair of first-round picks for Adams, who dealt with some injuries in 2020 but still made the Pro Bowl after recording 9.5 sacks and consistently stacking the box. Meanwhile, Brown is a huge asset on an offensive line that has produced mixed results in protecting Wilson.
Still, Schneider is not going to give an inch, at least not right now. Adam Jude and Bob Condotta of the Seattle Times reported the Seahawks are not budging after offering Adams $70 million and $38 million guaranteed. Adams' camp reportedly wants $40 million guaranteed and wants the bonus money spread through the first three seasons of the deal. There are no new talks with Brown.
Russell Wilson willing to restructure his contract to give the Seahawks flexibility
The Seahawks likely want to preserve future cap space if they ink Adams and Brown to big deals. Wilson is willing to do what he can to help in that regard.
Jude and Condotta reported Wilson informed Seahawks management he is open to restructuring his contract to create cap space to sign Adams and Brown. The seven-time Pro Bowler has one of the more lucrative contracts in the NFL. He ranks fifth among quarterbacks in annual average value (AAV). However, Wilson might spread that money out so his team can keep other stars in Seattle.
Wilson has been very vocal, especially when it comes to re-signing Brown. Considering much of his offseason angst stemmed from the team's inability to protect him in recent seasons, it only makes sense he would lobby on Brown's behalf.
Head coach Pete Carroll said the Seahawks have consistent talks with Wilson about restructures. They'd do well to take Russ up on the offer this time around if they hope to stay in his good graces.
Wilson's selflessness is huge for Seattle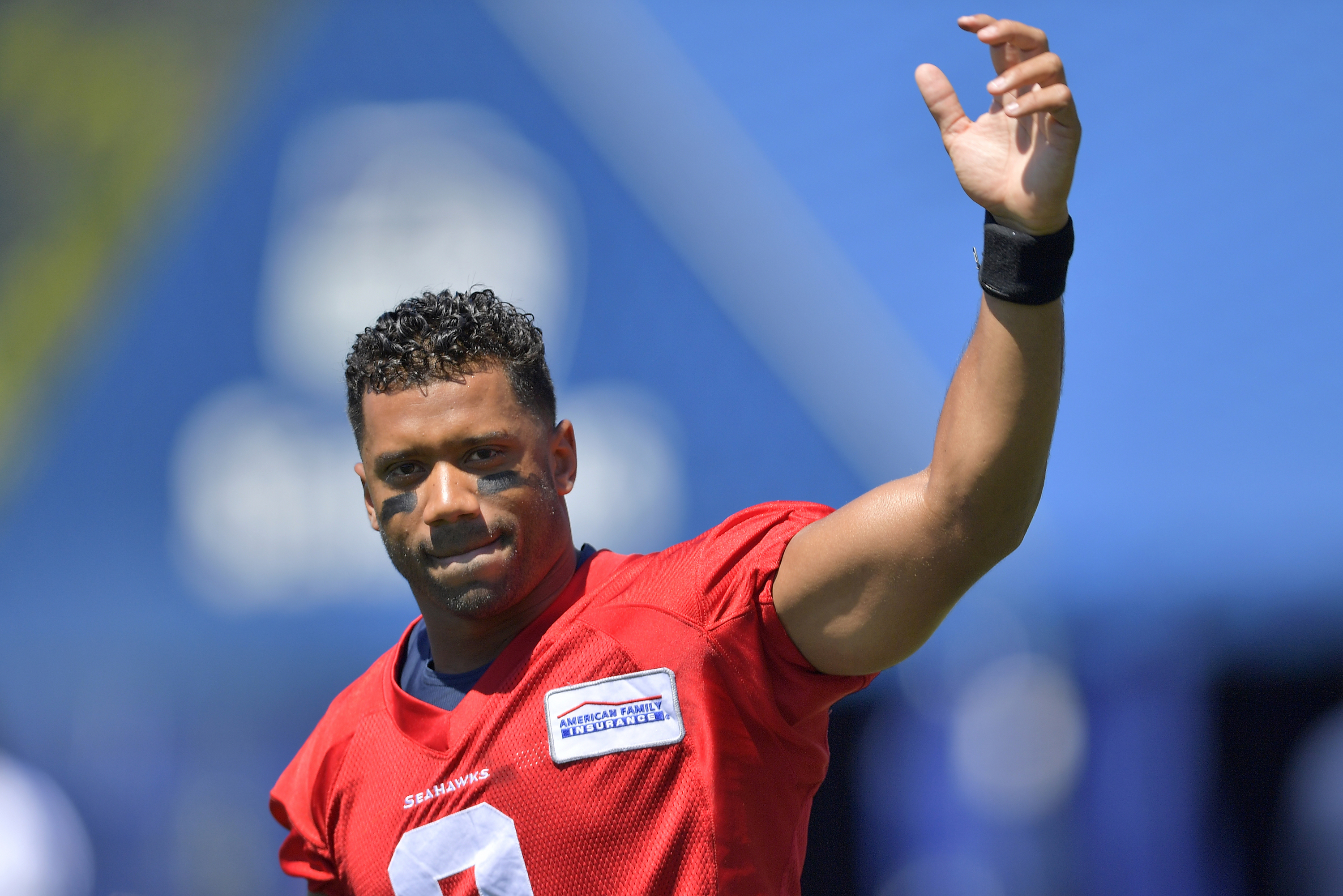 The Seahawks have already made major internal moves, such as signing wide receiver Tyler Lockett to an extension earlier this spring. Extensions for Brown and Adams figure to be next on the docket, and Russell Wilson's contract should loom large in those talks.
Wilson acknowledges the Seahawks are in a bit of a crunch from a financial perspective. The 32-year-old also likely understands he might not have many more chances to win a Super Bowl. As such, the former Wisconsin standout is willing to do his part in helping the Seahawks maintain a championship foundation.
The ball is in Schneider's court, now. Failure to act might mean alienating Wilson and running the risk of him asking for a trade. Alternatively, hammering out contracts with Brown and Adams would show good faith in terms of the team's commitment to winning.
Stats courtesy of Pro Football Reference. Contract information courtesy of Over The Cap.