NFL: Is Russell Wilson Worth What the Seattle Seahawks Are Paying Him?
April 15 is a day many Americans don't look forward to because it's when income taxes are due. For Seattle Seahawks quarterback Russell Wilson, April 15, 2019, had a special significance because that was the self-imposed deadline he set for him and the team to agree on a new contract as he was heading into the final year of his existing contract. Experts speculated that he could seek a trade if the sides didn't come to terms on a new deal. The Seahawks avoided that controversy by agreeing to a massive new contract with their franchise quarterback, but is Russell Wilson worth what Seattle is paying him?

Wilson's history with the Seahawks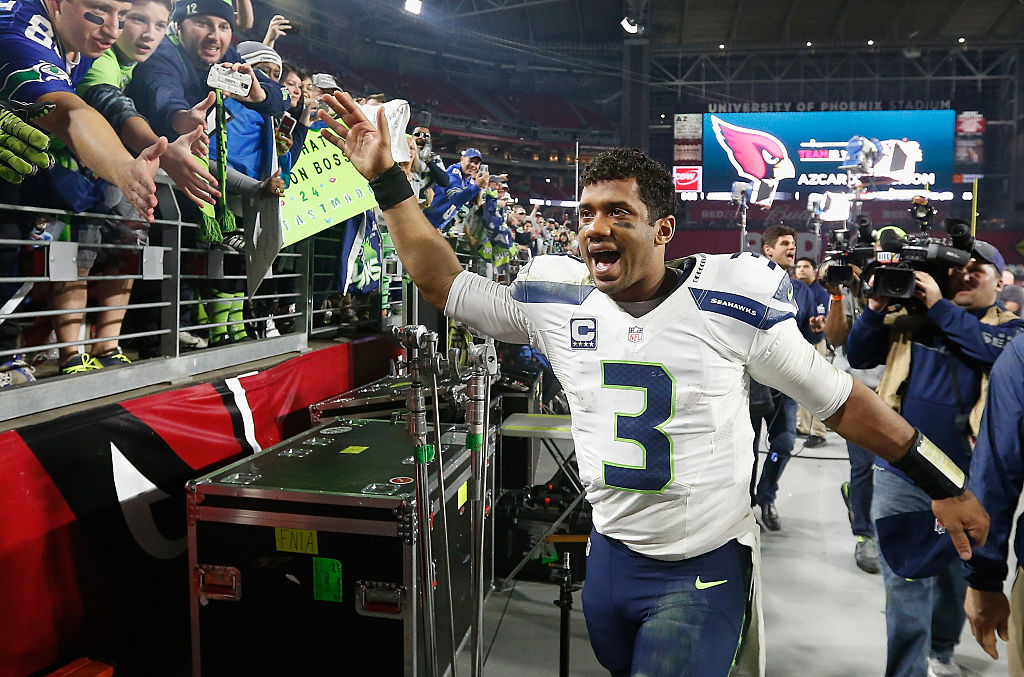 The Seahawks took Wilson in the third round of the 2012 NFL draft, at No. 75 overall. They immediately made him their starter, as he was under center for all 16 games his rookie season. The next season, he guided Seattle to its first Super Bowl victory.
He was impressive enough in his first three seasons that the Seahawks gave him an extension in July 2015. That contract was worth $87.6 million — including a $31 million signing bonus — over the course of four seasons. But the final year of that extension is being replaced by the first year of the 30-year-old quarterback's new contract.

A record-setting contract
That brings us to this month and the latest extension Wilson signed, which is the biggest contract in NFL history. Like Wilson's previous extension, it's a four-year deal, but this time it's worth $140 million, $107 million of which is guaranteed. The contract includes a $65 million signing bonus, with a $5 million base salary for 2019, giving him $70 million guaranteed at signing.

The rest of the contract gives Wilson an $18 million base salary in 2020 and $19 million in each of the next two years. The contract also includes roster bonuses in the latter part of the deal.
Wilson's cap hit for the Seahawks
With the NFL's salary cap, Wilson's cap hit is important to the team's overall payroll. Under the terms of the contract, Wilson has more than a $26 million cap hit this season, and that number steadily rises throughout the deal. He has a $31 million cap hit in 2020, $32 million in 2021, and $37 million in 2022.
Is Russell Wilson worth the biggest contract in NFL history?
So the multi-million dollar question is, is Russell Wilson worth that much money? In short, yes.

The alternative to re-signing him would have been to trade him for multiple draft picks. Doing so would free up a lot of cap space, as those rookies would have been on relatively cheap contracts. But it would be hard to replace Wilson, both in terms of his production and his durability — he has started every regular season game in his seven seasons so far. He has never thrown fewer than 20 touchdowns or more than 11 interceptions in a season, and he's coming off of career-best numbers in both categories last season.

This extension will take him into his mid-30s, which is when he may start to regress a bit, especially if he continues playing 16 games every season. But the Seahawks should continue to get good production out of him, especially if he continues to stay healthy over the next few years. Solid quarterback play is the hardest thing to find in the NFL, so locking up a known product is worth an average of $35 million each year to Seattle.

The effect of his contract on the Seahawks
Giving Wilson such a rich extension isn't all good for the Seahawks, though, because it limits their ability to re-sign other veterans. That fact hit home when the Seahawks traded DE Frank Clark, who had not yet signed the team's franchise tag, to the Chiefs for Kansas City's first-round pick in the 2019 draft and a second-rounder next year. The Chiefs subsequently signed Clark to a five-year, $105.5 million deal, which would have been hard for the Seahawks to do after giving Wilson his massive contract.