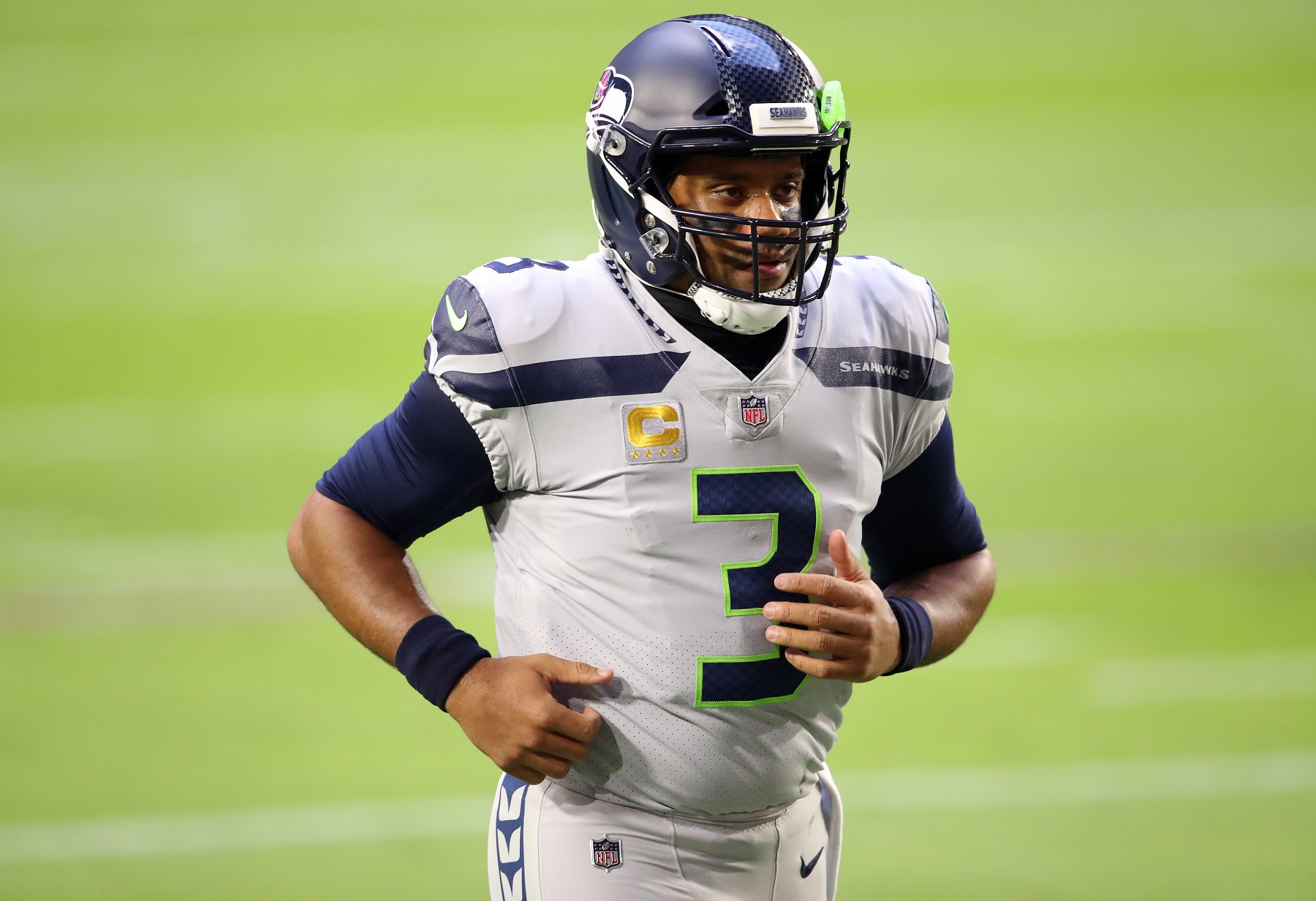 Russell Wilson's MVP Campaign Faces an Unexpected Threat
Russell Wilson is putting up outlandish numbers for the Seattle Seahawks, but his team's defense is a liability as he battles for MVP honors. |
"Let Russ Cook" has been the rallying cry of Seattle Seahawks fans who are delighted by the way coach Pete Carroll has turned Russell Wilson loose. The result is that the veteran quarterback has been terrorizing opposing defenses.
The problem in Seattle is that Wilson can't do it all. Can someone else in the Seahawks kitchen at least set the table, wash the dishes and go pick up some dessert? Asking Wilson to make up for the team's deficiencies on defense may just wear Wilson out and cost him a much-deserved MVP honor.
Russell Wilson is having an amazing season
There are 11 quarterbacks with a passer rating of 100 or better as we approach the midpoint of the 2020 NFL season, but there is no one slinging the ball the way Russell Wilson is for the Seattle Seahawks. Wilson has built an other-worldly 119.5 rating on the strength of a league-best 22 touchdown passes.
Wilson is in his ninth pro season and is on his way to his fourth 4,000-yard season. About the only negative is the 17 sacks he has taken in six games, though he's no threat to lead the NFL in that department for a second straight season as long as Joe Burrow and Carson Wentz stay upright.
Wilson won a Super Bowl after the 2013 season, his second in the league, and has been selected to the Pro Bowl six times. As has been noted frequently during his spectacular start to the season, Wilson has never so much as received one MVP vote let alone won the award.
As long as he stays close to his current prolific pace, Wilson is going to earn some votes at the end of the season. However, his odds of winning are iffy. Forget Tom Brady or Patrick Mahomes, though. This biggest threat to Wilson is from within.
The Seattle Seahawks defense is horrible
The 37-34 loss in Week 7 dropped the Seattle Seahawks' lead over the Arizona Cardinals in the NFC West to half a game. Seattle quarterback Russell Wilson was 33-for-50 for 388 yards and three touchdowns, but he also threw a trio of interceptions. Meanwhile, Cardinals QB Kyler Murray was 34-for-48 for 360 yards, three TDs, and one interception.
In short, it was a good old-fashioned slugfest between two talented offenses. It was the first loss this season for the Seahawks, but not their first shootout. Their 5-0 start included a 35-30 win over the New England Patriots, a 38-31 escape against the Dallas Cowboys, and last week's 27-26 defeat of the Minnesota Vikings.
In fact, the Seahawks have surrendered 23 or more points in every game this season. Seattle is allowing 28.7 points and a league-worst 368.7 passing yards per game. Additionally, the Seahawks surrender more first downs than anyone and allow more yards per play than everyone except the Atlanta Falcons, Jacksonville Jaguars, and Las Vegas Raiders.
The Falcons and Jaguars are each 1-6. The Raiders are 3-3. That's not the sort of company the Seahawks should be keeping if they aspire to make a deep playoff run.
The threat to Russell Wilson's MVP hopes
Russell Wilson can throw the ball to Tyler Lockett and DK Metcalf all day long. The problem is that he just might have to keep doing that to match opponents score for score unless the Seattle defense can stop someone occasionally.
The Seahawks didn't sack Kyler Murray and didn't slow him down. They'll get better when safety Jamal Adams returns from a groin injury, but the secondary has seen other injuries, too.
The "Let Russ Cook" approach may have to hold up all year, and he's on pace for career highs by far in attempts, yards, and touchdowns. The problem is, he can't keep up that pace if Wilson has to produce points on every possession.
That's a recipe for throwing more interceptions and scrambling his way into more sacks. There's also the matter of whether the rest of the Seattle offense can keep up with Wilson.
It might not derail his MVP hopes, but it certainly won't make it easier to stay ahead of Tom Brady and Patrick Mahomes, who aren't under non-stop pressure to bail out their defenses.
Like Sportscasting on Facebook. Follow us on Twitter @sportscasting19.