Russell Wilson's Newest Gift Already Has Another Seahawks Teammate Jumping for Joy About Their Chances in 2021
The past few months have not been the start to 2021 that Russell Wilson or the Seattle Seahawks expected.
Seattle's Super Bowl aspirations ended with a wild-card loss to the Los Angeles Rams. Wilson has spent much of the offseason linked to trade rumors, although the Seahawks haven't given in and dealt their franchise quarterback just yet.
But, things could be improving in Seattle. Veteran tight end Gerald Everett, who recently signed with the Seahawks in free agency, just shared news that should have Wilson and his teammates very excited about their chances in 2021.
Russell Wilson's new offensive coordinator is Shane Waldron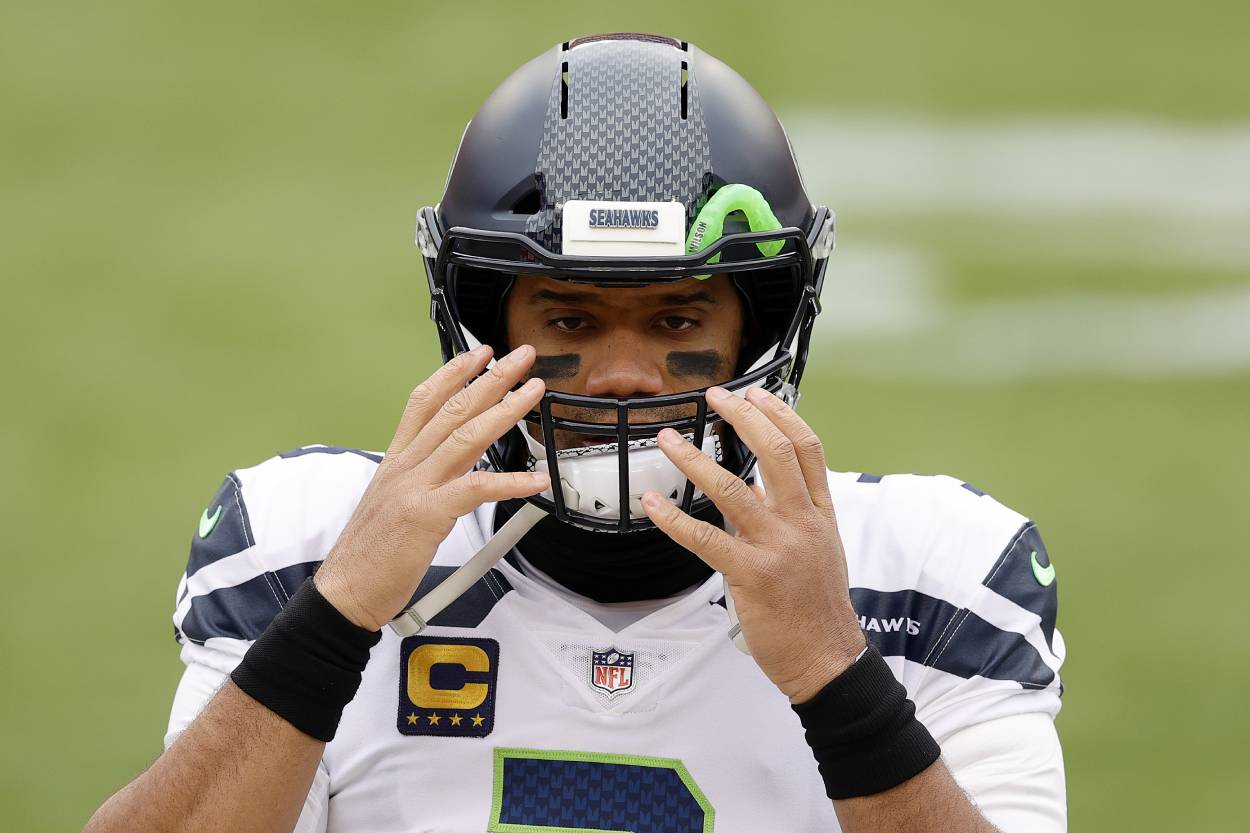 RELATED: Russell Wilson's New Seahawks Teammate Voices Telling Comments Concerning Him
If Russell Wilson had any concerns about new offensive coordinator Shane Waldron, he should listen to Gerald Everett.
According to ProFootballTalk, Everett recently said Waldron's presence in Seattle — the two worked together on the Los Angeles Rams from 2017 through last season — was the main factor in drawing him to Seattle. Everett signed a one-year contract worth up to $7 million in March.
Everett provided reporters with a tremendous endorsement for Waldron, a veteran assistant who the tight end said reminded him of Rams head coach Sean McVay.
"They're getting a mastermind. Similar to McVay, I think they and Shane put their heads together and you had the magic that we were able to whip up in Los Angeles. But having Shane in Seattle now, we're able to see really what he can do isolated away from the group and give him a new set of pieces and just see how he uses them."
Waldron, who turns 42 in August, has been an offensive coordinator once in his career. He held that role at the Buckingham Browne & Nichols School, a private day school in Cambridge, Mass., in 2011.
Wilson should be very excited by Gerald Everett's endorsement
RELATED: Seattle Seahawks Make Puzzling Move That Signals Russell Wilson's Time Might Be Coming to an End
When the Los Angeles Rams hired Sean McVay in 2017, they went from one of the NFC's longest-suffering franchises to an instant contender.
Gerald Everett spent four seasons with Shane Waldron, and the tight end's word should be the gospel right now. Russell Wilson and the Seahawks have needed an innovative young mind for years, someone who could embrace a quarterback's best skills.
That never worked out with Brian Schottenheimer as the Seahawks' offensive coordinator. Schottenheimer repeatedly tried forcing the Seahawks to run and take the ball away from Wilson instead of building a modern, pass-oriented offense around his star quarterback.
Waldron's arrival is excellent news for Wilson. Jared Goff may have been a divisive quarterback with the Rams, but there is no denying that the Rams created an offense where they encouraged Goff, a gunslinger, to throw throughout the game if it represented the team's best chances to win.
Now, Waldron has a dual-threat quarterback on his hands — and if Waldron lives up to his "mastermind" endorsement, the Seahawks are in good shape going forward.
Russell Wilson will enjoy throwing to Gerald Everett in 2021
RELATED: The Seattle Seahawks Continue to Put Russell Wilson at Ease by Extending His $69.2 Million Security Blanket
Throughout Russell Wilson's time with the Seahawks, he's lacked an elite tight end in his arsenal. Even Jimmy Graham, an All-Pro selection in New Orleans, never lived up to expectations in Seattle.
Gerald Everett will play all of the 2021 season at age 27, and he set career-highs last year in receptions (41) and yards (417) on the Rams. No one is expecting him to become the next George Kittle, nor should they have that thought in their head.
Still, Shane Waldron and the Seahawks added Everett for a reason. Wilson now has another weapon in the passing game, and it's someone in his prime who has familiarity with the new offensive coordinator.
At this point, Wilson and Everett should be jumping for joy about the Seahawks' chances in 2021. The pieces are all coming together in a way that should have Seattle firmly in the mix for a chance at the Lombardi Trophy.
Like Sportscasting on Facebook. Follow us on Twitter @sportscasting19.