Ryan Day's Ohio State Defense Takes Surprise Hit After Buckeye Linebacker Bizarrely Storms off Field Mid-Game, Takes Frustration to Twitter
The Ohio State Buckeyes are coming off two consecutive College Football Playoff berths the last two seasons and a trip to the national championship game in 2020. But so far during the 2021 campaign, Ryan Day's squad hasn't looked anything like the teams he has coached the past two years.
The Buckeyes have given up a significant amount of yards and points on defense so far, which has led to them struggling against schools like Minnesota and Tulsa, and even losing to Oregon.
And in the team's most recent game against Akron, the defense took yet another hit. Despite the 59-7 win, linebacker K'Vaughan Pope bizarrely stormed off the field mid-game, which may have put his future with the program in jeopardy.
The Ohio State Buckeyes have struggled defensively during the 2021 college football season
The Buckeyes had two incredible seasons each of the last two years. During the 2019 campaign, they went undefeated until losing to Clemson in the College Football Playoff semifinals. OSU then started out undefeated again during the 2020 season, including a win over Clemson in the CFP semis, but eventually fell to Alabama in the national championship.
So far in 2021, though, a young and inexperienced team has struggled. OSU's defense gave up 408 total yards in a 45-31 win over Minnesota in Week 1. And it then allowed Oregon to gain 505 total yards in a 35-28 loss during Week 2, the program's first regular-season loss since 2018.
Then in what should have been a cakewalk in Week 3, Ohio State allowed a then-winless Tulsa team to gain 501 total yards and keep the score close until the Buckeyes eventually pulled away at the end and won 41-20.
Also during this time, OSU has had a bit of turmoil in the program as it scrambles to get the season back on track and vie for a chance at another CFP run. Head coach Ryan Day took defensive coordinator Kerry Coombs' play-calling duties away after the loss to Oregon and has since given the responsibility to secondary coach Matt Barnes. Linebacker Dallas Gant, a senior who has spent his entire career with the Buckeyes, also entered the transfer portal following the win over Tulsa.
So, all in all, Ohio State needs as much continuity as it can get on defense right now. But the unit took another surprise hit against Akron.
K'Vaughan Pope surprisingly left Ohio State's game against Akron
Not too much went wrong for the Ohio State Buckeyes in their Week 4 win over Akron. They won 59-7 and finally played well defensively, only allowing 229 yards and actually putting pressure on the quarterback.
However, according to an ESPN article that gathered reports from Lettermen Row (a site devoted to OSU coverage), senior K'Vaughan Pope reportedly tried entering the game during the second quarter when fellow linebacker Teradja Mitchell waved him off. He then allegedly started going toward the locker room before someone on OSU's staff walked him back to the team's sideline. Pope then reportedly "threw his gloves into the stands and attempted to take his jersey off on the sideline," per ESPN. 
The linebacker then reportedly had conversations with some OSU coaches following those actions, but a staff member eventually escorted him to the locker room.
According to ESPN, Pope later took his frustrations to Twitter while the team was still playing, writing "f*** Ohio State," in a since-deleted tweet. He also wrote, "good lucc to my teammates" in a separate post.
"I just got off the field," Ryan Day said after the game when asked about Pope's future with the program, per ESPN. "So, I'm going to have to figure out exactly where that all stands right now."
Day also said he wanted to look into the tweets more before making a comment on them.
Losing Pope would hurt the Buckeyes' depth at linebacker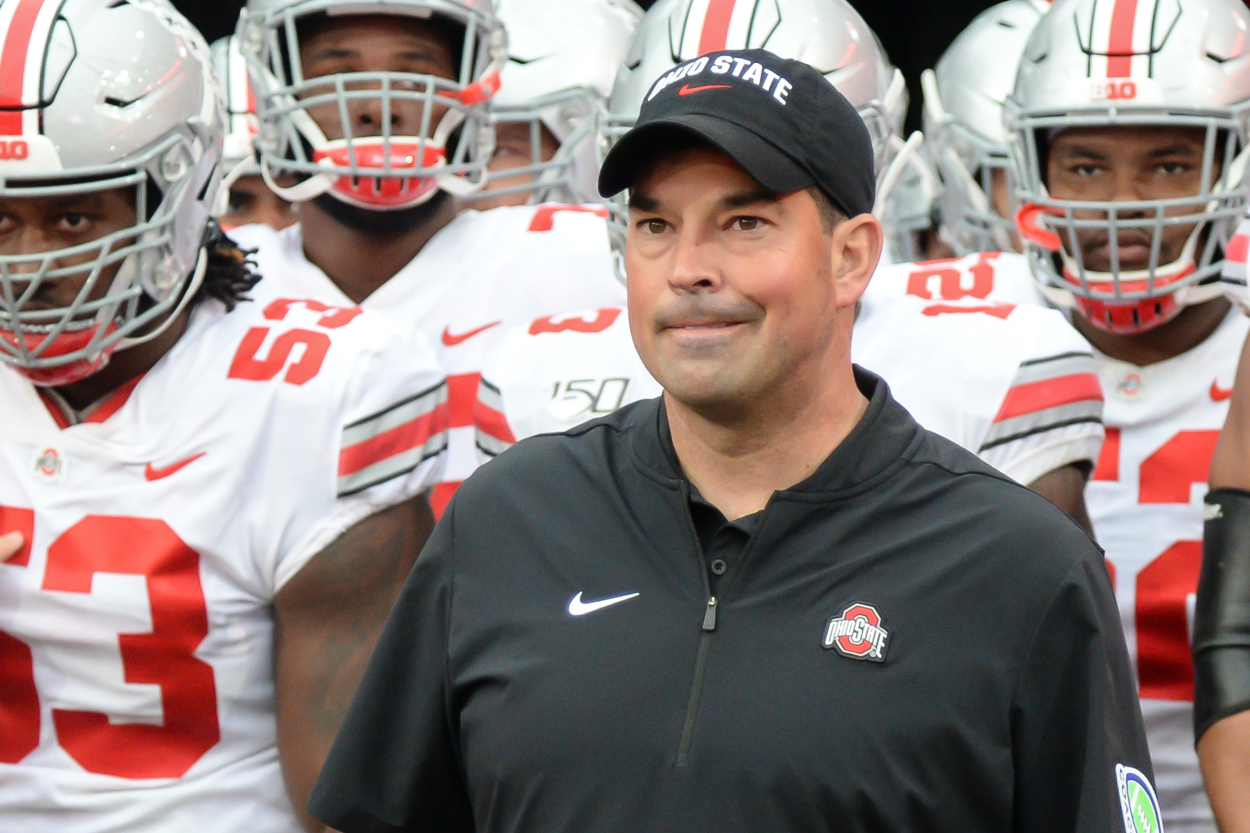 All in all, Pope isn't a make-or-break player for the Buckeyes. He has appeared in 33 games in his career but hasn't been much of a difference-maker, only recording around 20 total tackles.
Some, though, thought Pope could have been a starter entering the year, and after also losing Gant this season, the Buckeyes' struggling defense needs as much depth at linebacker as it can get.
Cohesiveness in the locker room wouldn't hurt, either.
Potentially losing another senior certainly doesn't do any good for a team that needs to get its season back on track. And if he does, in fact, stay with OSU, the turmoil in the locker room will likely just continue to grow. So, the defense will essentially take a hit no matter how things play out.
The entire situation is certainly odd, especially coming from one of the top programs in the country. And while possibly losing Pope probably won't play much of a role in wins or losses this season, Day and the Buckeyes need to get things under control.
As of right now, Ohio State still has a chance to make the College Football Playoff, but for how much longer will that be the case?
Stats courtesy of ESPN and Sports Reference
RELATED: Why Is Ohio State's Football Team Called the Buckeyes?