Ryan Day and Ohio State May Have Just Gotten the Next Trevor Lawrence Earlier Than Expected
Ryan Day coached his Ohio State football team to a win over Trevor Lawrence and the Clemson Tigers in the College Football Playoff last season. Now, Day will have his own Trevor Lawrence in his locker room — and a year earlier than expected.
While Day is figuring out how to replace one of the most talented quarterbacks in school history in Justin Fields, he is doing so with a stacked QB room. And that room just got even more talented as five-star recruit Quinn Ewers is coming to school early.
Quinn Ewers can become the next Trevor Lawrence of college football
Quinn Ewers, a five-star quarterback recruit from Texas, has not played one down as a college athlete yet, but he has accomplished something no QB had done in nearly two decades: Ewers has a perfect composite recruiting rating on 247Sports.
According to The Athletic, only six high schoolers have received a perfect 1.000 rating in the 23 years of the system's history. The last quarterback to receive that high of a rating was Vince Young in 2002. Trevor Lawrence received a .9999, and Justin Fields received a .9998.
So, in terms of potential, Ewers is expected to be better than Lawrence. He also supposedly has a better arm than the former Clemson Tigers star did as a prospect.
"From a pure throwing standpoint, it's third-and-eight, I want a first down, I'm going to go with Quinn," recruiting analyst Greg Biggins said on 247Sports' Football Recruiting Podcast.
Ewers is slightly shorter than Lawrence — 6 feet, 3 inches compared to 6-6 — but he's supposed to have the arm strength and mobility to become the next great QB. Given the hype around him, he also has a chance to become just as big a college football star as Lawrence was, if not bigger.
Quinn Ewers will join the Ohio State football program early
Ewers was initially a class of 2022 recruit. However, according to Yahoo Sports' Pete Thamel, the young QB is forgoing his senior year of high school at Southlake Carroll and will enroll at Ohio State this fall.
The decision appears to have a lot to do with the NCAA's recent legislation on student-athletes being allowed to make money off their names, images, and likenesses (NIL). Texas currently forbids high schoolers from being able to make cash off NIL. Thamel reported that Ewers can potentially make close to a million dollars within the next year at Ohio State.
Ohio State kicks off camp on Aug. 3, but Ewers may not be eligible by then as he is working on his online coursework to graduate high school early. No matter when he starts playing for the Buckeyes, though, Ryan Day and his Ohio State football team have a problem — a problem every program wishes it had.
Ryan Day and his Ohio State football team have an embarrassment of riches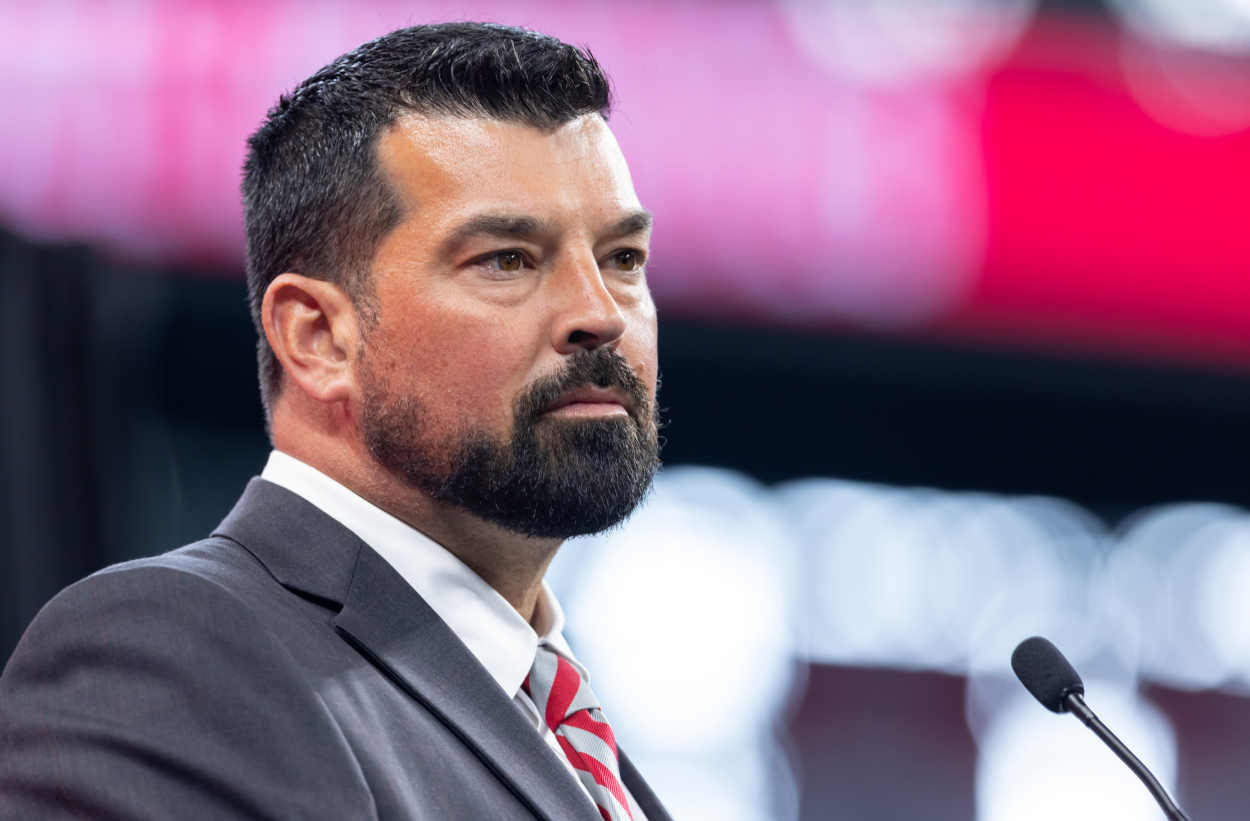 Ohio State made it to the last two College Football Playoffs with Justin Fields and reached the national championship game during the 2020 season. Fields threw for 5,373 yards, 63 touchdowns, and nine interceptions in 22 games with the Buckeyes the last two years. He also ran for 867 yards and 15 touchdowns.
That's a big hole to fill.
But now Day must decide between four big-time prospects.
Prior to Ewers — the highest-rated recruit in Ohio State history — switching to the class of 2021, OSU already had three scholarship QBs on the team: 2020 four-star C.J. Stroud, 2020 four-star Jack Miller, and 2021 five-star Kyle McCord.
Some may expect Ewers to come in and just take the job right away, but all the guys above are at Ohio State for a reason. They are all immensely talented. McCord has a .9860 247Sports rating, while Stroud and Miller were on the team last season and have better understandings of the team's offense.
No matter who the Buckeyes go with, though, all four of these gunslingers should be able to step right in and win games from the get-go. OSU will also likely be one of the top teams in the country yet again.
Day is just in a fortunate situation where he has an embarrassment of riches at the quarterback position. Whichever route he takes will be a successful one.
Stats courtesy of Sports Reference; Ratings courtesy of 247Sports
RELATED: Nick Saban Just Potentially Found DeVonta Smith's Replacement and Beat Ohio State All in 1 Move