Ryan Fitzpatrick: A Journeyman's Sojourn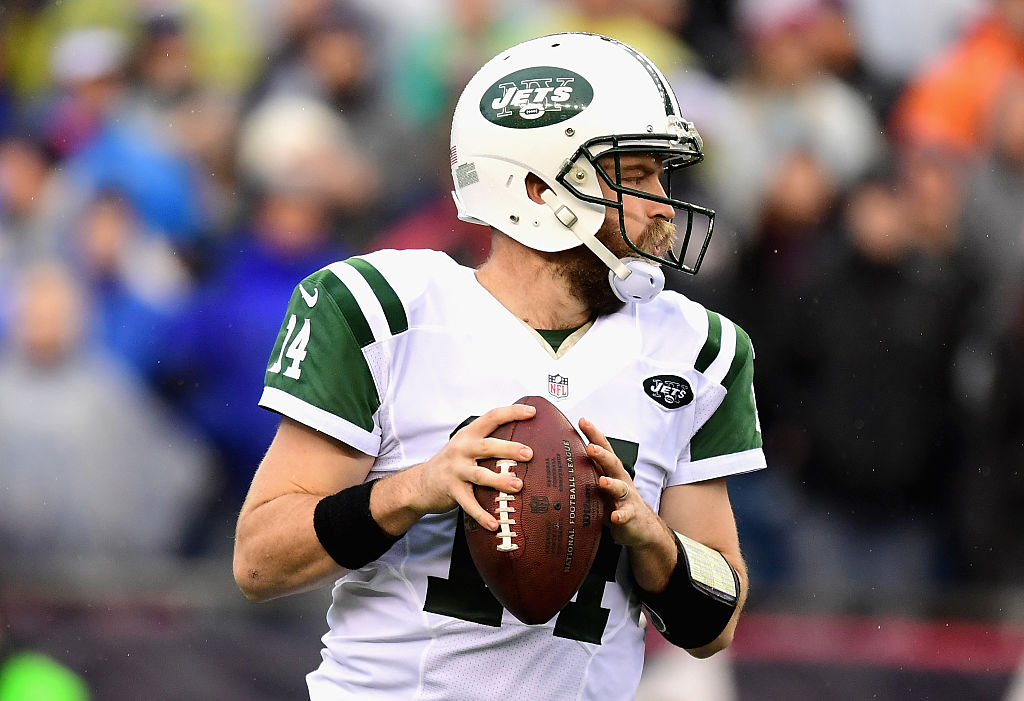 Veteran NFL quarterback Ryan Fitzpatrick has had a lot of people believe in him throughout his life. It's paid off in the form of a long, successful professional career against all odds. Fitzpatrick was born on November 24, 1982, and grew up in Gilbert, Arizona. According to Fitzpatrick's father, he was quite the athlete in high school — something that carried him into college and eventually his NFL career, despite some shortcomings. His dad told the New York Post:
He certainly wasn't the underdog in our town. Growing up, he was the best baseball player in the town, he was the best football player in the town, he was one of the best basketball players. Gilbert, Arizona, is not a tiny town.

He was undersized coming out of high school, he was probably only like 5-11 when he was a senior in high school, so he wasn't very heavily recruited. So I think it was like a frustrating time for us because we knew that he had talent, but he didn't have the measurables to really be recruited heavily by the Division I-A type programs.
In addition to being a talented football player, Fitzpatrick was also an excellent student. He ended up at Harvard studying mathematics while playing football. In 2003, he took over the starting quarterback job during his junior season. That year, he completed 60.1% of his passes with 1,770 passing yards, 16 touchdowns, and eight interceptions.
Fitzpatrick's senior season wasn't quite as good, but the talent was clearly there. He finished by completing just 57.2% of his passes in 10 games, throwing 13 touchdown passes and six interceptions. He collected 1,986 passing yards that year and won the Ivy League MVP award on the back of his team's undefeated season. All of this set Fitzpatrick up well for the upcoming NFL draft.
2005 and 2006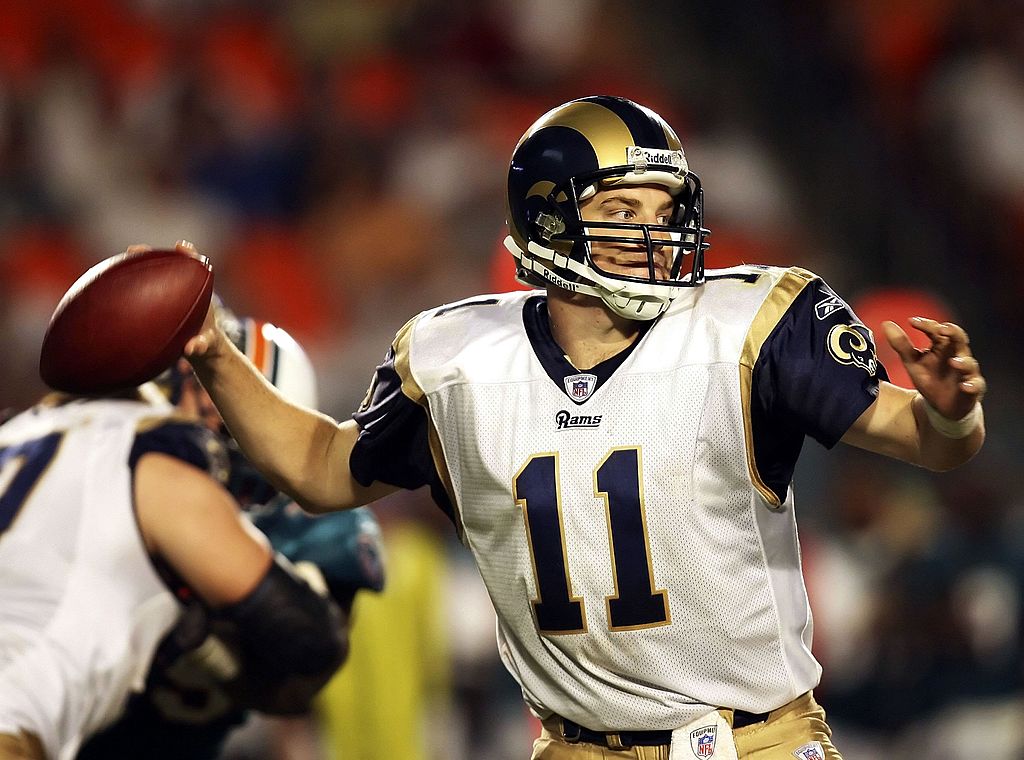 The Wonderlic Test, an exam taken by prospective NFL players prior to being drafted, was a bit of news for the Harvard educated Fitzpatrick. While his actual score is debated, Fitzpatrick scored at least a 48 out of 50 and finished the test in under nine minutes. That gives him the highest score ever among quarterbacks taking the test, indicating an exemplary level of intelligence.
But that likely didn't help Fitzpatrick much with his draft status. With only six picks remaining in the entire draft, the St. Louis Rams took a flyer on the quarterback. They took him No. 250 overall in the seventh round. St. Louis had an excellent quarterback in Marc Bulger, but there was no harm in drafting a QB late while keeping an eye on Fitzpatrick's development.
In 2005, the Rams finished just 6-10 on the season, with injuries forcing Bulger to miss half the season. That opened things up for Fitzpatrick to get into four games — and start three of them. An injury to backup quarterback Jamie Martin forced Fitzpatrick into his first game on November 27, 2005. He finished out a win over the Houston Texans. (Fitzpatrick was 19-for-30 passing with 310 yards, three touchdowns, and one interception.)
That was certainly the highlight of the year for Fitzpatrick, who started the next three games with a passer rating of 41.2, including just one touchdown pass to seven interceptions. Martin finished out the final two games for the Rams, and Fitzpatrick didn't start another game in a Rams uniform. He stuck around to play third-string QB behind Bulger and Gus Frerotte in 2006. But Bulger was able to get into all 16 games, and Fitzpatrick didn't get a single snap that year.
2007 and 2008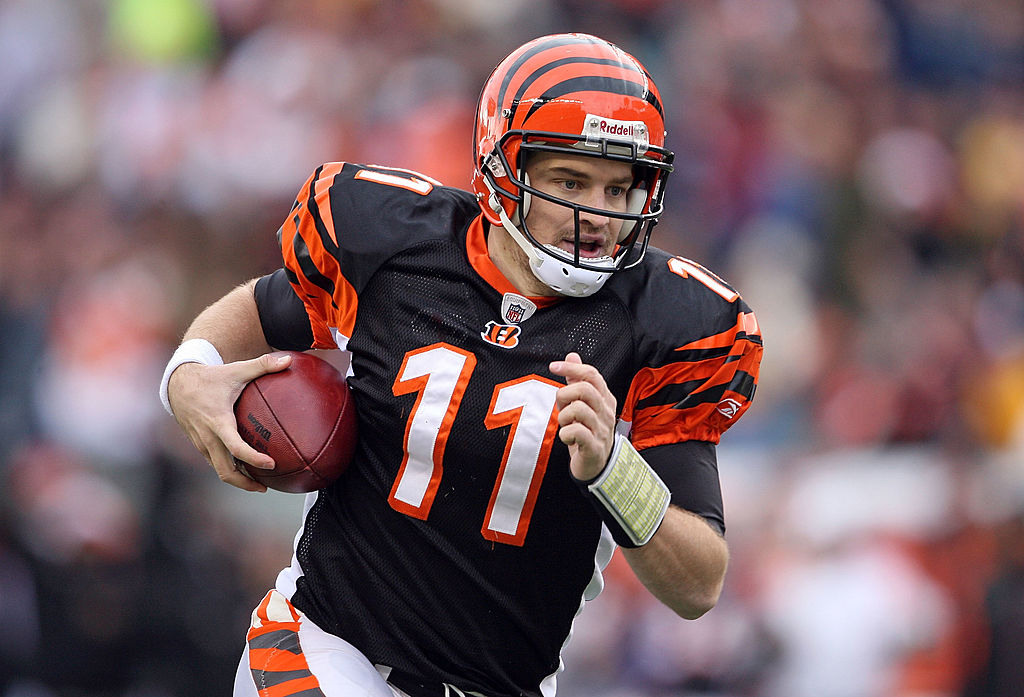 Heading into 2007, Fitzpatrick returned to the Rams for training camp. However, with Bulger and Frerotte under contract, there was no need or room on the roster for him. On September 1, St. Louis traded him to the Cincinnati Bengals in exchange for a seventh-round draft pick.
During his first season in Cincinnati, Fitzpatrick again found himself sitting behind an incumbent quarterback. Carson Palmer started all 16 games for the Bengals, throwing 26 touchdowns and 20 interceptions with a passer rating of 86.7. Fitzpatrick, on the other hand, didn't even get on the field to throw a single pass. But that all changed in 2008.
Palmer started the season under center for Cincinnati, but he only lasted four games into the season. With Palmer injured and a 0-4 record, the Bengals gave Fitzpatrick the chance to start their fifth game of the season. He didn't have a great game, going 20-for-33 passing with 152 yards and no touchdowns or interceptions in a 26-14 loss to the New York Jets. But he was serviceable, which kept him in the lineup.
Fitzpatrick ended up starting all 12 remaining games for the Bengals and posting a 4-7-1 record, including three victories to close out the season. During those final three games, he had a passer rating of 83.8. Those numbers saw Fitzpatrick totaling 59.4% on completions, 1,905 passing yards, eight touchdowns, nine interceptions, and a passer rating of 70. He didn't transform into a superstar, but his strong performance in a tough situation set Fitzpatrick up for success heading into free agency that offseason.
2009 and 2010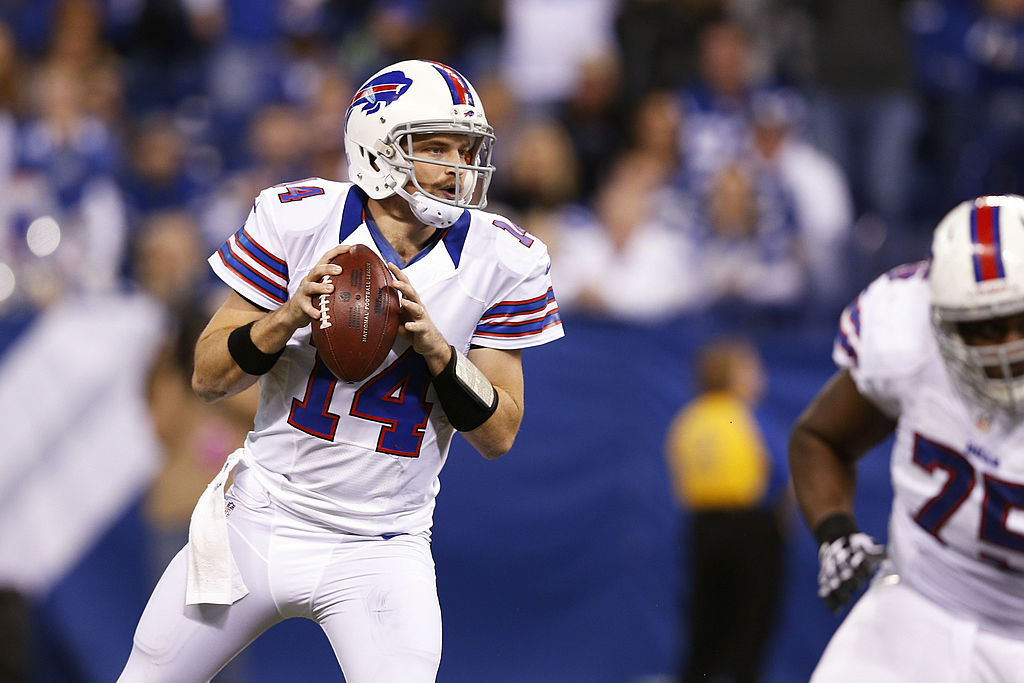 In 2008, the Buffalo Bills were coming off a season in which they finished 7-9 with veteran Trent Edwards starting 14 games at quarterback. So, the team decided to take a chance on Fitzpatrick. They signed him to a three-year deal worth $8.2 million, which was a big deal at the time for the young QB who barely made it into the draft just four years prior.
The season started with Edwards as the quarterback, but his mediocre performance led to fans wanting to see Fitzpatrick — the one their team paid serious cash to bring aboard in the offseason. The quarterback controversy quickly turned into a whole lot of nothing. Fitzpatrick got onto the field and proved no more competent than Edwards. Through his first four appearances (two starts), Fitzpatrick had a 49.8 passer rating with two touchdowns and four interceptions.
But Fitzpatrick got the chance to start the final six games of the season for the Bills — and he made the best of the opportunity. He led the team to a 3-3 record, completed 59.3% of his passes, and threw for 1,060 yards, seven touchdowns, six interceptions, and a passer rating of 79.9. But that wasn't quite good enough for Fitzpatrick to earn the starting job heading into 2010. Buffalo opened with Edwards under center in Week 1.
But after two disappointing losses in which the Bills scored a total of 17 points under Edwards, Buffalo coach Chan Gailey went to Fitzpatrick as his quarterback. Although the Bills lost their third straight game to open the season against the New England Patriots, things were a bit nicer to watch for the fans. Buffalo entered New England and kept it close. They lost 38-30 while Fitzpatrick went 20-for-28 passing with 247 yards, two touchdowns, and two interceptions.
That was enough to keep the starting job. He started 13 straight games before Brian Brohm got a chance in the final game of the year when the Bills had no chance at making a playoff spot. Fitzpatrick's best game came when the Bills upset the Bengals. The quarterback threw four touchdowns and completed 21-of-34 passes for 316 yards. He was 4-9 in his starts with a passer rating of 81.8, 57.8% on completions, 3,000 yards, 23 touchdowns, and 15 interceptions. It was Fitzpatrick's best season to date, even though he began as the backup and couldn't carry the team to the postseason.
2011 and 2012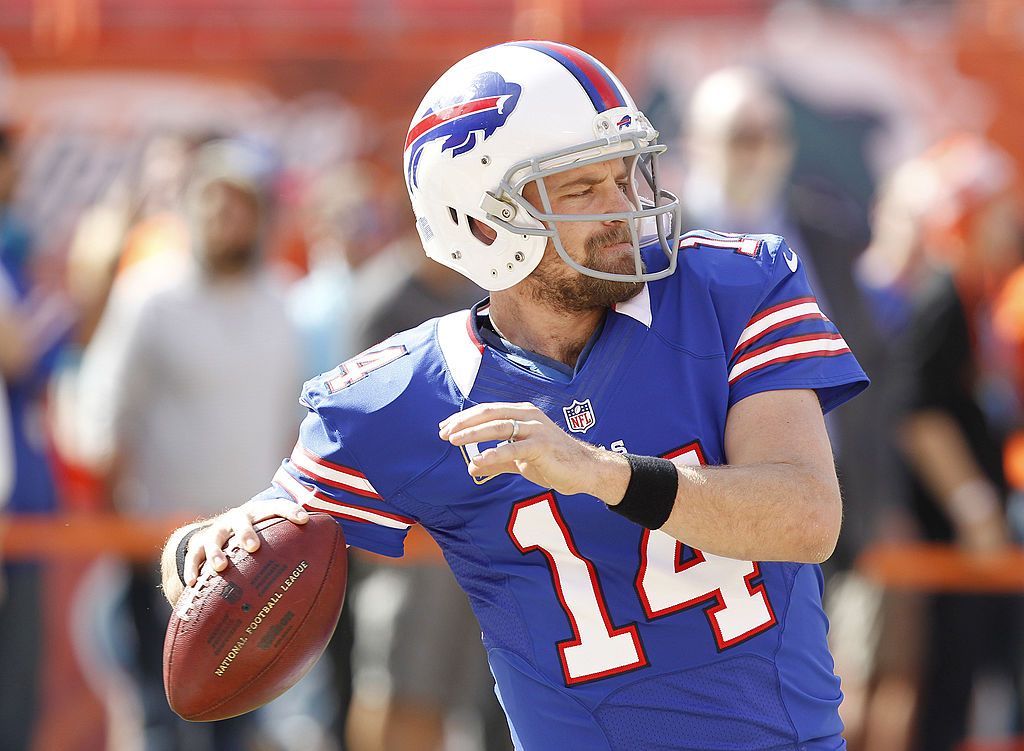 Fitzpatrick opened the 2011 season as the starting quarterback for the first time in his career, and he didn't disappoint early on. In the Bills' first five games, Fitzpatrick completed 65.7% of his passes with 1,233 yards, 10 touchdowns, and just four interceptions. That was good for a passer rating of 96.4, and Buffalo was off to a surprising 4-1 start. Fitzpatrick received the NFL's Offensive Player of the Month honors for September that year.
His strong early performance led to the Bills rewarding him with a new deal. He signed a six-year, $59 million contract in October 2011. Fitzpatrick told ESPN: 
It's been a long road. There's been a lot of hurdles and obstacles that I've had to overcome. I think we've got this thing headed in the right direction. So to be a part of that, and to be able to continue to be a part of that for years to come, I'm really excited about it.
"I'm excited about Ryan getting this done. He'll be our quarterback for a long time," General Manager Buddy Nix said, who explained that the key to any team's success depends on having a quarterback in place. "It really makes everything easier for us. It's easy to put good players around him if you've got that position that you feel good about. And we do."
Unfortunately, those good feelings were short-lived.
The Bills went on an ugly, seven-game losing streak in the middle of the season, and it dashed their playoff hopes. Fitzpatrick was at the core of that streak. He completed just 57.7% of his passes with eight touchdowns, 12 interceptions, and a 66.2 passer rating. The Bills averaged just 14.3 points during that stretch. They finished the year with a 6-10 record and yet again missed the playoffs.
Fitzpatrick had a solid season overall, however. He started all 16 games for the first time in his career, completing 62% of his passes, throwing for 3,832 yards, 24 touchdowns, and 23 interceptions — the latter three, all career-highs. He had a 79.1 passer rating on the season.
All of that was good enough for Fitzpatrick to keep his starting job, heading into the 2012 season in Buffalo. He once again started all 16 games, and he had another solid year despite a 6-10 season. Fitzpatrick had a passer rating of 83.8 with 3,400 passing yards, 24 touchdowns, and 16 interceptions. Despite all the nice things the Bills said about Fitzpatrick, they released him in March 2013.
2013 and 2014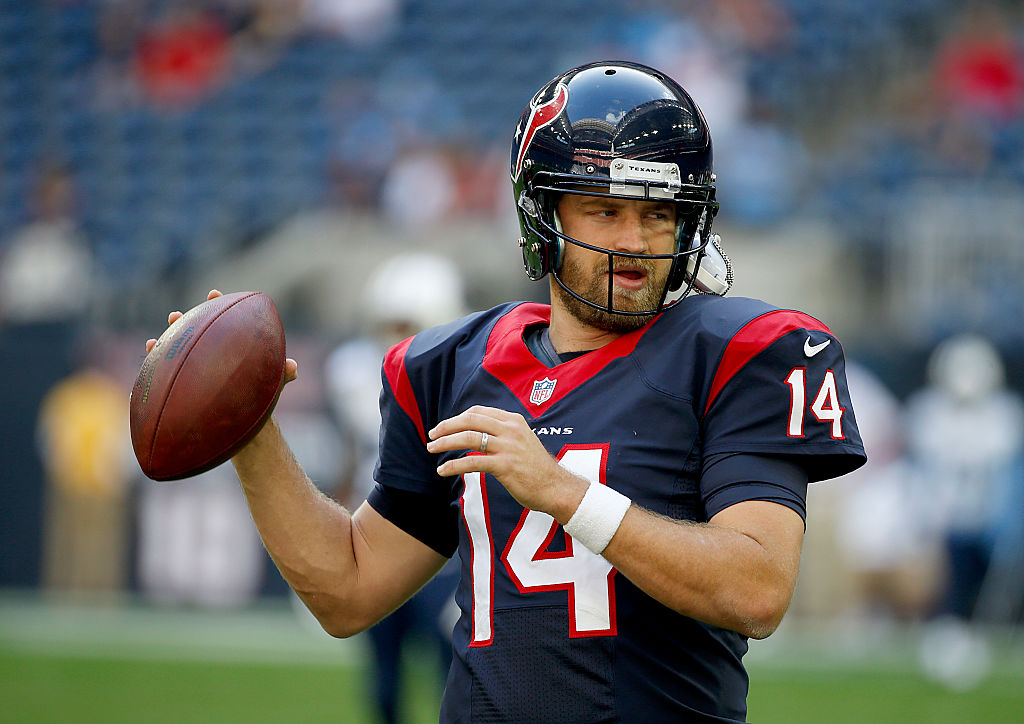 After being released by the Bills, Fitzpatrick found a home with the Tennessee Titans as the backup to third-year quarterback Jack Locker. He signed a two-year, $6.5 million deal and was thrust into the action early in the year. Locker led the Titans to a 3-1 record to begin the season. But in their fourth game, he suffered an injury. Fitzpatrick came in and went 3-for-8 against the New York Jets, finishing off a 38-13 win.
The 3-1 record quickly turned into 3-3 behind Fitzpatrick. He was 38-for-70 passing with 410 yards, one touchdown, and four interceptions over the next two games — just a 53.2 passer rating. Locker returned to the field, starting the next three games. But he went down yet again, forcing Fitzpatrick back into action. He finished out the year on the field as the starter, playing in 11 games total and starting nine.
The final stats on the year for Fitzpatrick weren't as ugly as his 3-6 starter record suggests. He completed 62% of his passes for 2,454 yards, 14 touchdowns, 12 interceptions, and a passer rating of 82. But that wasn't quite good enough in the eyes of the Titans. The team released Fitzpatrick from his contract.
Luckily, he caught on with the Houston Texans, signing a two-year contract worth $7.2 million. "There is never a dull moment," said Fitzpatrick. "Everywhere I go, I end up playing." He took over for former Texans quarterback Matt Schaub and opened as the starting QB. Fitzpatrick started the first nine games of the year, but was bumped down on the depth chart after an uninspiring loss to the Philadelphia Eagles; he went just 13-for-27 passing with two touchdowns and an interception.
But Fitzpatrick made it back into the lineup just two games later, after Ryan Mallett had his turn under center and sustained an injury. He had the best game of his career, throwing six touchdown passes and no interceptions in a 45-21 victory over the New York Jets. That kept him in the lineup until he suffered a broken leg in a loss to the Indianapolis Colts.
That ended Fitzpatrick's season, but he did put up some nice numbers. He started 12 games and had a completion percentage of 63.1%, 2,483 passing yards, 17 touchdowns, eight interceptions, and a passer rating of 95.3 — a career best.
2015 and 2016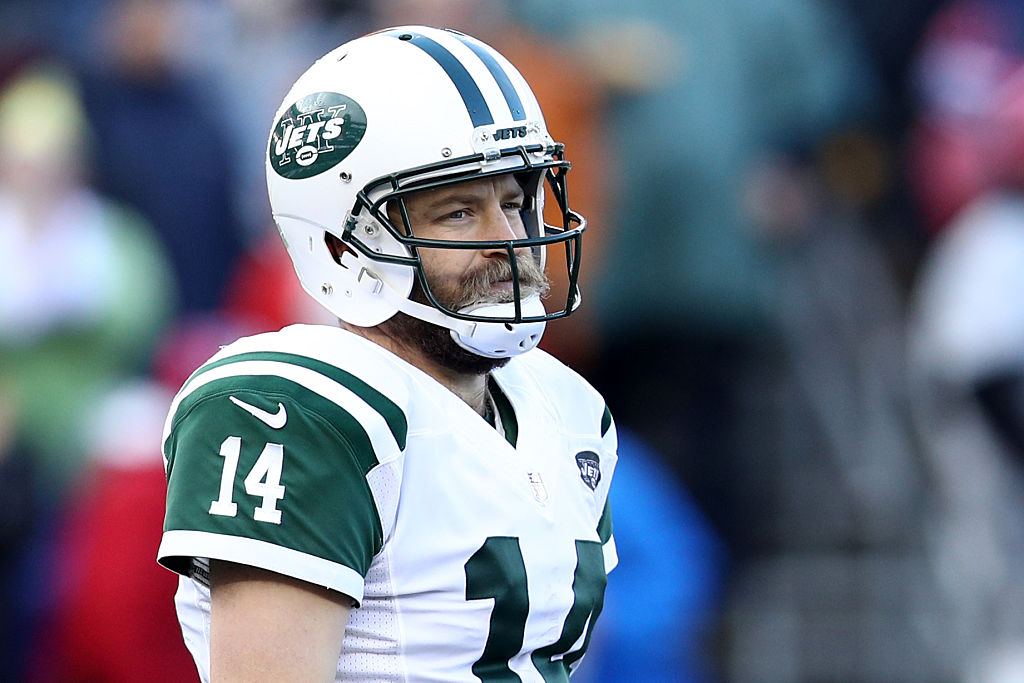 As has become somewhat of a March tradition, Fitzpatrick changed teams yet again. On the plus side, this time it wasn't simply a release. The Texans traded Fitzpatrick to the New York Jets for a sixth-round draft pick. Now 33 years old, he took over the starting role for a Jets team looking to bounce back after a 4-12 season under former head coach Rex Ryan and quarterback Geno Smith.
With new coach Todd Bowles, Fitzpatrick started all 16 games in his first season with the Jets. He set many career-highs, including his 31 touchdown passes and 3,905 passing yards. In the case of the touchdown total, 31 also represents the highest total in Jets franchise history. He finished the year with a passer rating of 88, which is more than serviceable for a starting quarterback.
The best game of the season for Fitzpatrick came against the Miami Dolphins. He threw four touchdown passes and no interceptions, winning the game 38-20. It was his best season in the win column, as well, leading New York to a 10-6 record. Unfortunately, it wasn't quite good enough to qualify for the postseason, which is disappointing, considering the Jets started 4-1.
The Jets went on a late five-game winning streak toward the end of the year. It positioned them to possibly make the playoffs. But they needed to beat the Buffalo Bills — Fitzpatrick's former team — in the final week of the year. Sadly, he threw three interceptions and the Jets lost 22-17.
Fitzpatrick remained with the Jets into the 2016 season by signing a one-year, $12 million contract. Fitzpatrick told ESPN:
It definitely was a long process. After coming to the realization that it wasn't going to get done right away and that it was going to take some time, I tried my best to put it out of my mind and tried to live life normally. But it was hard with people coming up to me and asking about the contract, people texting me. It was hovering … looming over my head for five, six months. In the end, I'm happy the way it turned out.
Fitzpatrick didn't survive the season as the starter, however. Through his first six games of the year, he had a passer rating of 63.4 with five touchdowns and 11 interceptions — six of those interceptions thrown in just one game. He bounced back and forth from the bench to the starter job, sharing time in the second half of the season with Smith and Bryce Petty. New York finished with a 5-11 record and Fitzpatrick became a free agent when the season ended.
2017 and beyond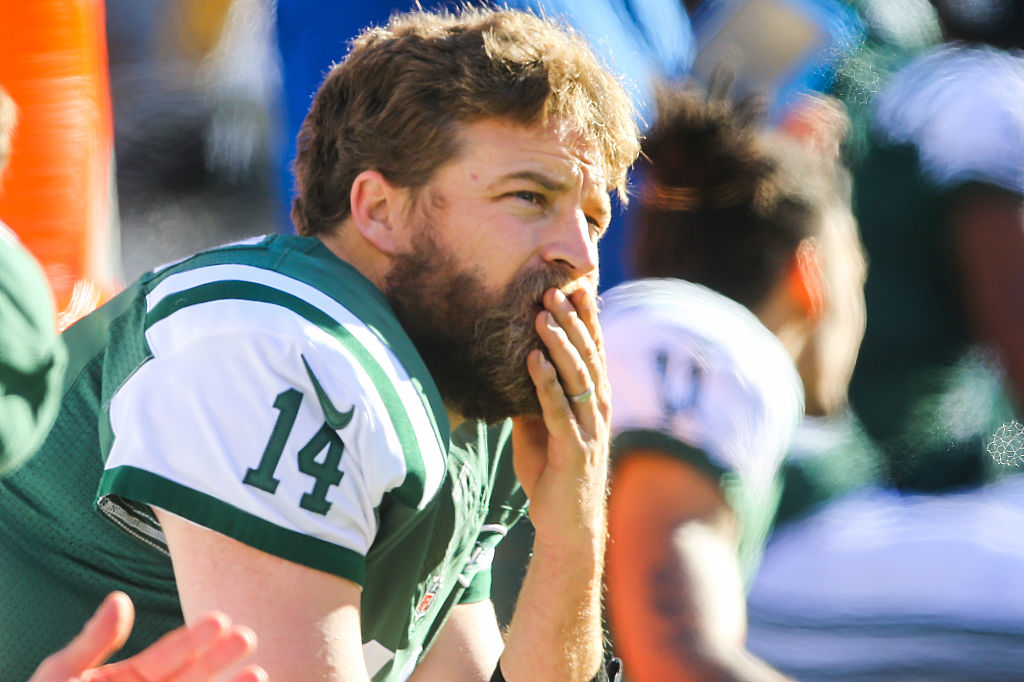 Going into the 2017 season, Fitzpatrick didn't seem to have any takers. He's 34 years old and, barring a major injury, won't have a starting job ever again. Then, news broke that the Tampa Bay Buccaneers reached an agreement with him concerning a one-year, $3 million deal. He'll serve as the backup to Bucs starter Jameis Winston.
The Bucs are the seventh NFL stop for Fitzpatrick. But even if this is his last year in the NFL, he is set up just fine with his personal life. He's married to Liza Barber, who also went to school at Harvard. The couple have five kids together and live a full and happy life.
"So we're like a traveling circus," Fitzpatrick said. "We've got five kids. So we're just touring the country right now. But it's been really nice … In terms of living, things haven't been easy moving around," he added. "But my wife has been great with it. My family, every time we move somewhere we're kind of all we have, and so it's been nice in a way to be able to become a closer family."
Statistics courtesy of ESPN and Pro-Football-Reference.