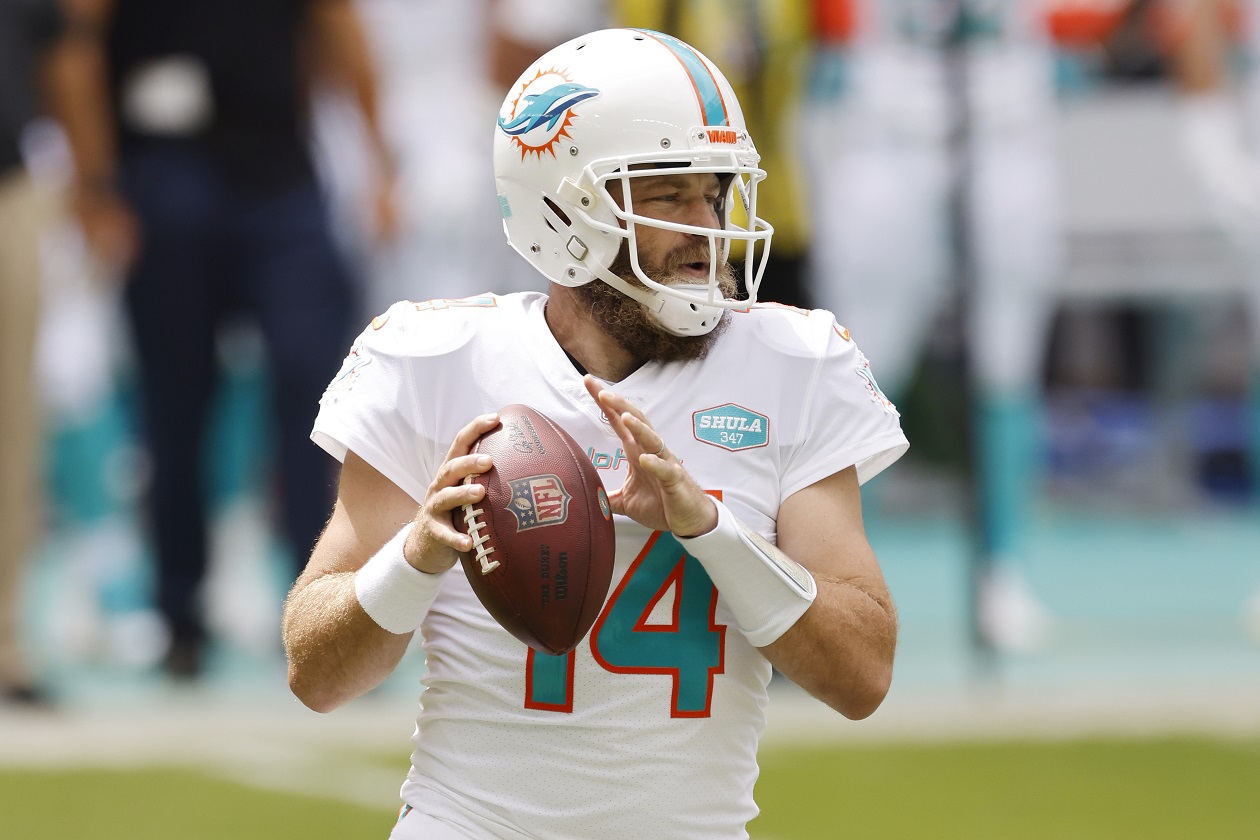 Ryan Fitzpatrick's NFL Career Could End With a Major Black Mark on His Record
After 16 seasons in the NFL, journeyman quarterback Ryan Fitzpatrick might not have any more "FitzMagic" left in the tank.
Any NFL team still looking for a quarterback may have one fewer option in free agency. Ryan Fitzpatrick, who spent the 2020 season with the Miami Dolphins, may have no more "Fitz-magic" left in the tank. According to multiple reports, the 37-year-old free agent is leaning toward retirement.
Where does Ryan Fitzpatrick go next?
According to John Clayton — formerly of ESPN, now with KKFN in Denver — Ryan Fitzpatrick "looks like he's going to retire." The Denver Broncos reportedly expressed interest in acquiring him to give their struggling young quarterback, Drew Lock, some competition.
Last month, Fitzpatrick left his playing status up in the air when he said this during the Pat McAfee Show: "For me, personally, I have to take every offseason and reassess. These last two years have really re-lit that fire under me. I still want to play, and I enjoy being out there playing."
If he does choose to leave the game, it will be a sad loss for everyone. Fitzpatrick may not have been the best quarterback in the NFL — not even close, really — but few played the position with as much heart and dedication. This is why, despite the presence of Tua Tagovailoa on the Dolphins' roster, some anonymous players on the team allegedly pulled for Fitzpatrick to remain the starter.
A brief rundown of Ryan Fitzpatrick's career
Ryan Fitzpatrick came to the league in 2005 when the St. Louis Rams chose him with the 250th pick of the NFL Draft. (For reference, there are 255 draft picks.) Prior to this, he played his college football at Harvard, where he won Ivy League Player of the Year in 2004.
His 2005 season basically summed up his entire career. After entering the season as the third-string quarterback, Fitzpatrick found himself pressed into service in November as injuries struck the first two quarterbacks. Against the Houston Texans, Ryan weaved his first bit of FitzMagic, leading the Rams back from a 24-point deficit to win 33-27 in overtime. Two weeks later, he threw for five interceptions in a dismal loss to Minnesota.
For the next 15 seasons, Fitzpatrick bounced across the league and found work at seven other NFL teams, becoming the definition of a journeyman quarterback. His longest stay with a team was a four-year run with the Buffalo Bills from 2009-2012. While he was popular everywhere he went, he never achieved an overall winning record with any team.
The black mark on Ryan's record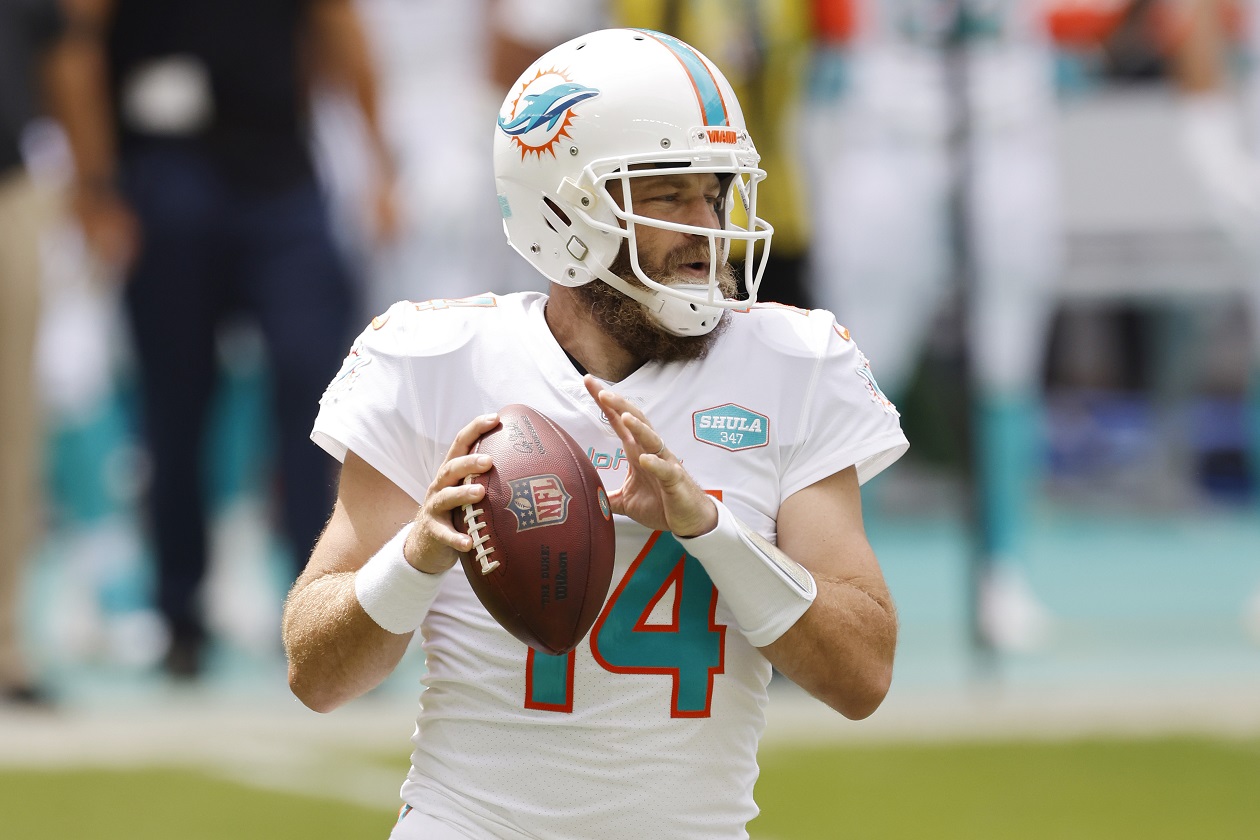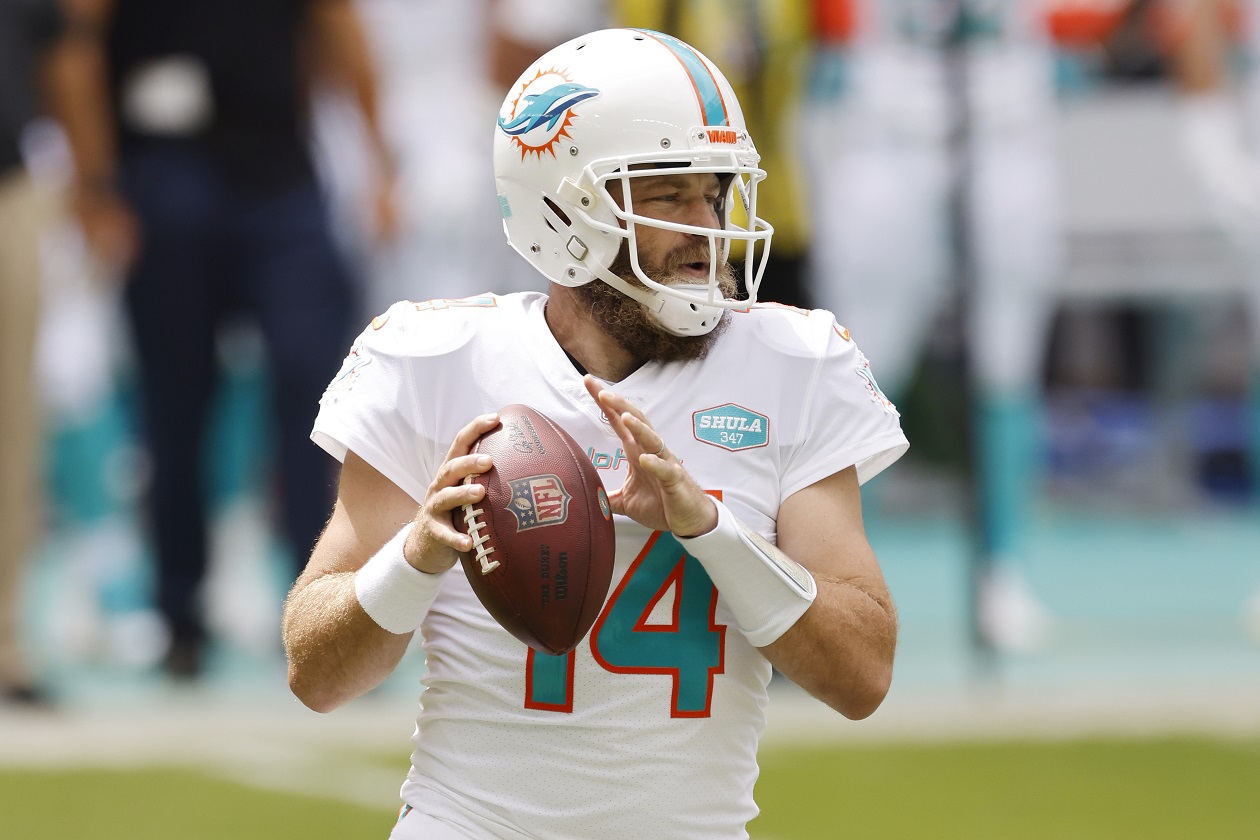 Ryan Fitzpatrick made plenty of fond memories for the eight teams he played with. One of them came just over two months ago when he willed his Dolphins to an improbable victory over the Las Vegas Raiders. With less than 30 seconds to go, he fired off a desperate pass to Mack Hollins as Raiders defensive end Arden Key yanked on his face mask. This put the Dolphins in position for the winning field goal in a 26-25 victory.
That being said, there will always be a black mark on Ryan Fitzpatrick's record. In his 16-year NFL career, none of his teams have made the playoffs. He has come close, such as last year's 10-6 Miami Dolphins team that just needed one more win. But few, if any, players in NFL history have played this long and had such rotten luck. Overall, if Fitzpatrick retires, he will go out with a record of 59-86-1 — a winning percentage of .408.
However, keep in mind that Fitzpatrick came out of a school and a conference that isn't traditionally a football powerhouse. He was very nearly the last player drafted in his class. For him to even last 16 seasons in the NFL is a success.
Statistics courtesy of Pro-Football-Reference.