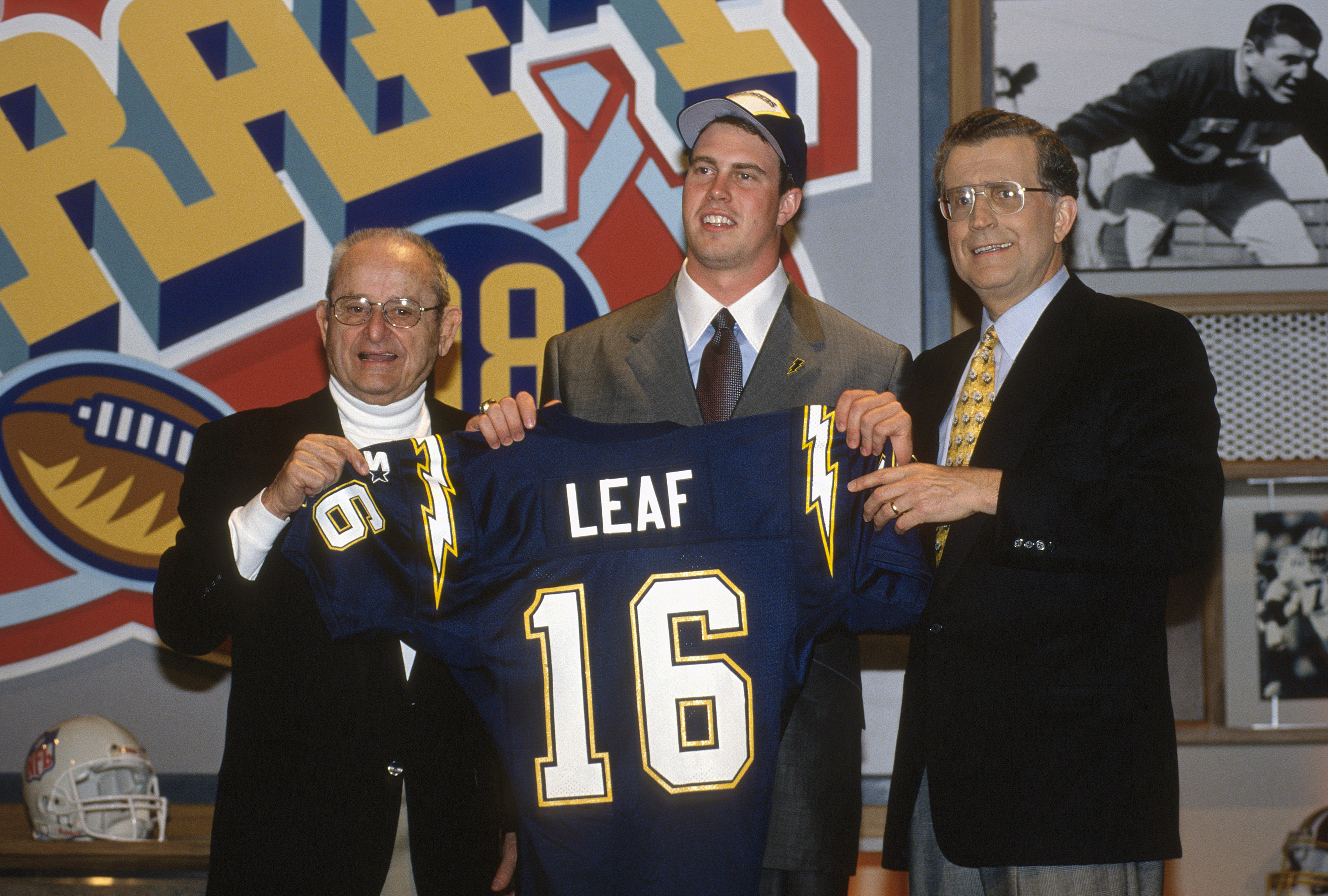 Ryan Leaf Gets Goosebumps Reliving the 'Coolest Thing' Football Ever Gave Him
Ryan Leaf shred the "coolest thing" that ever happened to him from a football standpoint.
Call him a bust or a spoiled punk, but Ryan Leaf could play football. A simple attitude adjustment back in 1998 may have saved the former second overall pick in the NFL from bust status. Leaf was one of the top college football players in the country back in 1997 as a junior and was a Heisman Trophy finalist that year. Although pro football wasn't good to him (or he wasn't good to pro football), Leaf has some cherished memories and he recently shared the "coolest thing" football ever game him.
Ryan Leaf is the ultimate riches-to-rags football story
Ryan Leaf was on top of the world as a junior in college back in 1997. He was also an admitted jerk. After a stellar college football career at Washington State, where he led the nation in passing as a junior, he was ready to move on to the NFL. Or so he thought.
Leaf was at his peak when he was drafted second overall in the 1998 NFL draft by the San Diego Chargers. That was also the beginning of his downfall. Leaf was an immature 22-year-old player thrust into the national spotlight. With sky-high expectations and tons of money, Leaf cracked.
He became confrontational with teammates, coaches, and the media. He struggled on the field, making things much worse off it. In his first season as the Chargers' supposed savior, Leaf went 3-6 in the nine games he started, throwing two touchdown passes and 15 interceptions. In his second season, Leaf was 1-8 as the starter with 11 touchdowns and 18 interceptions. He was worse off the field. After three seasons, he was out of football with a 4-17 record.
Leaf's life got much lower after football
After just two years with the San Diego Chargers, Ryan Leaf was released. He signed with the Dallas Cowboys and didn't fare any better. He started three games at quarterback for the Cowboys in 2000 and lost all of them. From there, things got much worse.
In May of 2009, Leaf was arrested on burglary and controlled-substance charges. He was sentenced to 10 years probation and fined $20,000. In March of 2012, Leaf was arrested again on burglary and theft charges, and then re-arrested several days later. In June of 2012, he was sentenced to seven years at the Montana Department of Corrections.
Leaf was released from prison in December of 2014. After six years of sobriety, Leaf began work as a Program Ambassador for Transcend Recovery Community. ESPN hired Leaf in 2019 to provide college football coverage.
Leaf recalled the 'coolest thing' football ever gave him
Recently, Ryan Leaf was a guest on The Rich Eisen Show and he recalled the good times of his college football days. He spoke of the "coolest thing" that happened to him on the night of the Heisman Trophy award, which he did not win. He flew to New York with his father and had the greatest experience of his life, especially after the ceremony.
"I went to this local bar called the Town Crier, and all the former (Heisman) winners were there," Leaf said, "and the ESPN crew was there. There's Chris Fowler, Kirk Herbstreit, and everybody, and I go behind the bar and I start bartending with Gino Torretta. Then I see the coolest thing in the world. My dad, who I thought was incredibly old at the time, but he was 47, so he was three years older than I am right now. He's in the back surrounded by all these winners – all the guys he looked up to. It's giving me goosebumps right now.
"About 2 in the morning, I look up and he's gone. My dad left his 21-year-old son at a bar in New York. I don't know what the hell he was doing. I get back to the Downtown Athletic Club and I walk in and I hear this music. There's a piano in the middle of the lobby and there's all these former winners. There's Mike Rozier, Archie Griffin, Tony Dorsett, the Four Horsemen from Notre Dame all surrounding this piano and all singing karaoke. And right in the middle of them? John Leaf. To this day, it is the coolest thing football celebrity has ever given me."
All stats courtesy of Pro Football Reference.