Ryan Leaf Just Thanked NFL Draft Rival Peyton Manning and His Family for the 'Great Love' They've Sent Him Over the Years
From the outside, it would be easy for us to think former San Diego Chargers quarterback Ryan Leaf isn't a fan of Peyton Manning. Of the two quarterbacks selected atop the 1998 NFL Draft, it was Manning, not Leaf, who attained the fame, the glory, and the Pro Football Hall of Fame bust.
How little we outsiders truly know. The reality is that Leaf and Manning have been friends for nearly 25 years despite how different their football journeys and personal lives have been. In fact, Leaf recently shed light on just how tight the two really are.
Ryan Leaf has remained close with Peyton Manning and his family despite their differing paths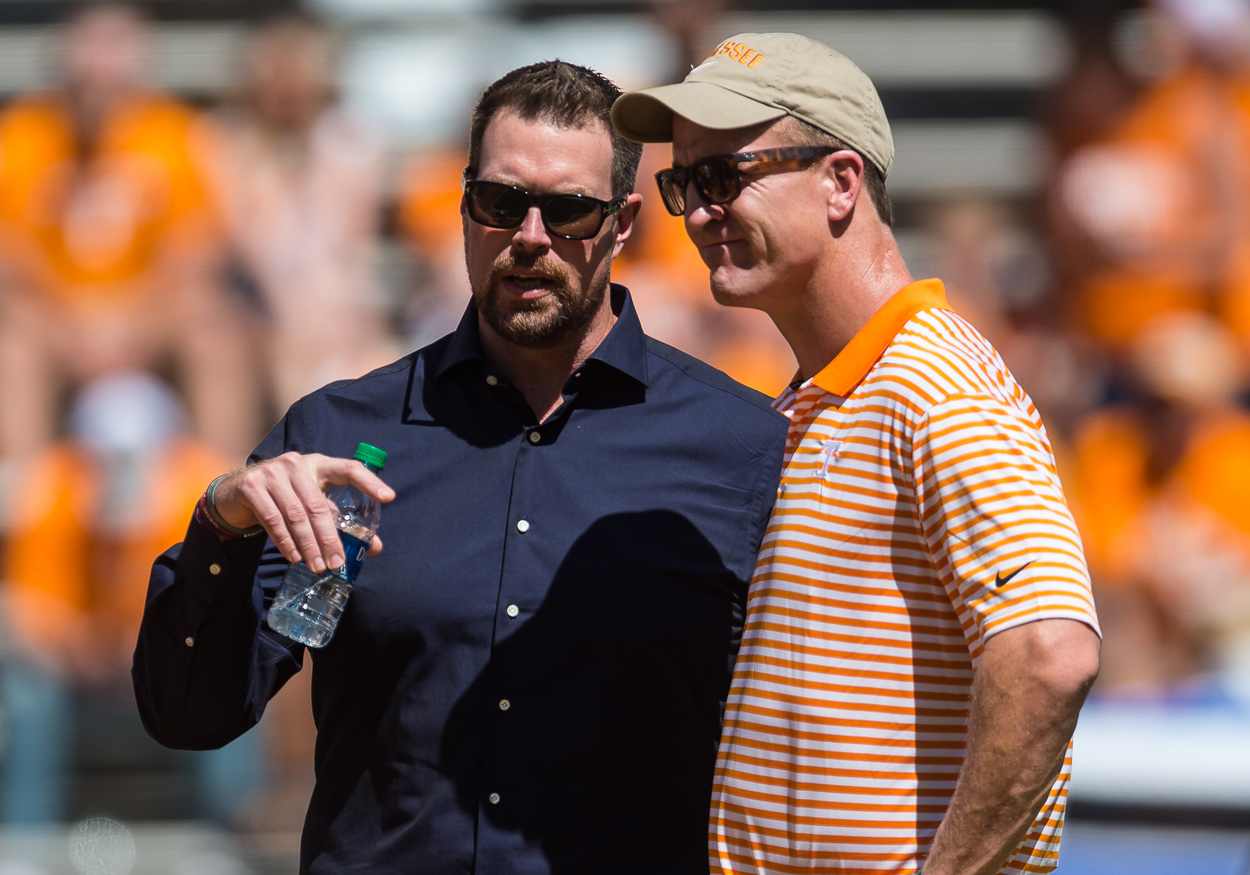 In the fall of 1997, Leaf and Manning were arguably the nation's top two quarterback prospects. The former starred at Washington State, and his counterpart dominated SEC defenses at the University of Tennessee. 
At that point, the two gunslingers first developed a friendship, one which continued into the 1998 draft and the respective beginnings of their NFL careers. Now, we're nearly in 2022, and the two are still friends.
Their bond has survived Leaf's legal issues and his admitted place as an NFL draft bust. The Heisman Trophy finalist misused painkillers and spent two years in prison after pleading guilty to one count of felony burglary and one charge of criminal possession of a dangerous drug in 2012.
As for Manning, we know how his life has turned out. After a difficult rookie season, he grew into one of the greatest quarterbacks in NFL history, won two Super Bowl rings, and entered the Hall of Fame earlier this year.
Yet, there's no anger or resentment on Leaf's part of how things turned out. On the Nov. 17 episode of Carton & Roberts on WFAN in New York, the 45-year-old thanked the Manning family for the "great love" they sent him during his personal troubles. 
The Manning family invited Leaf to Peyton's Hall of Fame induction earlier this year
The 2021 Pro Football Hall of Fame ceremony marked a reunion, of sorts, for the 1997 Heisman Trophy finalists. Manning, who placed second that year, joined winner and ex-Michigan standout Charles Woodson in receiving his Hall of Fame bust in Canton, Ohio.
Former Marshall receiver Randy Moss, who earned enshrinement in 2018, ranked fourth in that year's Heisman voting. The Minnesota Vikings legend and current ESPN analyst also attended the ceremony.
Then, there was Leaf, who placed third in the 1997 Heisman voting. When he appeared on WFAN, the Washington State product shared how the Manning family invited him to join them at Peyton's Hall of Fame induction ceremony and reunite with others from the Class of 1997.
"What a cool, cool thing to be a part of. So two of them [Manning and Woodson] were going into the Hall of Fame in August, so it was great to be able to be there and watch him celebrate. … I mean, there's only been 300 or so Hall of Famers, ever, and that's a pretty cool combo."

Ryan Leaf
Leaf previously tweeted a picture of the two in Canton, calling Manning his "pal" and sharing how proud he is of the five-time NFL MVP. He added #classof97 and #hofdads to the heartwarming post.
Their close bond is a testament to both men and their respective characters
Considering how vastly different their lives have been over the last 25 years, the fact that Leaf and Manning have remained close is, frankly, incredible. Leaf has been open about his demons and the personal hell he went through during the worst years of his life.
Leaf, despite everything he's dealt with, never closed the door on his relationship with Manning. In return, one of the most significant figures in modern league history never gave up on someone he developed a close bond with, no matter how bad things became on Leaf's side.
Their paths have continued branching. Manning co-hosts an alternate Monday Night Football broadcast and reportedly hopes to own an NFL team. Leaf is a college football analyst, podcast host, and public speaker who shares his own journey with others.
And yet, here they are, friends for nearly a quarter of a century. It's a heartwarming story in a world that needs more of them.
Like Sportscasting on Facebook. Follow us on Twitter @sportscasting19.