Ryan Leaf Opened Up About Painkiller Addiction and Considering Suicide in a Revealing Interview: 'I Didn't See a Path to Ask For Help'
At this point in his life, former San Diego Chargers quarterback Ryan Leaf knows he'll always be ranked among the biggest draft busts in NFL history. The 45-year-old is at least at the stage where he can accept it and smile.
Leaf, a Heisman Trophy finalist and Washington State legend, has come a long way since going one pick after Peyton Manning in the 1998 NFL Draft. After emerging from his own personal hell, the retired quarterback is continuing to open up about the demons he fought along the way.
Ryan Leaf opened up about considering suicide amid his painkiller addiction
Leaf appeared on the Nov. 17 episode of Carton & Roberts on WFAN in New York, in part to promote Bust, his new podcast. Co-host Craig Carton, who did most of the back-and-forth with Leaf, is a recovering gambling addict and served over a year in prison for his role in a Ponzi scheme.
After returning to the airwaves in November 2020, Carton became a public advocate for responsible gambling and now hosts a weekly public safety show. Leaf, who served two years in prison from 2012-14 after pleading guilty to one count of felony burglary and one charge of criminal possession of a dangerous drug, joked that he and Carton should have "figured out a way to be pen pals."
Early in their conversation, Leaf said he began misusing pills to "relieve emotional pain" and "be numb for a long, long time."
"It was a self-medicating thing. I didn't see a path to ask for help. I'd never seen anybody in my life ever do that. I'd never seen somebody stand up in front of a roomful of men and say, 'Hey, I'm really struggling here. Can you help me?' I've never seen it. So if you haven't seen anything, how are you ever to emulate that?"

Ryan Leaf
Leaf added that he began misusing pills roughly three months after he retired from the NFL in 2002. 
Leaf said his 'rock bottom,' of sorts, came when he began helping fellow inmates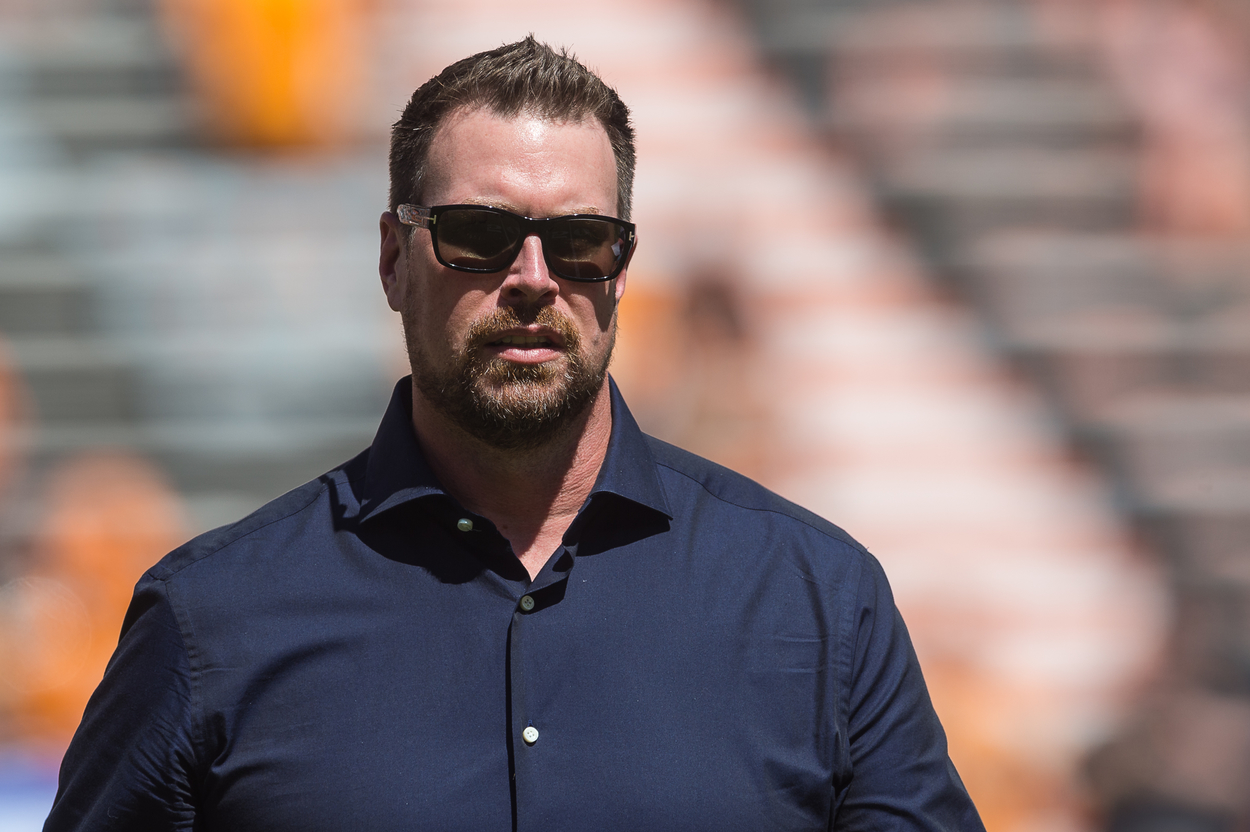 Often when he interviews guests and recovering addicts on Hello, My Name Is Craig, Carton asks what their "rock bottom" was that made them begin seeking out help and "shedding the ego." The veteran sportscaster asked Leaf the same question and received an intriguing answer in the process.
"I don't know if I ever had it, to be honest with you," Leaf told Carton. "I was just as miserable in prison as I ever was without the pills. So, you know, I think that the true bottom is death. And as long as you keep getting back up, you've never hit it."
However, Leaf admitted there was a moment during his two-year prison sentence when he began shedding the ego and working to change his life. While in prison, his roommate was a war veteran who had served in Afghanistan. Leaf said the veteran "confronted" the retired quarterback about his attitude and his behavior. 
Then, the veteran proposed an idea: he and Leaf would go to the prison library and help prisoners learn how to read.
"I started doing that in a place where you're supposed to show zero vulnerability. There were men saying, 'I need help, Ryan. I can't read. Can you help me?' And so that made my perspective shift tremendously, and of course, now when people ask me that question, I can look back and say, 'OK, that was at least where I started to do it.'"

Ryan Leaf
Leaf admitted his prison tutoring sessions taught him that helping others "had to be the forefront of who I was" going forward.
"It could never be about me again," Leaf said. "It had to be about someone who is struggling, someone who's going through something similar that I was. … The narcissist in me had to be, you know, essentially dead and buried."
Leaf is trying to use his platform to help others who are struggling
Dec. 7, 2021, will mark seven years since Leaf left prison. He understandably has no desire to return to any aspects of his old life, save talking about ongoing events in the NFL.
Now a college football analyst for Fox Sports, Leaf has traveled to college programs in recent years and discussed his own journey. He told Carton and co-host Evan Roberts that several young quarterbacks, including Jacksonville Jaguars rookie Trevor Lawrence, have sought his counsel on overcoming adversity.
Leaf, who said he has dealt with post-traumatic stress disorder and narcissistic personality disorder, told the duo he views Bust — a 12-part series about his NFL journey — as a mental health podcast. 
"I mean, sports fans are going to listen to it and hear and remember things from the past," Leaf explained. "But this is a mental health recovery podcast [which can] help people who are struggling and have something to relate to and go to."
Like Sportscasting on Facebook. Follow us on Twitter @sportscasting19.