Ryan Leaf, Who Is in Trouble Again, Reportedly Didn't Want to Go No. 1 Overall in the Draft
When thinking about the biggest busts in NFL history, one name always comes to mind – Ryan Leaf. There were two big quarterback prospects in the 1998 NFL draft: Ryan Leaf and Peyton Manning. One is a future Hall of Famer, the other not so much. Leaf, who has been in trouble with the law several times over the years, reportedly did not want to go No. 1 overall to the Indianapolis Colts.
Ryan Leaf ended up being one of the biggest busts in NFL history
RELATED: What Is Ryan Leaf's Net Worth?
During his time in college, Ryan Leaf was a Washington State legend. After having a good season in 1996 with 2,811 passing yards, 21 touchdowns, and 12 interceptions, he was dominant in 1997. Leaf threw for 3,968 yards that season to go with 34 passing touchdowns and 11 interceptions. Washington State, who went 3-8 in 1995 and 5-6 in 1996, went 10-2 in 1997. They even went to the Rose Bowl that season.
Leaf's play ultimately made him a top prospect in the 1998 NFL draft. The Indianapolis Colts selected Peyton Manning No. 1 overall while the San Diego Chargers selected Leaf at No. 2. However, Leaf's career with the Chargers did not go as planned. He dealt with injuries, bad choices, and he was just not good on the field.
In nine starts and 10 games with the Chargers in 1998, Leaf threw for 1,289 yards, two touchdowns, and 15 interceptions. After missing the entire 1999 season, Leaf threw for 1,883 yards, 11 touchdowns, and 18 interceptions in nine starts and 11 games in 2000. Leaf then played in four games for the Cowboys in 2001 and threw for 494 yards, one touchdown, and three interceptions. He did not play in an NFL game ever again.
Getting into legal trouble
RELATED: Ryan Leaf's Troubled Past Returns in Domestic Battery Arrest
After his awful playing career, Ryan Leaf got into a lot of legal trouble. He was indicted on burglary and controlled-substance charges in 2009, according to the Desert Sun. Leaf then pleaded guilty in 2010 to seven counts of obtaining a controlled substance by fraud, and one count of delivery of a simulated controlled substance. He was then sentenced to 10 years of probation.
Then in 2012, Leaf pleaded guilty to felony burglary and criminal possession of a dangerous drug, the Deseret Sun reported. Then after two years in prison, he was sentenced to five years for violating his probation. Prosecutors allowed him to use time served from another case, though, according to the Desert Sun. He was then released from prison in Dec. 2014.
It seemed as if Leaf had turned his life around. He joined ESPN in 2019. However, on Friday, Leaf was arrested on suspicion of misdemeanor domestic battery, according to The Seattle Times. Leaf is scheduled to appear in court on Wednesday.
Leaf didn't want to play for the Colts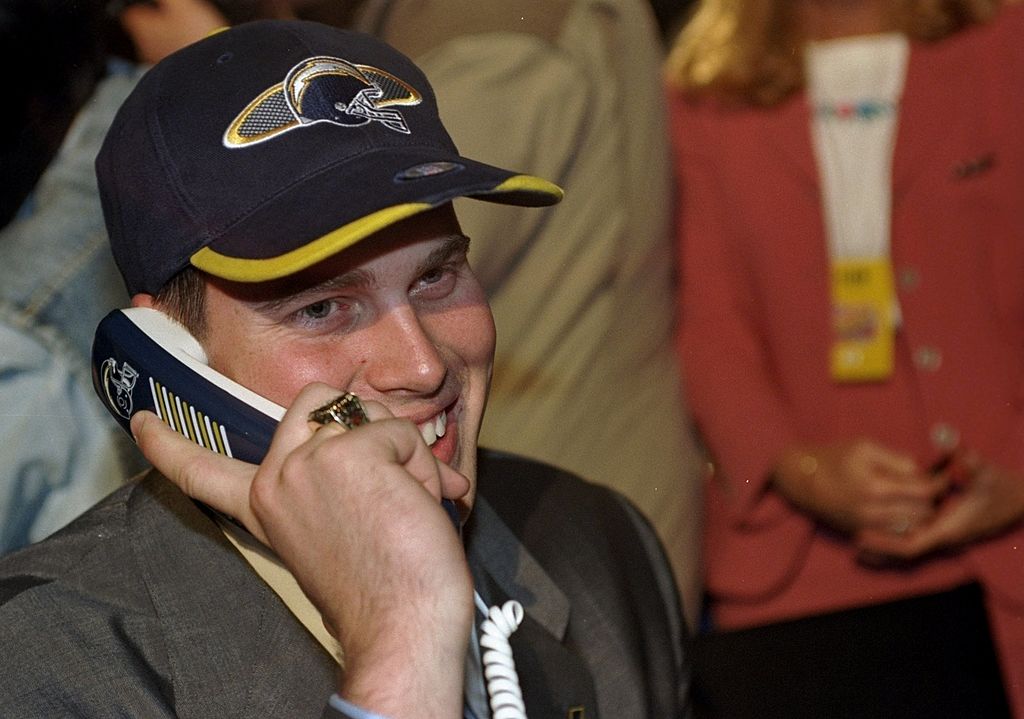 RELATED: Philip Rivers Drives a 2008 Ford F-250 Despite Making Over $215 Million in His Career
The Colts have always been praised for selecting the right quarterback in Peyton Manning. However, was it actually Leaf who did not choose them?
Former NFL agent Leigh Steinberg came out with a book in 2014 and wrote that Leaf sabotaged the 1998 NFL draft so the Colts wouldn't draft him. Steinberg wrote that Leaf was the frontrunner to go No. 1 overall to the Colts, according to CBS Sports, but he wanted to go to San Diego instead.
"'No way do I want to play in Indianapolis,' he told me, referring to the Colts, who owned the No. 1 pick. Instead, because of the exceptional weather and the more laid-back lifestyle, he preferred the San Diego Chargers, who would go second," Steinberg wrote, according to For The Win. "'That's fine,' I warned him, 'but the way to achieve this is not exactly going to help your image. You'll get a lot of criticism.' Ryan didn't care about his image, though, only his destination."
Steinberg wrote that Leaf then purposely skipped out on a meeting with the Colts coach at the time, Jim Mora, according to CBS Sports.
So, was Leaf not wanting to play for the Colts the real reason Peyton Manning became a legend in Indianapolis? Maybe, but either way, the Colts definitely got lucky.
All stats courtesy of Sports Reference