Sabrina Ionescu Has a Twin Sibling That Also Plays College Basketball
One of the most electric basketball players in the world (man or woman) is the WNBA star, Sabrina Ionescu. After starring for the Oregon Ducks' women's college basketball team, Ionescu has since joined the New York Liberty. While everyone knows that Ionescu is a baller and can compete with the best of the best on the basketball court, some might not know that she actually has a twin brother who also plays basketball.
Sabrina Ionescu was a star for the Oregon Ducks
RELATED: Many NBA Players Supported the WNBA in a Big Way
Ionescu was one of the top college basketball players in the country starting in her very first college season. She averaged 14.6 points per game to go with 6.6 rebounds and 5.5 assists as she was the U.S. Basketball Writers Association, and ESPNW's National Freshman of the Year, according to Oregon's team site.
She then averaged 19.7 points per game in her sophomore season to go with 7.8 assists and 6.7 rebounds, and then 19.9 points per game, 8.2 assists, and 7.4 rebounds in her junior year. As a senior, Ionescu averaged 17.5 points per game, 9.1 assists, and 8.6 rebounds.
In her career, Ionescu was the first player in NCAA history (male or female) to score 2,000 career points and have 1,000 career rebounds and 1,000 career assists. She is also the NCAA's all-time triple-double leader with 26, and she is fourth on the all-time NCAA women's list in career assists with 1,091.
The Ducks had a lot of success with Ionescu too. After they went 23-14 in 2016-17, Oregon went 33-5 in 2017-18 and 2018-19. Ionescu also helped lead the Ducks to the Final Four in 2018-19. The Ducks then went 31-2 in 2019-20 with Ionescu.
Ionescu's stellar play in college led to her becoming the No. 1 overall pick in the 2020 WNBA draft by the New York Liberty. She has played in three games with the Liberty so far. After just scoring 12 points on 4-of-17 shooting in her first game, Ionescu scored 33 points on 11-of-20 shooting in her second. Ionescu then had 10 points on four-of-five shooting in 12 minutes in her third WNBA game, but left early with an ankle injury.
The Athletic's Shams Charania reported that she is expected to miss approximately one month as she has a Grade 3 left ankle sprain.
Sabrina Ionescu has a twin brother named Eddy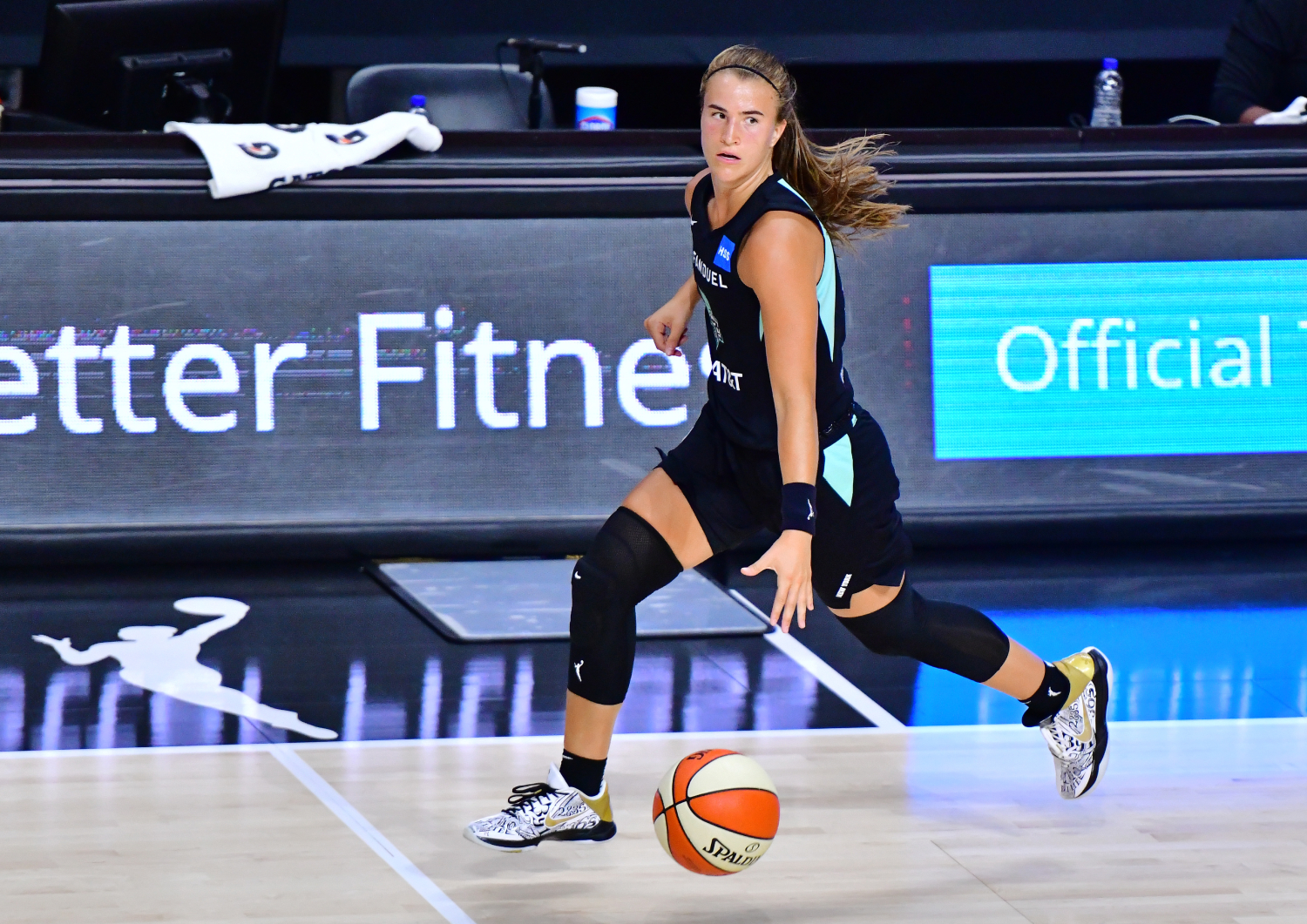 RELATED: Kyrie Irving's $1.5 Million Just Helped WNBA Players in a Significant Way
Ionescu actually has a twin brother named Eddy who also plays basketball. When they were kids, the two used to even hustle older men on the basketball court so that they could get money for Slurpees.
"I'd sit there and try and act like I had no idea how to play, and so they had betted money, and then it was game on," Sabrina told ESPNW. "I played 1-on-1, collect the money, Slurpees. I'd play H-O-R-S-E, collect the money, Slurpees. I'd play P-I-G, collect the money, Slurpees."
Not only were they difficult to guard while growing up, but they also, at times, communicated in fluent Romanian, according to The Oregonian. They had heard the language at home throughout their lives.
"If we didn't want somebody else knowing what I wanted to do — like a pick-and-pop, or watch me in the corner, or drive to the left — we'd say it to each other in Romanian," Eddy said, according to The Oregonian. "After all, I've never met another Romanian basketball player on the floor."
Eddy Ionescu also plays college basketball at Oregon
RELATED: Elena Delle Donne Takes 64 Pills a Day But Is Being Forced to Play by the WNBA
Just like his sister, Eddy also plays college basketball for the Oregon Ducks.
He first played college basketball at City College of San Francisco, per Oregon's team site. He scored six points per game as a freshman and 9.9 as a sophomore. Eddy has since joined Oregon's team. 
In his redshirt junior season at Oregon in 2019-20, Eddy first appeared on Dec. 7, 2019 against Hawaii and had one assist. He also appeared in games against Utah, Oregon State, and California.
The Ionescus have certainly made a name for themselves in the basketball world.
Stats courtesy of ESPN