Sabrina Ionescu Is Getting Mentored by Some NBA Superstars
As more people are (finally) becoming more interested in the WNBA, there is one star that everyone wants to watch — Sabrina Ionescu. The No. 1 overall pick is trying to help the New York Liberty turn things around after they went 7-27 in 2018 and 10-24 in 2019. Other top basketball stars have recognized Ionescu's talent too. Some NBA superstars, including Stephen Curry, appear to be mentoring her during her first professional season.
Sabrina Ionescu had a stellar college career at Oregon
RELATED: Many NBA Players Supported the WNBA in a Big Way
Prior to entering the WNBA, Ionescu became an absolute legend at the University of Oregon.
After averaging 14.6 points per game in her freshman season, per Oregon's team site, she became one of the country's best players during her sophomore season. She averaged 19.7 points per game to go with 7.8 assists and 6.7 rebounds. Ionescu then averaged 19.9 points per game in her junior year to go with 8.2 assists and 7.4 rebounds, and then 17.5 points per game, 9.1 assists, and 8.6 rebounds in her senior season.
She ultimately became the first player in NCAA history (male or female) to score 2,000 career points and have 1,000 career rebounds and 1,000 career assists. She is also the NCAA's all-time leader in triple-doubles with 26. Ionescu finished her career with 1,091 career assists, which is fourth on the all-time NCAA women's list.
The Oregon Ducks had a lot of success with Ionescu too. After going 23-14 in 2016-17, the Ducks went 33-5 in 2017-18 and 2018-19. They also reached the Final Four in 2018-19. Ionescu and the Ducks then went 31-2 in 2019-20.
Ionescu's stellar play in college helped her become the No. 1 overall pick by the New York Liberty.
Sabrina Ionescu has had a roller-coaster first few games with the Liberty
RELATED: Kyrie Irving's $1.5 Million Just Helped WNBA Players in a Significant Way
The Liberty have started their season 0-3, and Ionescu struggled in the team's first game against the Seattle Storm. She went 4-of-17 from the field and 0-of-8 from 3-point range, only scoring 12 points.
"I admit I was really nervous for my first game as a pro," Ionescu wrote for the Associated Press. "I know, I was always nervous before games in college, but this was a little different as I was trying to find my routine since everything's a little different at the pro level. There isn't that pregame meal or specific shoes you have to wear for games like we had in college. I'm still trying to figure out what works best for me. What time to eat? What time to take a nap? I know I'll get it down pat soon."
Ionescu then had a spectacular performance in her second game against the Dallas Wings. She scored 33 points on 11-of-20 shooting, and she was 6-of-10 from 3-point range. Ionescu also had seven rebounds and seven assists.
In her third game, Ionescu was off to a great start against the Atlanta Dream. She had 10 points on four-of-five shooting in 12 minutes. However, she rolled her ankle during the game and did not return. Liberty coach Walt Hopkins said after the game that he just knew that it was a sprain and that she was getting it looked at, according to ESPN.
She is getting mentored by NBA superstars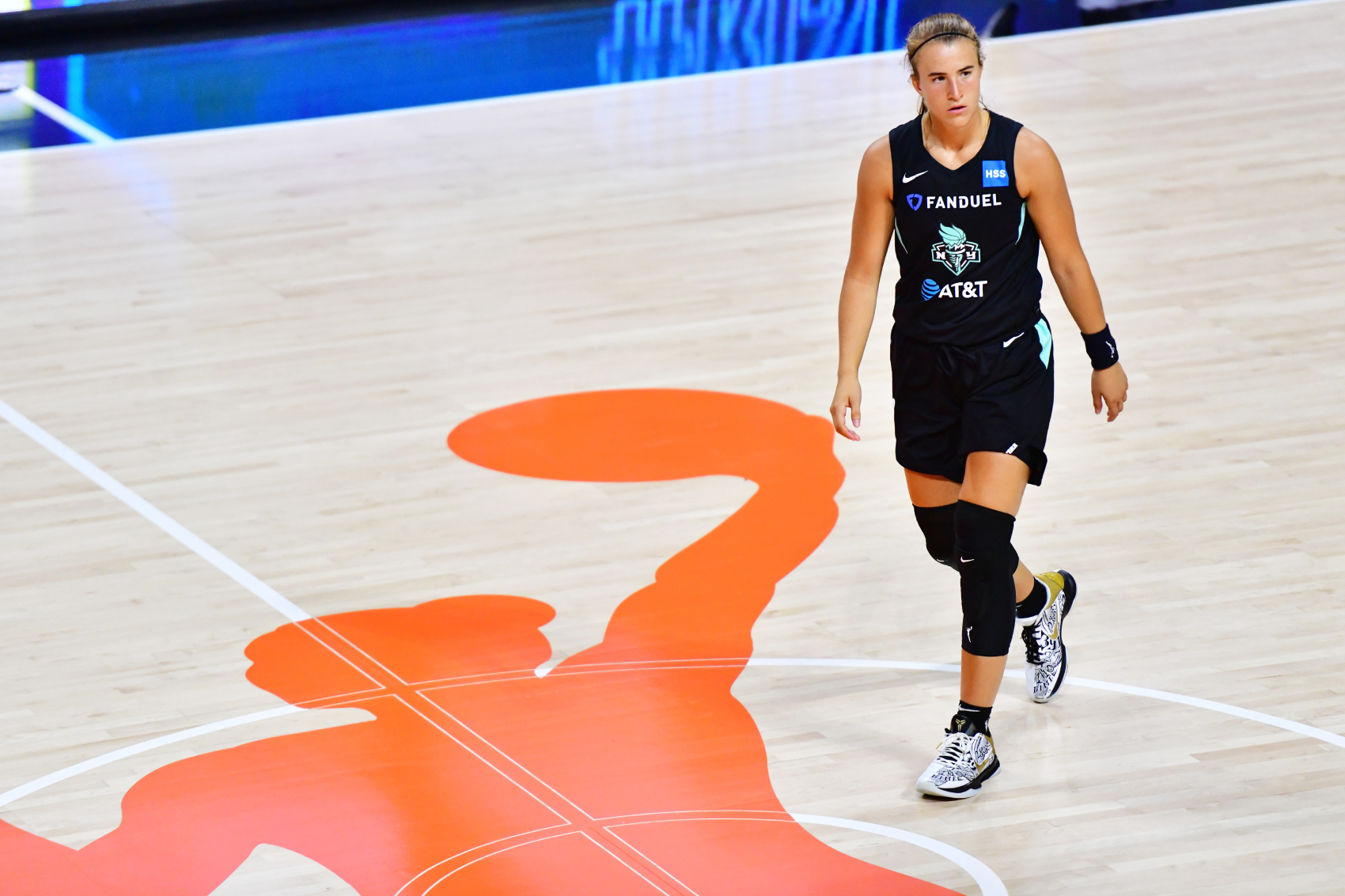 RELATED: Elena Delle Donne Takes 64 Pills a Day But Is Being Forced to Play by the WNBA
After Ionescu's first career game, she ultimately got messages from several NBA superstars.
"I got back to my hotel room and I had so many texts and messages from people congratulating me on my first game. There really is such a cool relationship between the NBA and WNBA as they definitely support us," she wrote for AP. "It meant a lot to me to hear from so many of the NBA guys, including LeBron James, Damian Lillard, Ja Morant, and Steve Nash. They told me that I looked poised and that I was going to have a great career."
Additionally, Ionescu said that she got on FaceTime to talk to Stephen Curry.
"It was also helpful to connect with Steph (Curry) on FaceTime to go over what went right and wrong in the opener," she wrote.
What Ionescu and Curry discussed must have helped as she had the big performance against Dallas in her next game.
"I knew if I was open to shoot it. That's what I did in the second game and I was able to hit a few. Once the first couple went in, my confidence grew," she wrote.
It appears that Ionescu is set to have a stellar WNBA career. She certainly has the right people in her corner to help her become great.
Stats courtesy of ESPN