The Sacramento Kings Just Once Again Proved Their Organizational Incompetence By Trading Away Their Most Promising Young Player In Tyrese Haliburton
The Sacramento Kings haven't approached what could be considered a functional NBA franchise for going on two decades. The team hasn't made the playoffs since 2006 when Chris Webber, Peja Stojakovic, Mike Bibby, and Doug Christie were at the helm.
Since then, it's been one example of ineptitude after another. But it seemed like Sacramento had finally nailed one of its lottery picks when the team drafted guard Tyrese Haliburton No. 12 overall in 2020.
And now they've promptly traded him away less than 15 months later. Because why not.
The Sacramento Kings made a trade involving Tyrese Haliburton going to the Indiana Pacers for Domantas Sabonis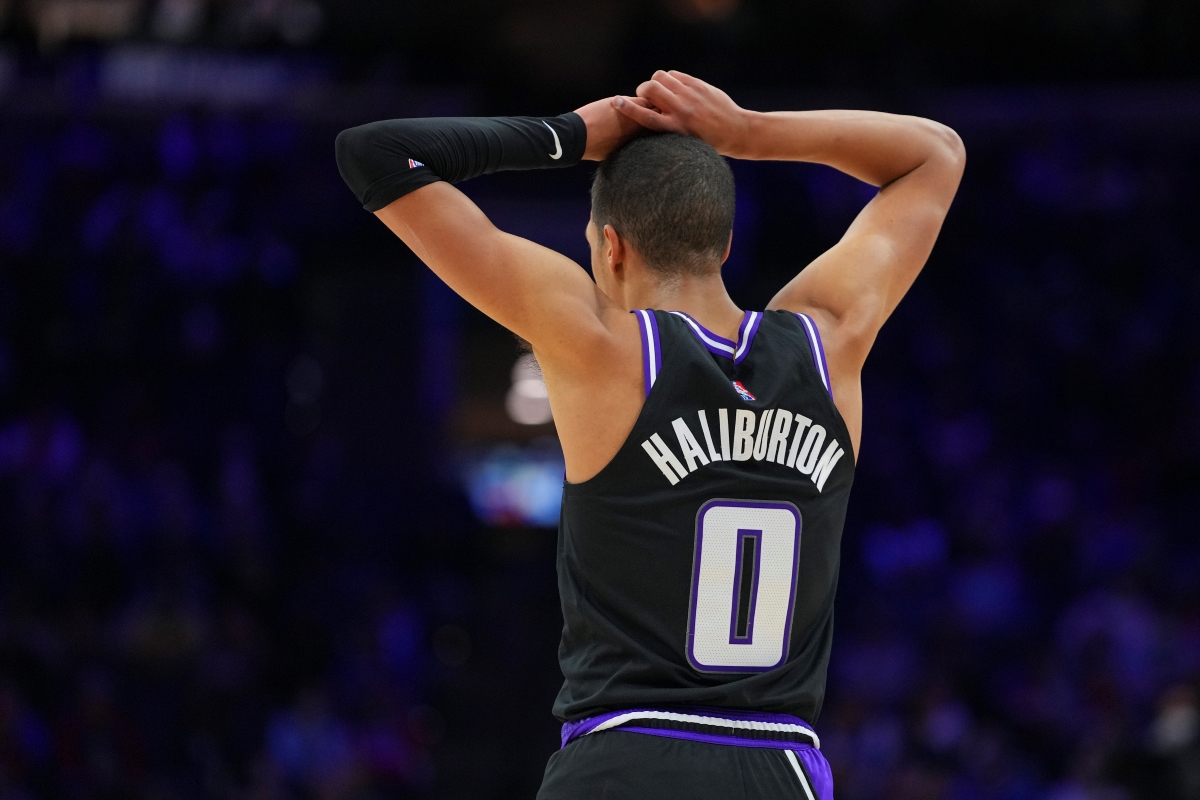 The Kings dealt away Haliburton, Buddy Hield, and Tristan Thompson in exchange for Sabonis, Jeremy Lamb, Justin Holiday, and 2027 second-round pick, per CBSSports.
Sabonis is a good get for Sacramento. The 6-foot-11 center is one of the most underrated players in the NBA with his ability to pass, rebound, and facilitate as a big man.
He'll now partner with De'Aaron Fox as one of the Kings' two franchise cornerstones.
But involving Haliburton in any deal — even for Ben Simmons — is inexcusable. Which means Sacramento would have no problem pulling the trigger on it.
The 21-year-old has arguably been the Kings' best player this year. Haliburton is averaging 14.3 points, 3.9 assists, 7.4 rebounds, and 1.7 steals per game in 2021-22. He leads the team in minutes and is shooting 41.3% from three on nearly five attempts per game.
All this while being 14th on the team in usage rate.
It should be a crime to trade a player with Haliburton's production and potential. But it's not surprising coming from Sacramento.
The trade is just further evidence of the Kings' incompetence as an organization
The last time Sacramento made the playoffs, the Oklahoma City Thunder were still the Seattle Supersonics. The Kings haven't actually won a playoff series in nearly 18 years.
Since that season, the franchise has had 13 lottery picks. Twelve of those were in consecutive seasons, all of which landed inside the top 10.
Five of those were top-five selections.
The best of all 13 was Haliburton. An argument could be made for DeMarcus Cousins, but the Kings still landed inside the top 14 eight years straight after they selected Boogie.
The 6-foot-5 two-way point guard provided Sacramento fans with a glimmer of hope. He was paired in the backcourt with the franchise's best draft success before him in Fox.
Shoot, the Kings were within two games of making the play-in tournament — which counts for something when you're this bad for this long — before trading away their best young player and potential franchise building block.
Sabonis will be a good player in Sacramento (until they trade him, right?). But Haliburton provided a different outlook for the organization's future.
After this the question becomes now what?
The answer to that query is, "No one has any clue." Including the Kings. Clearly.
Sabonis and Fox are an odd fit. Neither is much of a threat from the outside — even in a pick-and-roll, Domas doesn't really provide a pick-and-pop option. And the team traded away their second-best shooter in Buddy Hield. So there's that too.
Sacramento also still has center Richaun Holmes in the starting five. He's been a 40% shooter from deep this year — on 0.1 attempts per game. Not much of a floor spacer there, either.
It was an awful trade that didn't make the team any better (in the short or long term), the roster makes less sense, and the decision to deal away Haliburton was terrible just on its own.
But hey. Kings gonna Kings.
All statistics courtesy of NBA.com.
RELATED: De'Aaron Fox Trade Rumors: Ranking the 3 Best Landing Spots for the Kings Guard