With Sacramento Kings in Turmoil yet Again, the Time for a Ben Simmons Deal Is Nearing
It was only a little more than a month ago there were reports Ben Simmons was so fed up with his standoff with the Philadelphia 76ers that he would be happy to go to the Sacramento Kings. Little has changed between Simmons and the Sixers. Yes, they made nice for a little while. Simmons opened up about his mental health, the team made supportive sounds, then resumed fining him and dragging his trade value through the mud.
Meanwhile, the whole time this mess has dragged on, Philadelphia president of basketball operations Daryl Morey continues to ask for some combination of all-time greats in return for Simmons. One can understand Morey's plight. He inherited Simmons' supermax contract, which still has four years left on it. You can't just waive $147 million and not put the organization in salary-cap purgatory.
But an end might be in sight, and it's because things in Sacramento are, well, pretty much the way they've been for 15 years.
Luke Walton is reportedly on thin ice with the Sacramento Kings
A month ago, Sam Amick of The Athletic reported that the Sacramento Kings pumped the brakes on any thoughts of acquiring Ben Simmons because management wanted to see what it had. Sacramento drafted Davion Mitchell, a defensive gem, retained center Richaun Holmes on a team-friendly deal, and didn't do anything earthshattering.
That's hardly a surprise; the Kings seldom have the opportunity for big moves. Free agents won't go there, and they've been bad for so long they don't often have trade chips.
Things started well enough. After blowing out the Charlotte Hornets on Nov. 5, Sacramento was 5–4. When your franchise hasn't made the playoffs or even broken .500 since 2006, baby steps matter. Then the Kings lost four straight games, and restricted-free-agent-to-be Marvin Bagley told coach Luke Walton he liked the view from the bench just fine, thanks.
A blowout victory at Detroit stopped the skid, but Sacramento fell to 6–9 with a listless effort in a loss to the Minnesota Timberwolves to end a 1–3 road trip. The team has no injury problems. Instead, it's just not very good. Situation normal.
The latest reports have Walton's job status in jeopardy. The Kings are 68–91 since he arrived in 2019, posting back-to-back 31–41 seasons in his first two years. Walton was 98–148 with the Lakers, so maybe he needs the 2015–16 Golden State Warriors (and Steve Kerr's system) before he can win regularly.
Another year of postseason-free basketball in Sacramento takes their streak to 16 years and set a new NBA record. General manager Monte McNair might be ready to do something drastic.
Ben Simmons would undoubtedly be a drastic move for the Sacramento Kings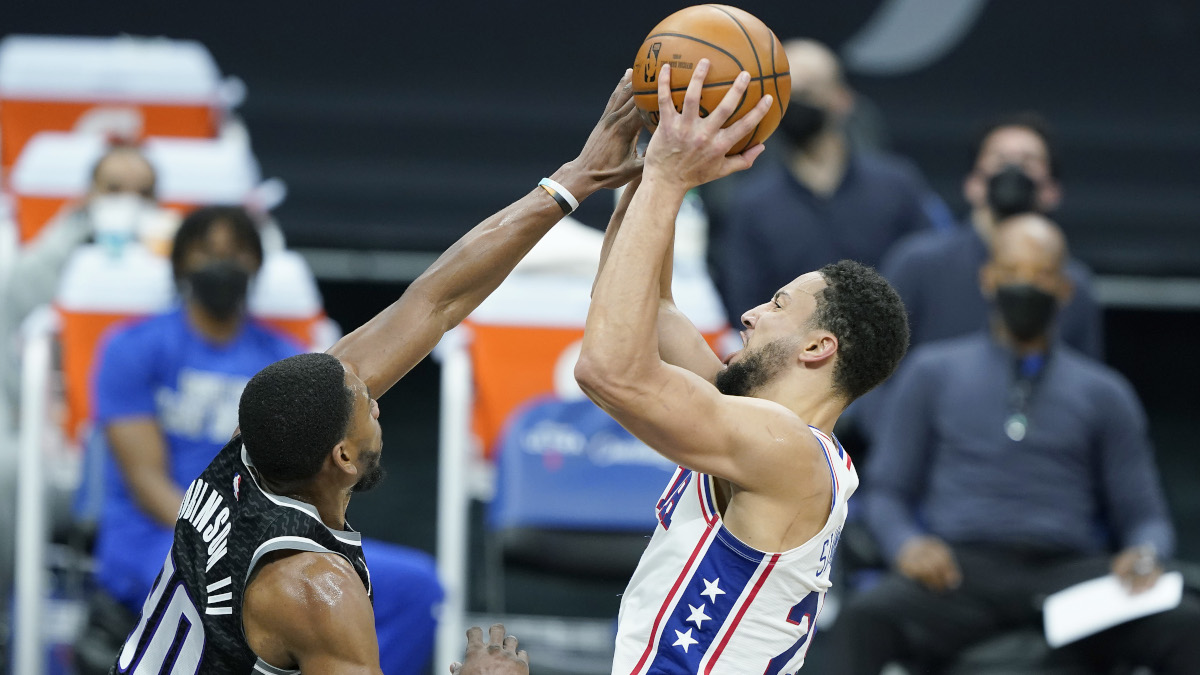 The Sacramento Kings are playing poorly, and no player exemplifies that more than alleged franchise player De'Aaron Fox. He signed a max five-year, $163 million extension in November 2020, a contract that began this season.
Fox averaged 25.2 points and 7.2 assists per game last season, shooting 47.7% overall. He's not a particularly good 3-point shooter; 32.2% last season was right around his career mark of 32.6% after four years.
This season, with roughly the same playing time, Fox is producing considerably fewer results. He's averaging 20.3 points and 6.2 dimes. His shooting has dipped from shaky to abysmal (41.8% overall, 24.3% from deep). But his turnovers have ticked up a bit, so there's that.
The question of a potential trade for Ben Simmons becomes an existential one. Will Philadelphia want to add more shooting, such as 3-point savant Buddy Hield? Or does it become an exchange of broken toys, a straight-up swap of Fox for Simmons with some draft capital thrown in to make Morey happy?
Sacramento has young players with tradable contracts. If Morey insists on more in return, the Kings might offer up second-year guard Tyrese Haliburton to sweeten the pot. Or maybe it's Hield and either Fox or Haliburton.
The Kings still want to salvage their season. The 76ers want value for their superstar. If it's not a revival of the venerable The Match Game, it's getting there.
The 76ers reportedly have a list of 30 players they'll accept in a Ben Simmons deal
A report from Amick in The Athletic says the 76ers have an internal list of roughly 30 players Morey would deem acceptable in a potential trade for Ben Simmons.
Some of the suspects are no surprises. Portland Trail Blazers star Damian Lillard is on the list. So, too, is former Houston Rockets star James Harden. Morey pursued a Harden reunion aggressively last year before The Beard ended up with the Brooklyn Nets. Olympian and All-Star Bradley Beal of the Washington Wizards is a target.
Whether anyone on the roster of the Sacramento Kings makes the grade or not is unknown. And some of the players on Morey's list aren't available right now but might be in a year or two.
Remember when Morey told a Philadelphia radio station the Simmons scenario might take years to play out? It appears he has a written framework for precisely that contingency.
The Sacramento Kings are nearing the point of desperation in their seemingly eternal quest to play in a playoff game. The 76ers have an elaborate plan for resolving their Ben Simmons quandary.
The question is simply whether those two factors have a common point.
Statistics courtesy of Basketball Reference.