Safety Off: Dan Orlovsky's Take on Matthew Stafford Went From Hot to Spot-On
For most of America, say the name Dan Orlovsky, and the image is that of a quarterback running out the back of the end zone for a safety for a winless team in 2008.
But the football-loving men and women of the great state of Connecticut know something different: Dan Orlovsky knows his football. He knew how to play it, and play it at an elite level. And he knows how to talk it. And as everyone learned over these past few days, he can talk at the most elite level there is.
The Los Angeles Rams were facing their moment of truth Monday night in Glendale, AZ. Trailing the Arizona Cardinals by two games in the NFC West and having lost to Arizona back in Week 4, this was a win-or-go-home moment in terms of having any shot at the division title. And it was going to be a referendum on whether trading for Matthew Stafford was the right move for the Rams.
We wrote about the challenge facing Stafford and the Rams last week, but no one had a hotter take in support of Matthew Stafford than ESPN's Dan Orlovsky. And when it was all over Monday night, a very important lesson was learned by all: When it comes to football, always listen to a UConn guy.
UConn say it with pride: DO knows football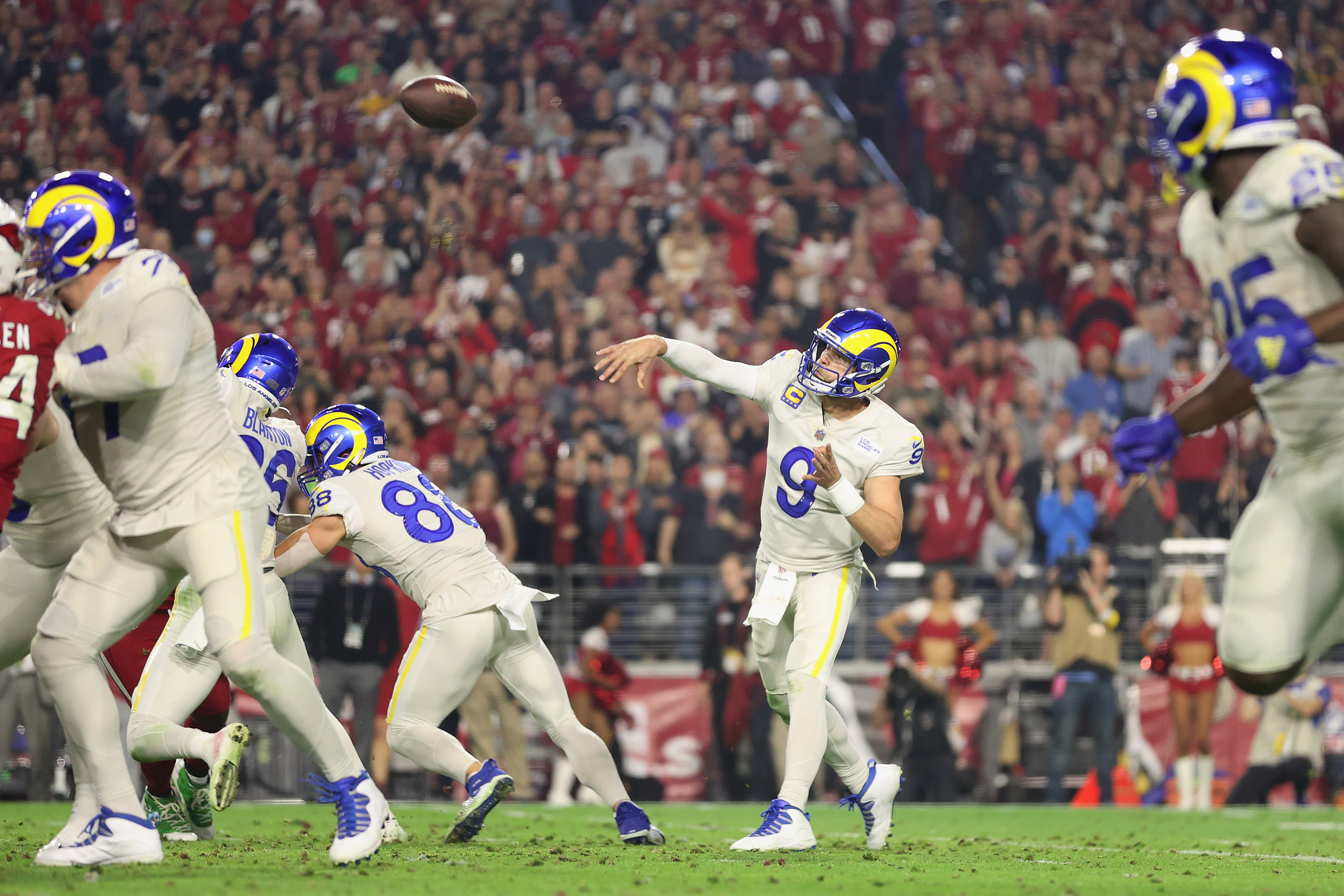 The early 2000s was the golden age for the University of Connecticut, a stretch of five years during which they dominated everything they touched. Led by Sue Bird and Diana Taurasi, the UConn women's basketball team won four titles in five seasons, including three straight from 2002-04, the last two with Taurasi practically dragging her young, inexperienced teammates over the finish line.
Jim Calhoun's men's team won its first NCAA Tournament title in 1999, then won again in '04, that season marking the first time the men's and women's basketball programs from the same school won a national championship in the same season.
And UConn's fledgling football program, new to Division I-A, new to the Big East Conference, came of age behind a quarterback who stayed home to play his college ball.
Dan Orlovsky was the Neil Armstrong of UConn football, the man who led the Huskies to a place no one in Connecticut ever dreamed the football program could go: a bowl game in his senior season of 2004 and a win in the Motor City Bowl.
So, yeah, forget the safety and the 0-16 season with the Detroit Lions. When Orlovsky speaks, you listen. And that goes for Stephen A. Smith, too.
Orlovsky's Stafford defense turned 'First Take' into an epic hot take
Monday night's game was pretty much going to be a verdict on the offseason trade that sent Stafford from the Detroit Lions to the Rams for Jared Goff and a slew of first-round draft picks over several seasons. To quote the philosopher Ron Burgandy, it was kind of a big deal.
But it wasn't looking so great for the Rams after Stafford jump-started them to a 3-0 record. They proceeded to go 5-4 over the next nine games, including a three-game losing streak in which Robert Woods was lost for the season with a knee injury and Stafford slumped as the team tried to get newly acquired Odell Beckham Jr. up to speed.
So, it was hardly a surprise that the NFL experts were all about the division-leading Cardinals last week. On ESPN's First Take, the question was posited to Stephen A. and Orlovsky, now an ESPN NFL analyst: Who would you rather have on Monday night? Kyler Murray or Stafford?
Keep in mind that entering Monday's game against the 10-2 Cardinals, Stafford was 0-17 against teams that were five games or more above .500, 0-9 against teams with at least 10 wins, and 10-70 lifetime against teams with a winning record.
Smith, like most of the world, took Kyler.
Dan? Dan did not.
In a hot take that left even the great Stephen A. a bit speechless, Orlovsky went to bat for his former Lions teammate in a big, big way.
"I want Matthew Stafford," Orlovsky said without hesitation. "I'm never going to turn my back on Matthew Stafford because I am a team guy. I'm not a guy that is a solo guy, like Stephen A. is, that wants it all to be about Stephen A. Smith. Matthew Stafford is my brother. He is my teammate, and I would rather be wrong than to turn my back on Matthew Stafford.
"I want the guy that's 13th. 13th. I'll say it again, 13th all-time in yards. Kyler Murray ain't that. I want the guy that's 12th all-time in touchdowns, Matthew Stafford. I want the dude that's fourth right now in fourth-quarter comebacks, eighth all-time in the history of the NFL.
"Kyler Murray is awesome. He's going to be a superstar for a long time. And he's having a nice season. Matthew Stafford's having a better season. He's having a better season. Matthew Stafford you just said is second in the league … when it comes to touchdowns. Give me Matthew Stafford."
Take a bow, Dan Orlovsky: No one will ever doubt you again
Once again, the football world laughed at Dan Orlovsky, kind of like how all the other reindeers wouldn't let Rudolph play any reindeer games. You know how that is. But guess what? Dan Orlovsky, son of Shelton, CT, father of four, a UConn Husky forever … Dan Orlovsky was right.
Stafford was brilliant in the Rams' 30-23 victory on Monday night. He completed 23 of 30 passes for 287 yards and three touchdowns without throwing an interception. His deep shot, a 52-yard touchdown to Van Jefferson on the opening possession of the third quarter, was a thing of beauty that gave the Rams the lead for good.
"I felt good about it," Stafford said after the game. "There were some things that you obviously want back … but I felt like we managed the game really well."
One thing we know for sure: There is nothing that Dan Orlovsky wants back.
Stats courtesy of Pro Football Reference