The Saints' Biggest Draft Bust, Johnathan Sullivan, Only Gave New Orleans 1.5 Sacks in 3 Years
Busts are an inevitable if unwelcome part of the NFL draft process. Every team has its fair share of draft picks who never lived up to their potential. When those picks occur at or near the top of the draft, the resulting fallout can affect an organization for years, especially for smaller market teams like the New Orleans Saints. A strong candidate for the biggest draft bust in the Saints' history is former defensive tackle Johnathan Sullivan.
Expected to be a game-changing athlete for New Orleans, Sullivan lasted just three years in the NFL. Let's look back at the Saints' outsized expectations for Sullivan and how his short-lived NFL career played out.
Johnathan Sullivan faces high expectations coming out of college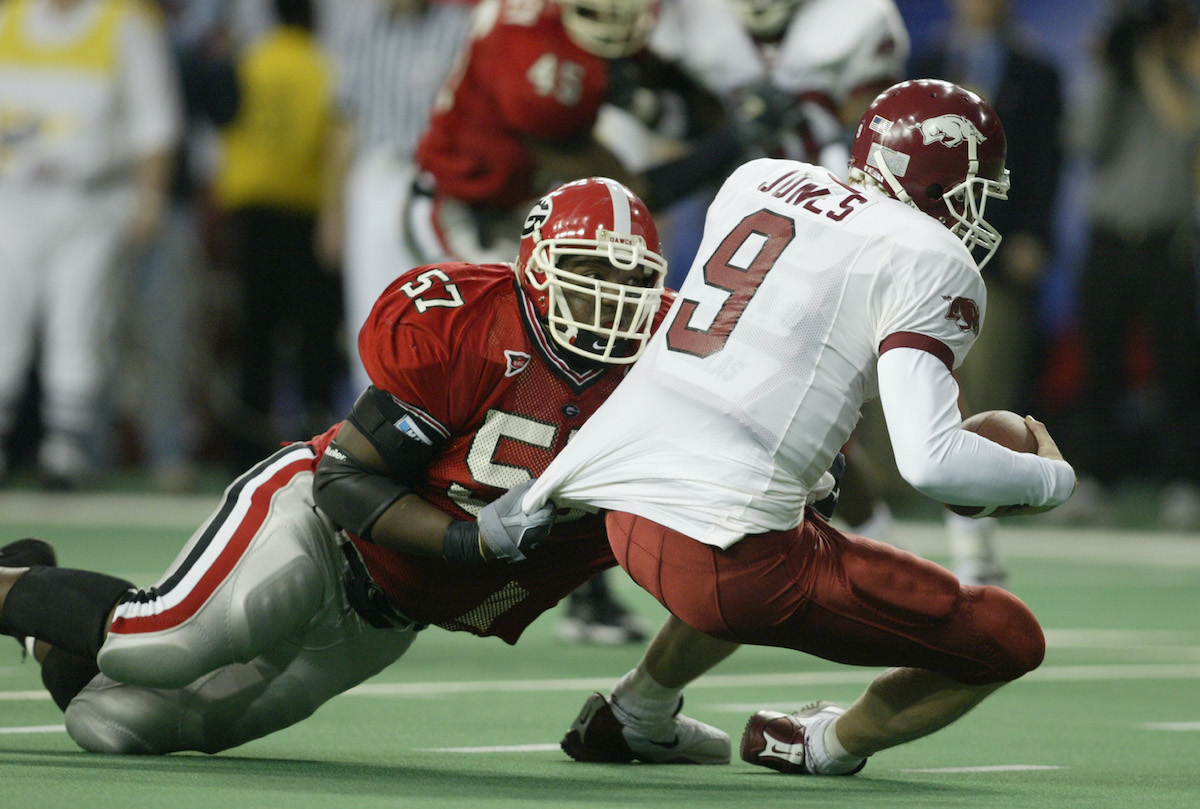 Sullivan spent three years playing on the University of Georgia's defensive line. He showed steady progress each year, going from 34 tackles in 2000 to 74 in 2002, according to Top 10 Busts. By his junior year, he was playing well enough to earn himself a First-team All-SEC selection.
Sullivan was especially prized for his unique combination of size and speed. Despite weighing in at 313 pounds, the 6-foot-3 Sullivan ran the 40-yard dash in 5.07 seconds at his NFL combine, according to NFL Combine Results. Most commentators pegged him as the third- or fourth-best defensive lineman in the 2003 NFL draft, predicting that he would be drafted somewhere in the mid-first round.
The New Orleans Saints draft high on Sullivan
The Saints were apparently much higher on Sullivan than the rest of the league. Or maybe they just figured his impressive performance at the combine had significantly raised his stock for other interested teams. Either way, they wanted him bad enough to trade the No. 17 and 18 picks to the Arizona Cardinals for their No. 6 pick, a second-round pick-swap, and a fourth-round pick.
In using that No. 6 pick on Sullivan, the Saints passed on a number of other defensive players who went to have successful NFL careers. Those names include defensive tackle Kevin Williams, linebacker Terrell Suggs Jr., and defensive back Troy Polamalu. Those three players racked up 21 total Pro Bowl selections in their careers. Sullivan, meanwhile, didn't get a single one.
How Johnathan Sullivan's NFL career played out
Soon after drafting Sullivan, the Saints signed him to a seven-year deal worth $16.6 million, according to The Red & Black. They clearly remained convinced that he would remain the linchpin of their defense for many years to come. Instead, Sullivan spent just three seasons in New Orleans, who then shed him in a trade with the New England Patriots.
Right from his rookie season, it was clear that Sullivan was not well-adapted to NFL play. Playing in 14 games in 2003, he managed to get 34 combined tackles and one sack, per Pro Football Reference. The next year saw his usage drop drastically. Then, in 15 games in 2005, Sullivan managed to get just 29 tackles and two pass deflections.
One of the main problems with Sullivan was his weight, which in turn was a reflection of his poor work ethic and bad eating habits. After coming into the combine at a relatively slim 313 pounds, Sullivan soon shot up to 350 pounds, according to NOLA. Sullivan didn't seem capable of controlling his appetite and had a well-known penchant for fast food.
In essence, Sullivan ate himself right out of the league. The Patriots released Sullivan several months after acquiring him, and he never made another NFL roster again after that. When all was said and done, in his three-year NFL career, Sullivan notched just 78 combined tackles and 1.5 sacks.
Compare that to the 154 tackles and nine sacks that Sullivan accumulated in college, and you can understand why he ranks as one of the worst busts in Saints history. The fact that New Orleans had to give up two first-round picks to take him only makes things worse.