The Saints Desperately Pursued a New Starting QB at the Trade Deadline but Were Turned Away by a Surprisingly Stingy Front Office
Heading into the NFL trade deadline, the New Orleans Saints were in a tricky position. They were 5-2 and had just upset the defending Super Bowl champion Tampa Bay Buccaneers. However, they had also just lost their starting quarterback in Jameis Winston.
Despite firmly controlling a Wild Card spot in the NFC, the Saints were staring down a tough road ahead. Their options at quarterback included Trevor Siemian and Taysom Hill — not players who should be expected to lead a team to the postseason.
The Saints tried trading for a new starting quarterback
For what it's worth, Sean Payton and the Saints weren't asking a whole lot of Winston. He was barely attempting over 20 passes per game before his ACL injury, and his yards per game total was way down at 167.1. Winston was efficient under center (league-leading 8.7% TD rate). However, the Saints' offense was primarily predicated around the run.
Understanding this, many thought the Saints would be content moving forward with a combination of Siemian and Hill at QB. In hindsight, this wasn't the case. According to NFL Network's Tom Pelissero, the Saints reached out to the Denver Broncos regarding Teddy Bridgewater's availability.
Bridgewater started and won five games for New Orleans in 2019, a tenure that resulted in him receiving a fat payday from the Carolina Panthers the following offseason. Bridgewater often credits Payton and the Saints as helping revive his career following a nasty run of bad injury luck early in his NFL career.
The Broncos surprisingly had no interest in dealing Bridgewater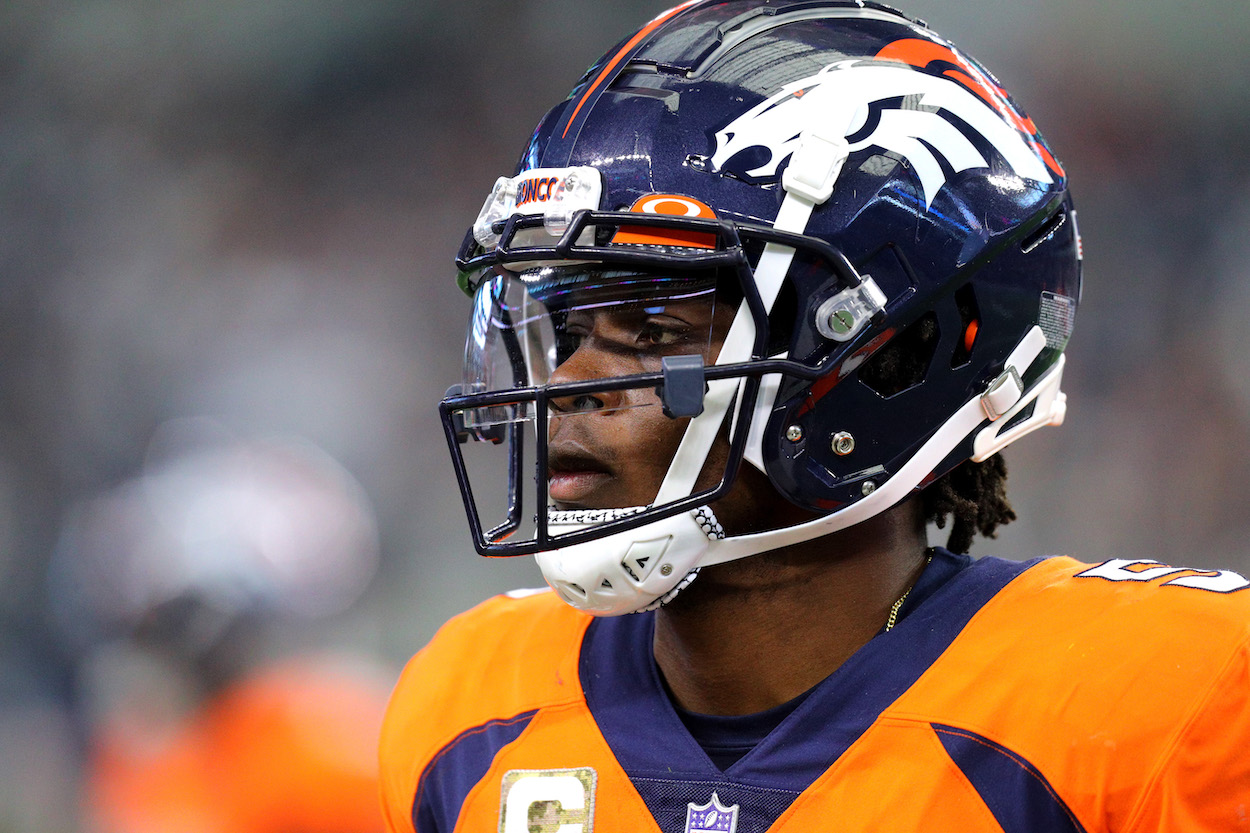 Despite their 3-0 start to the season, the Broncos firmly rolled into the trade deadline in the "selling" camp. They offloaded longtime DE Von Miller for a pair of draft picks and shipped a rookie corner to the Philadelphia Eagles for an extra Day 3 pick.
Even at 4-4, the Broncos were viewed as a team spiraling out of contention in the AFC. A rebuilding phase appeared necessary moving forward for Denver.
However, the Broncos seemingly had one foot in and one foot out when it came to rebuilding. According to Pelissero, they "never considered" trading Bridgewater. A somewhat surprising revelation considering the value teams can get for starting quarterbacks these days. The Broncos could have demanded multiple Day 2 picks from the Saints due to their desperation.
Fast forward past Week 9, and the Broncos are roaring after a blowout victory over the Dallas Cowboys. Bridgewater passed for 249 yards and one touchdown. Maybe Denver was right to hang onto him after all.
What does this mean for the Saints moving forward?
For the Saints, they quickly began feeling the effects of shaky QB play post-deadline. They lost a winnable game to the Atlanta Falcons in Week 9, dropping to 5-3 on the season.
Siemian wasn't bad by any stretch of the imagination (249 passing yards and two touchdowns). However, the Saints were clearly missing some extra juice on offense. Matt Ryan passed for 300-plus yards, and New Orleans wasn't able to keep pace.
While the Saints will be forced to finish 2021 with Siemian and Hill under center, it's worth pondering what their offseason plans look like. It would be risky to bring back Winston coming off a torn ACL, and they don't have his replacement on the roster. The Saints may finally look to the draft to acquire their long-awaited Drew Brees replacement.
All stated courtesy of Pro Football Reference.