Saints Making Desperate Last-Ditch Effort to Snag Odell Beckham Jr. and Fix a Major Weakness
The Odell Beckham Jr. sweepstakes keep on churning. After the Cleveland Browns released him, the veteran wide receiver cleared waivers, making him free to sign with any team. The options are plentiful, with the New Orleans Saints, New England Patriots, Kansas City Chiefs, and Green Bay Packers among the favorites.
But the decision is likely to take some time, at least per the latest report. Nonetheless, the Saints made a desperate effort to bring in Beckham, and oh, do they need a wide receiver.
Many Saints players expressed their desire for Beckham to come to the bayou and join forces with a team right in the thick of the NFC playoff hunt.
Let the Odell Beckham Jr. sweepstakes continue
Can we call this a sweepstakes? Well, a player of his caliber rarely hits the open market after the NFL trade deadline passes.
There were some talks of Beckham being claimed off waivers. But nobody wanted to take on the money he was owed, so he eventually went unclaimed.
The Seattle Seahawks were one team with space that was rumored to be interested in the veteran, although that never came to fruition. The latest report has Beckham's timeline still "a few days away."
The former Browns receiver and New York Giants star has a lot to prove, so this decision is crucial. Does he go to a team with a superstar quarterback such as the Chiefs or the Packers? Or does he go to New Orleans, where the need for a wide receiver is clearer than a summer day in California?
Either way, he has his fair share of suitors, and the choice is all up to Beckham for the first time in his career.
Saints' all-out effort to snag Beckham shows their desperate need for a wide receiver
New Orleans is easily the most wide receiver-needy team in the NFL. Michael Thomas is officially out for the season, and nobody has stepped up all year long.
The team's leading receiver is Deonte Harris with 323 yards. That's it. The next highest "receiver" is running back Alvin Kamara with 310 yards, followed by Marquez Callaway with 309 yards. The only other Saints player with more than 100 yards on the season is tight end Adam Trautman, and he has only 151 yards.
That won't cut it, plain and simple. Plus, with the latest injury news regarding Kamara, the need for a reliable pass-catcher and playmaker is more evident than ever.
The Saints players are doing whatever it takes for Beckham to choose New Orleans as his next destination. Defensive linemen Shy Tuttle dropped an honest take Wednesday, and Beckham surely heard it (h/t Amie Just of NOLA.com):
"If you're seeing this, Odell, we'd love to have you."

Shy Tuttle joins in on the Beckham recruitment
He wasn't the only one, either, as Kwon Alexander also tweeted at Beckham, and Demario Davis sang some praises. Plus, it helps that Beckham went to school at LSU and would likely welcome a homecoming.
Either way, the Saints are going all-out to bring in Beckham and fill their most significant position of need.
All eyes on No. 13 for the time being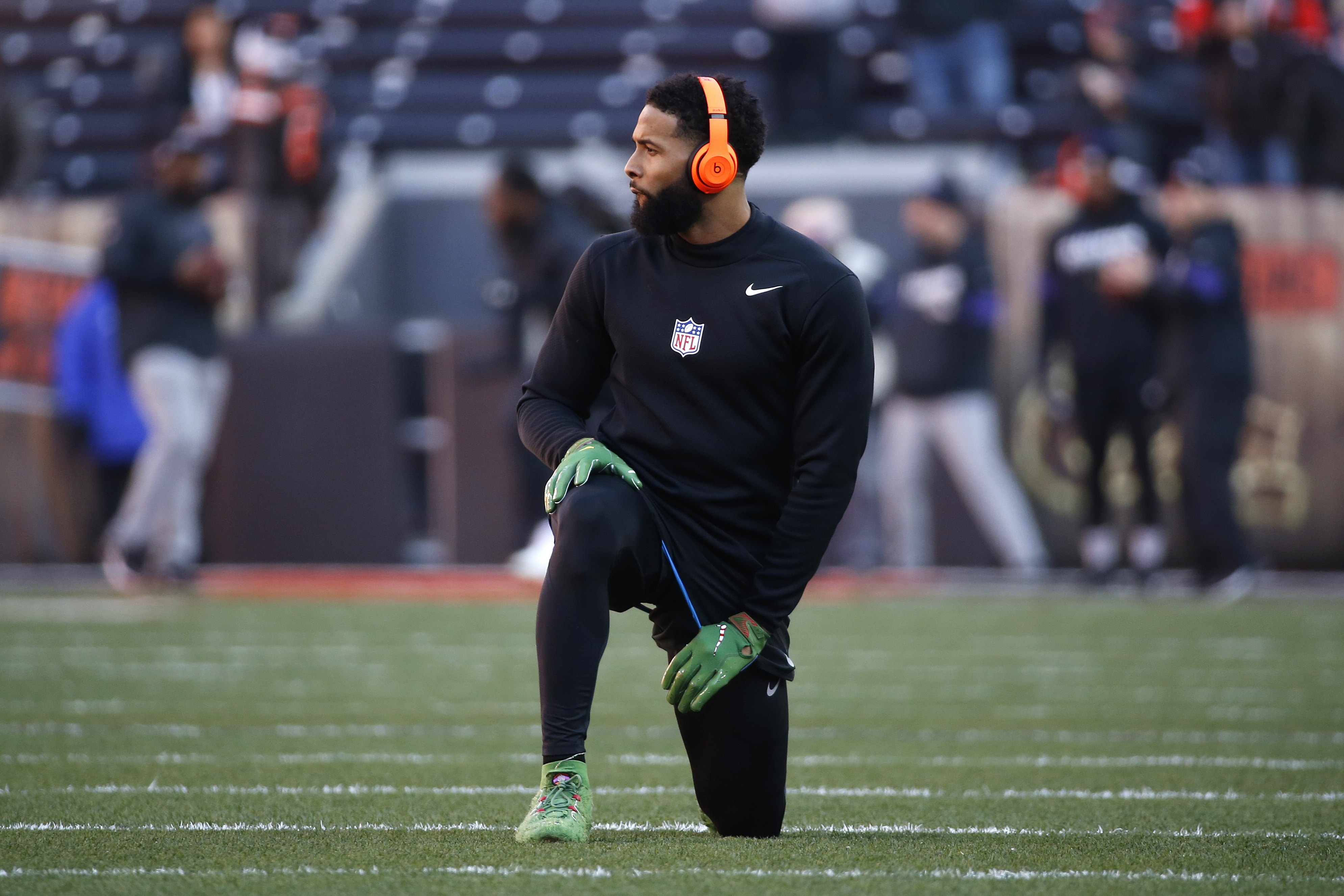 What a time in the NFL. Just before the NFL trade deadline, the Browns tried to trade Beckham and ultimately came up short. Teams were interested, even with his recent injury history and overall struggles since joining the Browns via trade.
Teams still might want him, especially this late in the year and with all the injuries. Kicking the tires on a former Pro Bowl wide receiver isn't the worst idea. After all, the Chiefs signed Josh Gordon — yes, the same Josh Gordon who bounced in and out of the NFL for the past few years.
But Beckham sent a stern message about his desire to play for a contender, so that alone narrows down the list quite a bit. The Saints make a ton of sense — too much sense, to be honest — for both sides. Beckham could prove himself, and New Orleans could gift Trevor Siemien or Taysom Hill with a proper No. 1 receiver.
Stats Courtesy of Pro Football Reference