Saints QB Drew Brees is Closing in on 1 of Peyton Manning's NFL Records
Aside from Tom Brady, there isn't a quarterback in the NFL with the impressive longevity that Drew Brees has. Eighteen seasons after entering the NFL, Brees is still one of the best quarterbacks in the league, throwing more accurately than he ever has in his career and not letting injuries slow him down. As one might expect, Brees holds a few NFL records, and more are within his sight.

One specific record, however, might best show what Brees does at the top of his game.

Drew Brees' career accomplishments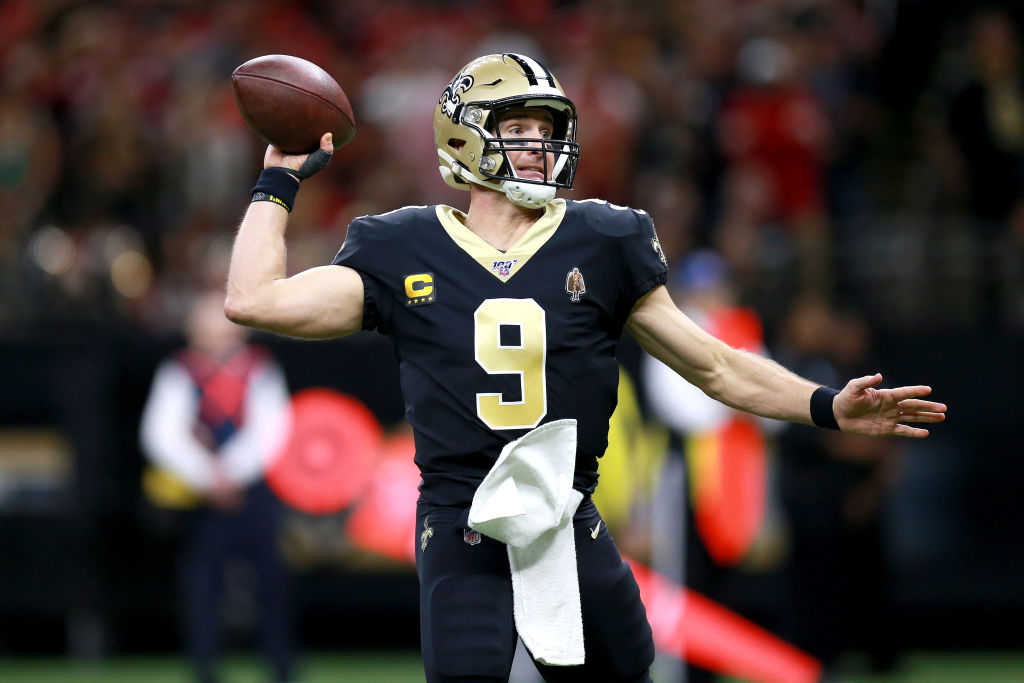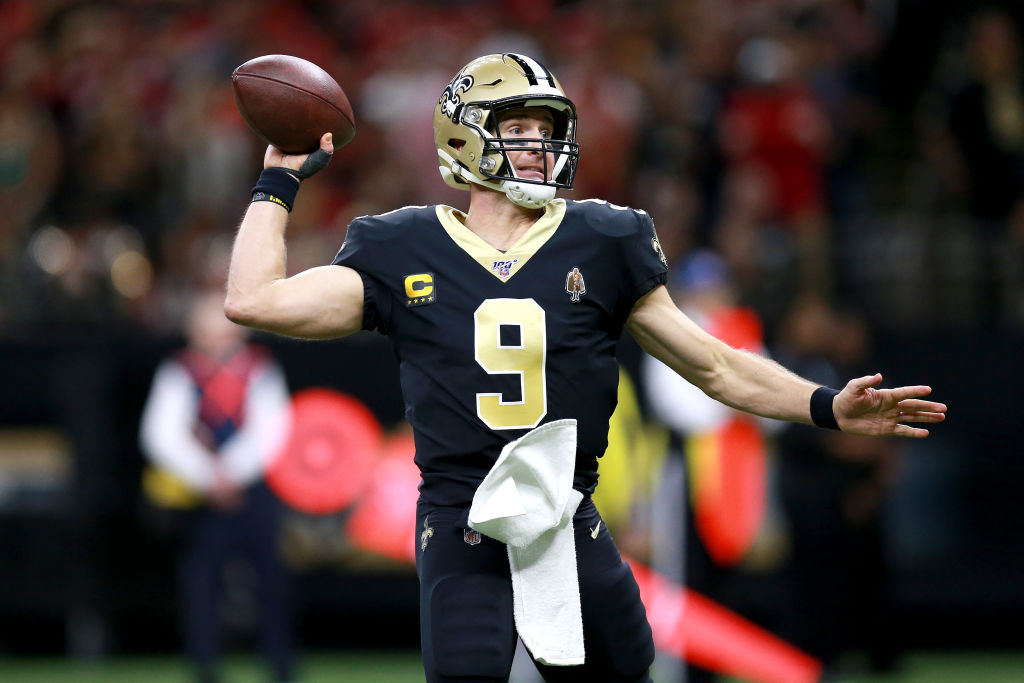 Brees might be almost two decades into his career, but he is still breaking not only longevity records but single-season records. The 74.4% completion rate he had last season was an NFL record. The previous record-holder? Drew Brees.

He is one of only four players in NFL history to beat every NFL team. He is the NFL's all-time leading passer, a record that he broke in Week 5 of the 2018 season. As of Dec. 8, 2019, Brees has thrown for 76,577 yards in his career and counting.

Brees has been a Super Bowl champion, a comeback player of the year, an All-Pro, and a 12-time Pro Bowler. Although he did miss some time this season with a thumb injury, he has had remarkable longevity when it comes to his health. Only one major award has eluded Drew Brees so far. He can throw the ball a seemingly endless distance, win in the big moments, and continues to impress.

One of the records he hasn't yet broken could be the most telling yet, and he would be beating one of his contemporaries in the process.

Brees threatens Peyton Manning as the comeback king
When Drew Brees came back to win against the Carolina Panthers on Nov. 24, 2019, it was his 50th comeback drive in his career. That puts him in second place all-time for comeback drives behind retired superstar Peyton Manning, a quarterback who, like Brees, had remarkable longevity and an ability to play some of his best football late in his career.

There were several memorable comebacks throughout Manning's career. His 38-34 win over the New England Patriots in the AFC Championship Game after trailing 21-3 is one of his signature moments. In 2012, Manning found himself down 24-0 to the San Diego Chargers at halftime before winning the game 35-24 with the Denver Broncos. When the game was on the line, Manning always showed up, and Brees continues that legacy to this day.

Brees has also been part of several memorable comebacks, including two this season against the Houston Texans and the Panthers. Perhaps his most impressive came in 2009 when he found himself at risk of losing a perfect 6-0 start after trailing 24-10 against the Dolphins. The Saints won 46-34 tp get to 6-0 on the way to a 13-0 start to the season.

Brees has won games in nearly every way imaginable, and if he hangs on to his career past this season, he has a good chance to usurp Manning for sole possession of the record.

How much longer does Drew Brees have?
Brees hinted at retirement during the 2018 season, and with him approaching 41 years old, that makes sense. On other occasions, however, Brees has stated that he would like to play until he turns 45. His thumb injury might have given credence the latter of these claims, however, as Brees stated that the time off was a taste of retirement that he did not like.

At Brees' age, being able to compete at all is impressive, but being able to compete as one of the best at his position is a testament to the career that he has and his commitment to working hard year-in, year-out to do what is best for both himself and the New Orleans Saints. If he continues for one or two more years, no NFL fans should be surprised if he breaks the record, but if he doesn't, he has plenty of other accomplishments to fall back on.