Saints QB Taysom Hill Breaks Silence on His Haunting Week 5 Head Injury: 'There Was Like a 45-Minute Window That I Don't Remember'
New Orleans Saints quarterback/gadget player Taysom Hill suffered a nasty head injury back in Week 5. Washington Football Team cornerback William Jackson collided with him head-on, resulting in Hill suffering a concussion which kept him out of action for three weeks.
Upon reflecting on the injury, Hill revealed just how severe and scary the incident was.
Taysom Hill offered a haunting recollection of his Week 5 head injury
"I remember the route. I remember the play. That's about it," Hill said. "I never went unconscious, but, yeah, I don't remember it. There was like a 45-minute window that I don't remember. I remember being in the locker room was the first thing. It's not an ideal situation to have a hit like that and then have a gap of memory. Any time you're dealing with head injuries, it's a scary, scary thing."
"It sure looked like he [William Jackson] wasn't trying to make a play on the ball, the way the hit happened, but I've never played defense, and I don't know what that's like."
Concussion and head injuries are unfortunately commonplace in the NFL despite the league's best attempts at penalizing dangerous hits. However, Hill's injury looked more serious. He lost consciousness for 45 minutes and was ruled out of football-related activity for a full three weeks. Most players are cleared through concussion protocols after a few days.
The Saints' QB suffered one of the nastier head injuries we've seen over the past few years. However, he never doubted his ability to get back on the field.
"I never felt like that was in jeopardy, to be fully healthy," Hill said.
Taysom Hill's injury cost him a shot at the Saints' QB1 job
While Hill is likely just happy he's healthy and back in pads again, it's worth pointing out that Jackson's dangerous hit ultimately cost Hill a shot at the Saints' starting quarterback job.
The Saints' regular starting quarterback, Jameis Winson, tore his ACL against the Tampa Bay Buccaneers in Week 8. A few days later, he underwent season-ending surgery, opening the door for one of New Orleans' backups to take over the job moving forward.
Hill was still out with his head injury at the time, so backup Trevor Siemian was the man called upon to replace Winston. He led the Saints to a victory over the Bucs in Week 8, ensuring his status as the team's starter moving forward (at least for now). Had Hill been healthy and active, there's a good chance he would've gotten the first crack at replacing Winston.
Saints head coach Sean Payton is quite fond of HIll, after all.
The Saints may still explore a change at QB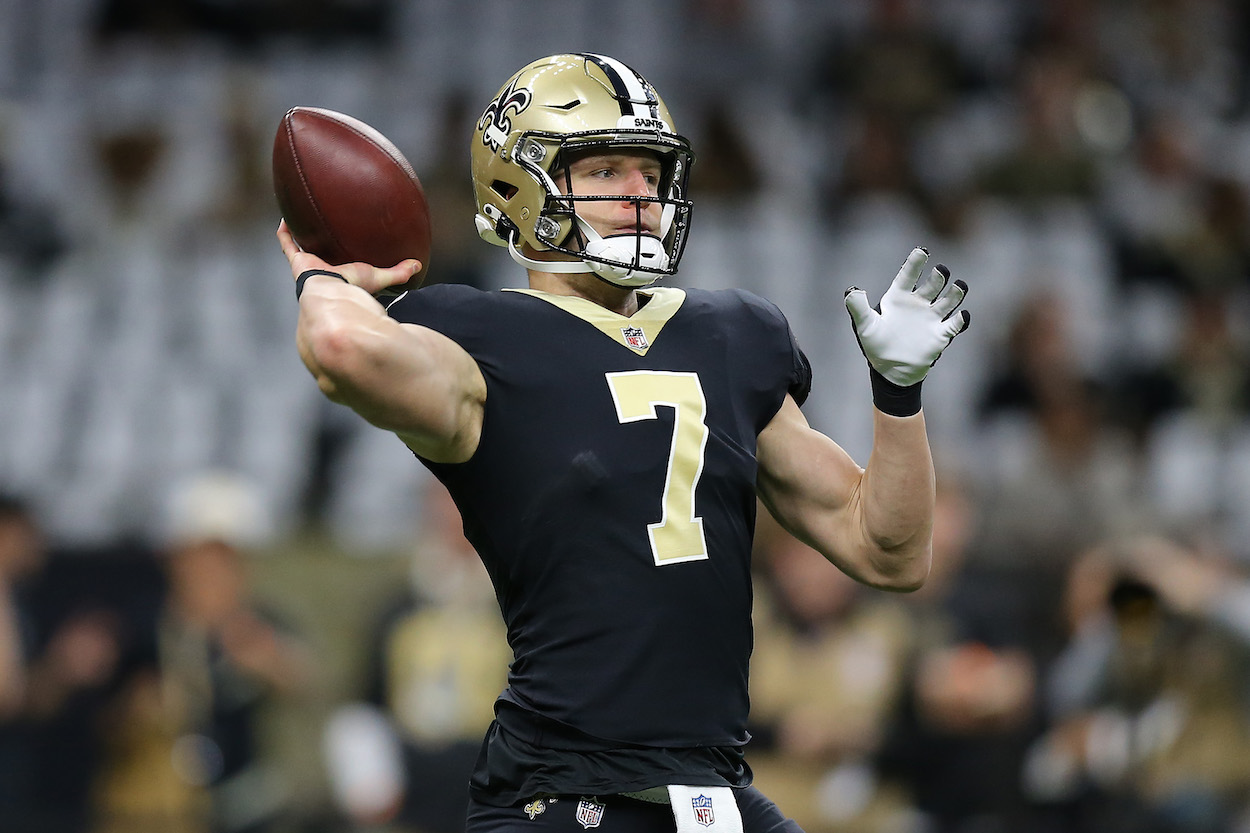 While Payton has already announced Siemian will start under center in Week 10, his leash could be relatively short. The Saints are coming off a frustrating Week 9 loss to the Atlanta Falcons, and Hill has had a full two weeks to work back into playing shape.
If Siemian struggles against the surging Tennessee Titans, there's a good chance Payton turns to Hill at quarterback. His mobility and overall athleticism offer a unique look to opposing defenses.
Like Sportscasting on Facebook. Follow us on Twitter @sportscasting19.