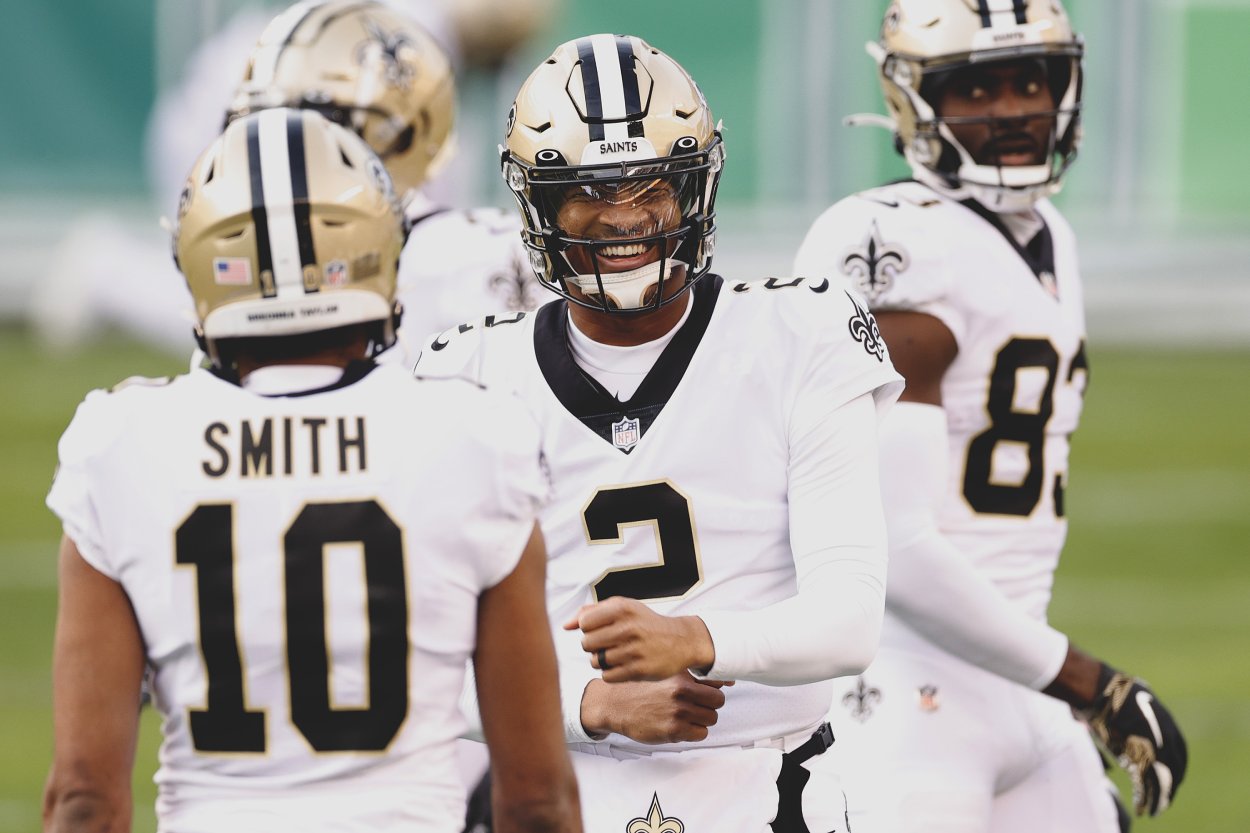 Saints Receiver Tre'Quan Smith Promises a 'High-Powered Offense' With Jameis Winston at Quarterback
New Orleans Saints receiver Tre'Quan Smith sounds excited to see Jameis Winston potentially start at quarterback this fall.
The New Orleans Saints appear open to giving Jameis Winston the keys to Drew Brees' former sports car.
After playing sporadically throughout the 2020 season, Winston is expected to compete for the Saints' starting quarterback job this summer. Veteran Saints receiver Tre'Quan Smith isn't hiding his excitement about riding shotgun with the former No. 1 pick behind the wheel.
Smith promises a 'high-powered offense' with Winston at quarterback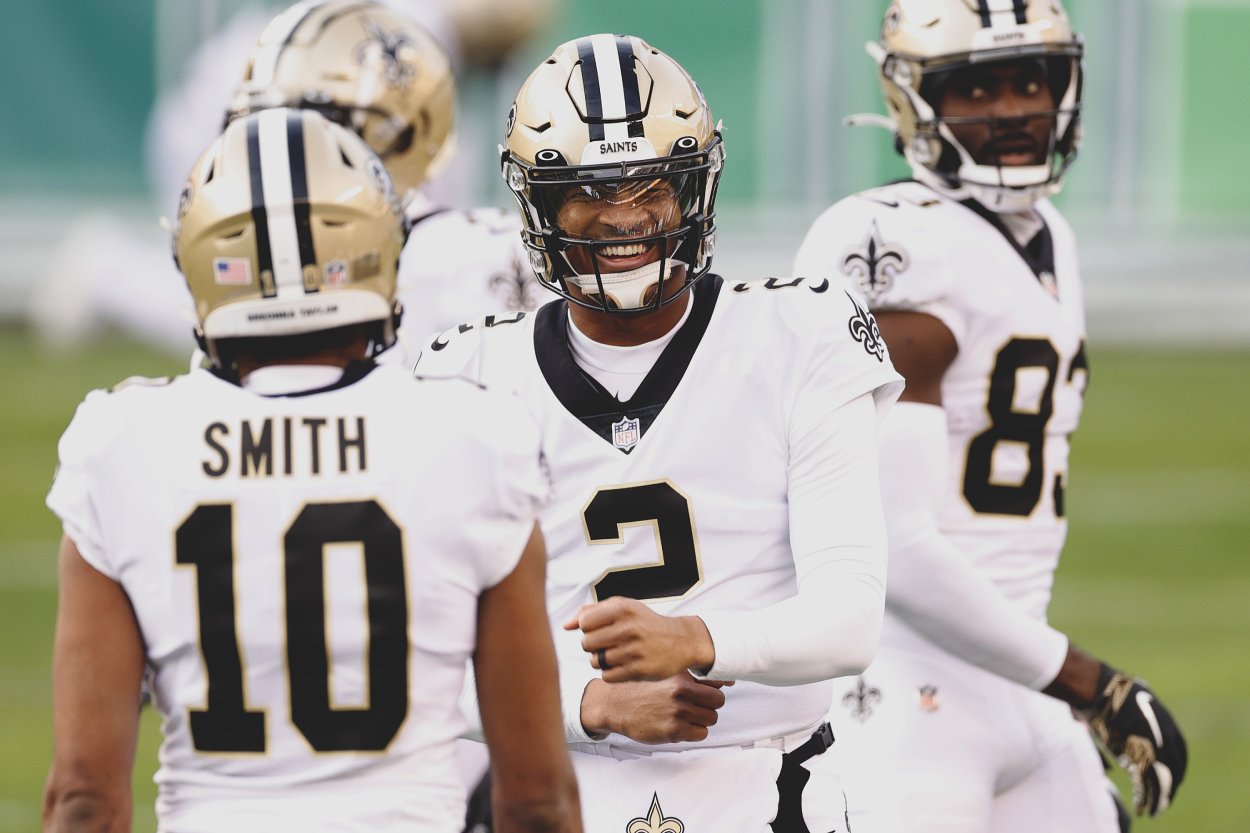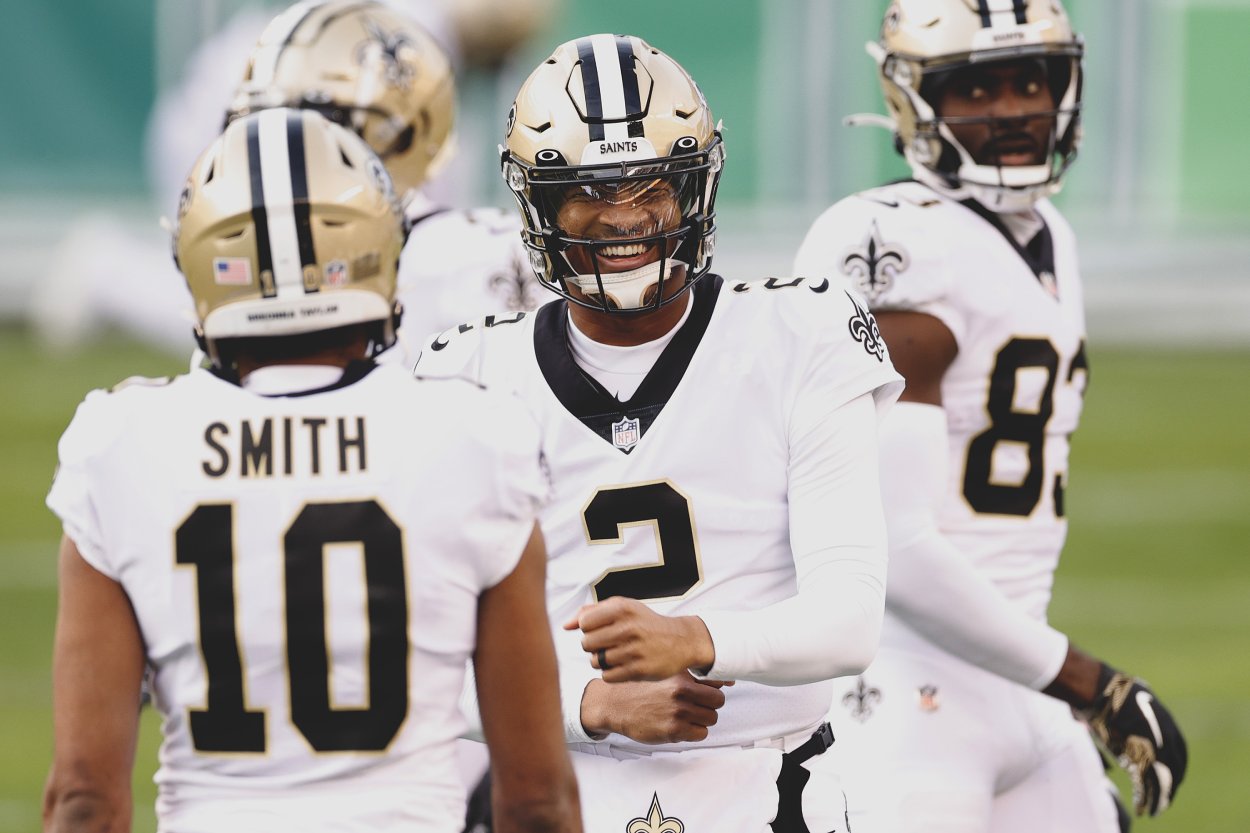 Talent has never been an issue when Winston is involved. The vast majority of players selected first overall in an NFL draft — JaMarcus Russell withstanding — weren't taken there by accident.
Winston's problems have instead been tied to accuracy and turnovers. As a result, Saints fans who watched Brees crisply and cleanly lead one of the league's top dangerous offenses for 15 seasons are understandably wary about letting Winston start for an entire year.
Let Smith, the fourth-year receiver from UCF, dismiss some of those concerns. According to The Palm Beach Post, Smith recently discussed the Saints' quarterback competition and said he's spent the offseason training with Winston and other players.
Those workouts, Smith said, will translate into success for a team eager to return to the Super Bowl.
"They're going to see great chemistry between us, besides good offense. Jameis likes to work with everybody. I'm pretty sure he reached out to everybody. You're going to see a high-powered offense."

Tre'Quan Smith
Smith is right to be optimistic about the Saints' offense. The Saints have finished among the league's five highest-scoring teams in each of the last five seasons.
The Saints clearly retained Winston for a reason
The glass-half-empty approach regarding Winston and the Saints is how little he played in 2020. Even when Brees missed time with 11 fractured ribs, the Saints turned to Taysom Hill at quarterback. As a result, Winston only threw 12 total passes between the regular season and playoffs.
But the glass-half-full approach involves remembering why the Saints signed Winston in 2020. Sean Payton and the Saints wanted to rebuild an extremely talented quarterback who got in his own way far too often, especially when it came to turnovers. Winston threw 88 interceptions in 76 career games with the Buccaneers from 2015-19.
If the Saints didn't see enough progress in Winston last year, they would not have re-signed him even after Brees retired. Instead, Payton would have either signed another talented quarterback on a prove-it deal (Mitchell Trubisky, anyone?) or traded for someone with starting experience, such as Marcus Mariota or Sam Darnold.
But the Saints did bring Winston back, and they sound prepared to allow him to start. He'll play most of the 2021 season at 27 years old, and he has plenty of experience in the NFC South Division.
Will the Saints' offense be what it was with Brees under center? No, but maybe it doesn't have to be. Perhaps a team that hasn't reached the Super Bowl since February 2010 needs a change of pace in the form of Winston's arm and Hill's legs.
The Saints also need Smith to take a massive step forward in 2021
If Winston and the Saints really hope to win games in 2021, they'll need Smith to prove he deserved to train with the veteran quarterback this offseason.
Smith posted career-highs in receptions (34) and receiving yards (448) in 14 games and 10 starts in 2020. He also caught three touchdowns for 85 yards and two touchdowns in the Saints' NFC divisional round loss to Tom Brady and the Buccaneers.
Ideally, for Smith, he'll open this season as one of the two starting wide receivers. Michael Thomas should be healthy and ready to bounce back after a frustrating 2020 season.
If Winston can form the bond with Smith that he did with Mike Evans and Chris Godwin in Tampa Bay, then the Saints' offense will continue remaining extremely potent. And Smith, who can hit unrestricted free agency in 2022, should start seeing dollar signs once he hits the end zone.
The Saints will look different this fall, but a fresh coat of paint might be worth it. Just ask the Buccaneers what happened when they replaced Winston with Brady after the 2019 season.
Like Sportscasting on Facebook. Follow us on Twitter @sportscasting19.