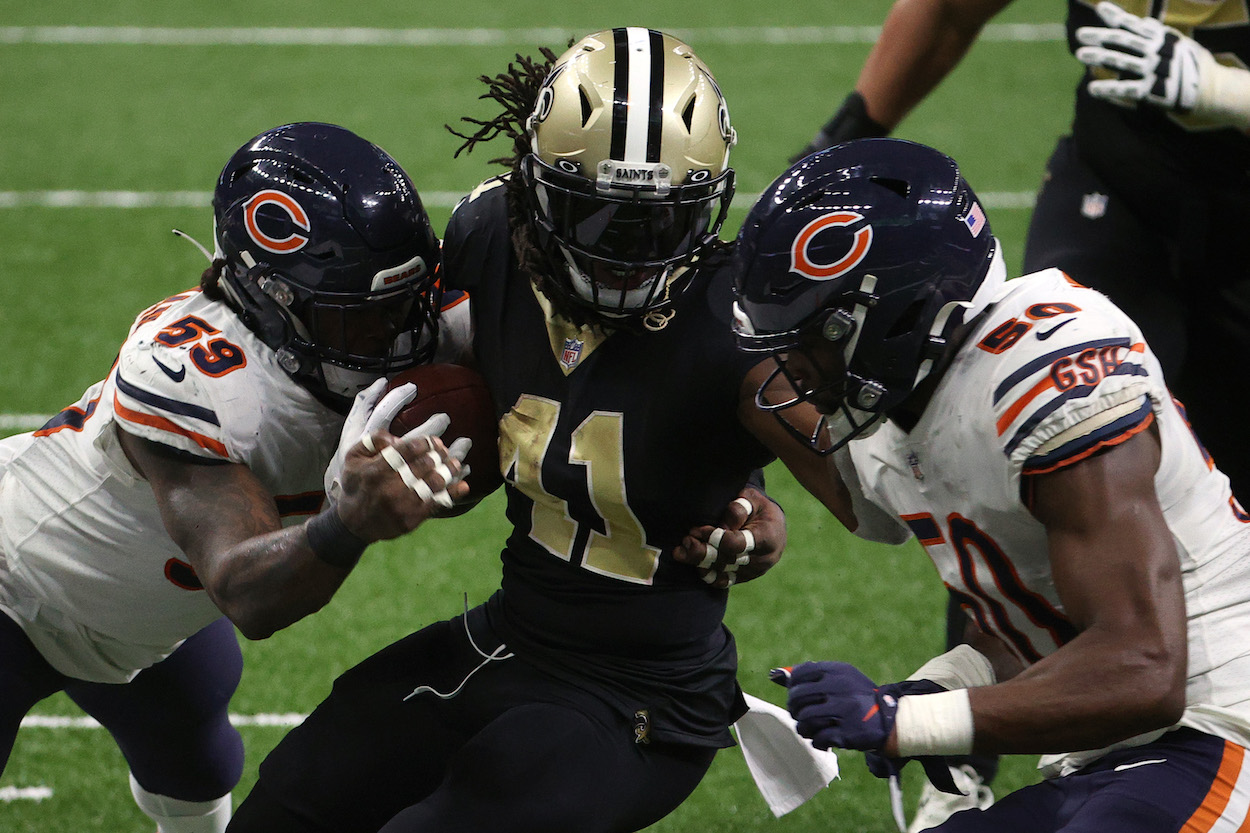 Saints Star Running Back Alvin Kamara Striving for Success in Another Sport as He Joins Forces With NASCAR Team
Alvin Kamara has been very successful in the NFL making the Pro Bowl in each of his first four seasons. He is trying to replicate that success in another sport as he's now joined forces with a NASCAR team.
This past summer Alvin Kamara publicly became a NASCAR fan immediately after the organization announced the ban of all confederate flags and related memorabilia. The New Orleans Saints star running back then attended his first race at Homestead and shared his education in the sport via an entertaining race commentary. 
With the 2021 NASCAR season officially underway following last weekend's running of the Daytona 500, Kamara is back for season two. Except now the four-time Pro Bowl back is trading in his fandom for something much bigger and is becoming part of a NASCAR team 
Alvin Kamara becomes a fan of NASCAR
This past summer, in the days after the tragic death of George Floyd, Bubba Wallace went on national television and challenged NASCAR to ban the confederate flag from all of its events. A couple of days later, NASCAR announced the banning of the flag and related memorabilia from all future races. 
"The presence of the confederate flag at NASCAR events runs contrary to our commitment to providing a welcoming and inclusive environment for all fans, our competitors and our industry," NASCAR said in a statement. "Bringing people together around a love for racing and the community that it creates is what makes our fans and sport special. The display of the confederate flag will be prohibited from all NASCAR events and properties." 
Within hours of that announcement on Twitter, New Orleans Saints running back Alvin Kamara showed his interest in the sport with a short tweet. "when the next race?" 
Kamara wasn't kidding with his tweet. NASCAR recognized this. After live-tweeting during the race from Martinsville that night, NASCAR invited Kamara, who trains during the offseason in Miami, to attend the next race conveniently taking place in Miami.
Alvin Kamara provides entertaining commentary during NASCAR races
That weekend Alvin Kamara attended the races at Homestead-Miami Speedway as a select guest of NASCAR because no fans were allowed to attend during the pandemic. Sporting his Bubba Wallace gear, Kamara provided an entertaining commentary of his experience, admitting early on there was a learning curve and talking about pit stops and the size of track.
"Homestead-Miami is 1.5 miles long," Kamara wrote. "I've run 1.5 miles, but when i look at the track it looks like something i'd never wanna do ever in my life."
After Denny Hamlin won the Cup Series race, Alvin Kamara expressed his thanks to NASCAR and made it abundantly clear this was just the beginning for him.
Kamara sponsoring Ryan Vargas No. 6 team in Daytona
Ryan Vargas is starting his third season racing with the NASCAR Xfinity Series. He has raced a limited schedule early on in his career due to a lack of funding and sponsorships. Vargas ran in seven races during the 2020 season, including his highest career finish, an eighth at Texas.
Vargas raced last week at Daytona and finished 18th. This week the 20-year-old sought out a sponsor for this weekend's race at the Daytona Road Course for his No. 6 JD Motorsports Chevrolet, and posted about it on social media. Alvin Kamara responded. 
Kamara will be the primary sponsor for Vargas this weekend, prominently displaying The Big Squeezy chain of juice bars, which has nine stores in Louisiana and is owned by the four-time Pro Bowl running back.
"Having the opportunity to work with Alvin Kamara and The Big Squeezy is such a huge honor," Vargas said in an interview with NASCAR.com. "As one of the best running backs in the game, I know Alvin puts 110% effort into everything he does and that can easily be said for myself and our No. 6 JD Motorsports Team. I'm excited to be a part of Alvin's first step into the NASCAR Industry and I believe this is just the start of a long, successful partnership."
"When this opportunity presented itself, I knew I couldn't let it slip by," Kamara said in a team release. "I did a bit of research on Ryan as an individual and JD Motorsports and was impressed with what I read. I'm excited to play a small role in what they already have going on."
Alvin Kamara will be at Daytona this weekend, cheering on Ryan Vargas and the No. 6 Chevrolet, another big step in his relationship with NASCAR that has been on the fast track for the last eight months. Where it goes in the future only time will tell.