Saints Wide Receiver Michael Thomas Is Getting Comparisons to Michael Jordan After 'The Last Dance'
While watching The Last Dance documentary on ESPN, we have all watched how Michael Jordan ultimately became the best basketball player of all-time. Jordan's dedication not only made him a great player but a six-time NBA champion. With the documentary recently concluding, though, a current NFL wide receiver is now getting comparisons to Jordan. That receiver is New Orleans Saints star, Michael Thomas.
Jordan's dedication made him the greatest basketball player of all-time
RELATED: Michael Jordan Made Former Knicks Coach Jeff Van Gundy Pay for Talking Smack
In The Last Dance, we all saw that Michael Jordan had this crazy desire to be the best and to win as many championships as possible. His hard work paid off too.
In just his third season in the NBA, Jordan led the league in scoring as he averaged 37.1 points per game. Starting in that season in 1986-87, Jordan then led the NBA in points per game for seven straight seasons. After taking a year off and the majority of another to try baseball, Jordan then led the NBA in scoring again for three more consecutive seasons from 1995-96 through 1997-98. Jordan's career 30.1 points-per-game average is No. 1 all-time in NBA history.
Jordan's play also ultimately helped the Chicago Bulls win six championships. He last played in an NBA game in 2002-03, but Jordan was a 14-time NBA All-Star, a five-time NBA MVP, and a six-time NBA Finals MVP. He is now a Hall of Famer.
Michael Thomas is the best receiver in the NFL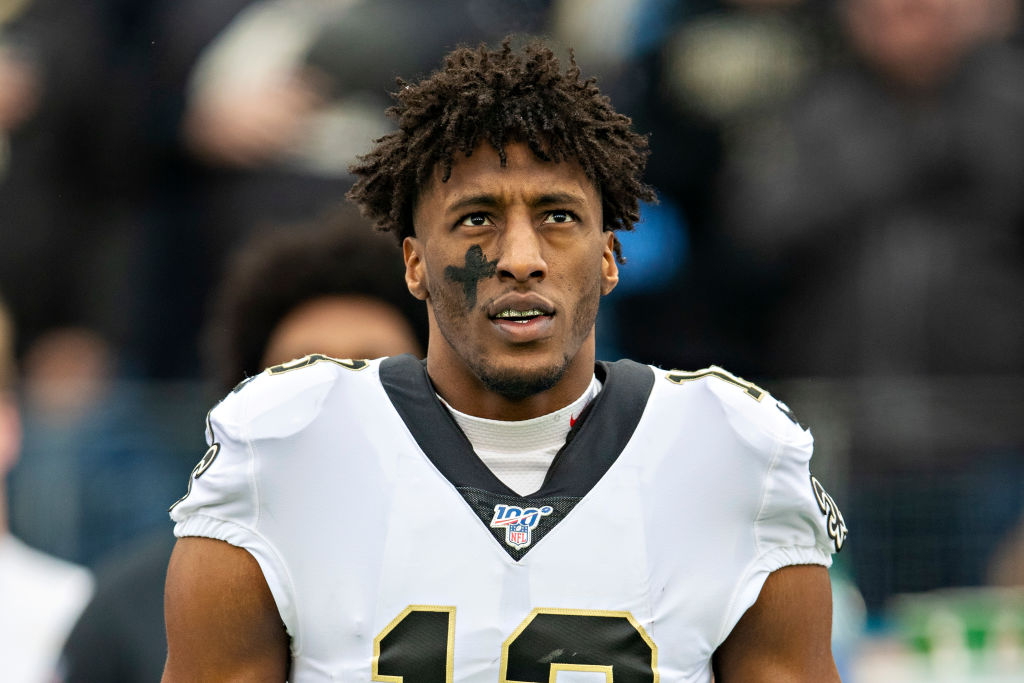 RELATED: Michael Thomas Could Join Randy Moss and These Receivers With Another 99 Overall Madden Rating
The New Orleans Saints drafted wide receiver Michael Thomas in the second round of the 2016 NFL draft. He has been a first-round talent, though.
In his rookie season, Thomas caught 92 passes for 1,137 receiving yards, and had nine touchdown catches for the Saints. Then in 2017, Thomas earned his first Pro Bowl appearance. In that season, Thomas caught 104 passes for 1,245 yards, and had five touchdown catches.
The last two years, though, Thomas has been the best wide receiver in the NFL. Thomas has earned Pro Bowl, and first-team All-Pro honors each of the last two seasons. He led the NFL with 125 catches in 2018 to go with 1,405 receiving yards and nine touchdown catches. Then, in 2019, Thomas led the NFL in catches again with 149, which is the most ever in a single season. He also led the NFL with 1,725 receiving yards to go with nine touchdown catches. His play in 2019 also led to Thomas winning the 2019 AP Offensive Player of the Year award.
Thomas is the best wide receiver in the NFL right now and is now getting comparisons to Michael Jordan.
Thomas is getting comparisons to Michael Jordan
RELATED: 1 More Way the Saints' Michael Thomas was the Best WR in the NFL This Season
Nick Underhill, a reporter who covers the New Orleans Saints, recently compared Michael Thomas to Michael Jordan. He tweeted that Thomas is the only other athlete that he has been around who has an edge like Jordan.
"I'm talking about how the two people carry and motivate [themselves]. That's it. I'm sure anyone who has been around Mike Thomas saw similarities these last five weeks," Underhill tweeted.
He went on to say: "It's on me for not being more clear in the first tweet that I'm speaking on personality traits and the way two people conduct themselves. This wasn't intended to be a measure of competitiveness. I can only explain that so many times, but I stand by it. Unique personality."
While comparing a young guy like Thomas to Jordan seems crazy, he has a point. Thomas has played with a chip on his shoulder since only being selected in the second round of the 2016 NFL draft. USA Today's Jarrett Bell wrote a piece about Thomas in January 2019, before Thomas had his historic 2019 season. 
Thomas talked about how he was the sixth receiver selected in his draft. 
"It is what it is now," Thomas said to USA Today Sports. "No disrespect to those guys. You control what you can control. I'm the example for the kid taken in this last draft, and there were five guys drafted ahead of him. Deep inside, there should be something burning. That should affect him. That should make him feel uncomfortable. That should make him feel disrespected. Keep a chip on his shoulder for the rest of his career. Something that makes you want to abuse the person in front of you."

Michael Thomas
Bell went on to write that Thomas "seemingly embodies the type of 'Mamba Mentality' that former NBA star Kobe Bryant describes in his best-selling book." That's pretty high praise.
Michael Thomas' desire to be the best receiver in the game and to prove all of his doubters wrong has actually made him the best receiver in the game. He has not become as successful as Michael Jordan was on the basketball court yet, but Underhill certainly has a point when comparing their personalities. Thomas has a chance to be an absolute legend.
All stats courtesy of Basketball Reference and Pro Football Reference