Sam Darnold's Panther-Adorned Carriage Has Officially Reverted Back to Its Underwhelming Pumpkin Form
Article Highlights:
The good times have quickly ended for Sam Darnold and the Carolina Panthers
The fourth-year quarterback has thrown six interceptions in his last three games
Darnold needs to build off a solid finish to Week 6 if he wants to stay in Carolina
It feels like forever ago that Sam Darnold and the Carolina Panthers were the NFL's best story. Social media collectively pointed and laughed at the New York Jets for giving up on Darnold, the third overall pick in 2018, as early as they did.
Alright, we can still point and laugh at the Jets if we want, but Darnold isn't exactly looking like Cinderella at the ball right now.
Sam Darnold has come back to earth after a stellar start to his Panthers career
We could wax poetically on a 250-word diatribe about Darnold's recent play and what's gone wrong. Sometimes, though, it's best to let the statistics tell the full story.
Darnold completed 68.2% of his passes for 888 yards, three touchdowns, and one interception in the Panthers' first three games. He also ran for three touchdowns. Carolina went 3-0 in that span.
Darnold completed 54.7% of his passes for 685 yards, four touchdowns, and six interceptions in the Panthers' next three games. He also ran for two touchdowns. Carolina lost all three outings, including two at home.
In fairness to Darnold, not all of those issues are on him. All-Pro running back Christian McCaffrey is injured yet again, and the receivers have struggled with drops. Carolina also traded tight end Dan Arnold, who had zero drops on 11 targets through the season's first three games, to the Jacksonville Jaguars in late September.
Still, it's not a good sign when a quarterback's completion percentage drops nearly 14 points in three games. In fact, Darnold's 61.2 completion percentage is right in line with his career 60%.
Darnold needs to build off his late play against the Vikings if he wants to stick around in Carolina
Darnold is approaching an enormous crossroads in his first season with the Panthers. Considering the Atlanta Falcons' rebuilding situation and the New Orleans Saints' early inconsistencies, it appeared the Panthers' 3 -0 start could sneak them into the postseason.
The stakes have changed significantly at 3-3. We'll give Darnold credit for leading an 11-play, 96-yard scoring drive late in the Panthers' 34-28 loss to the Minnesota Vikings in Week 6. However, let's not forget the Vikings intercepted his first pass of the game and turned that into an early three points. Without that field goal, the Panthers, in theory, would have won 28-25.
If Darnold wants to stay in Carolina for the long haul, he'll need to build off his late play in Week 6 and try reverting back to his September form. Although it's too much to expect Darnold to constantly avoid turnovers the way he did over the first three games (his career touchdown-interception ratio, for what it's worth, sat at 52-46 through Week 6), his early play should inspire some degree of confidence.
If Darnold keeps playing like the quarterback who got run out of New York, he's not going to make it much longer. The key, at least for now, is limiting turnovers and trying to complete as many passes as possible. No one needs Darnold to start making no-look throws like Patrick Mahomes or carving up defenses with his legs the way Lamar Jackson does in Baltimore.
Besides, Darnold is still away from Adam Gase. That should account for something, right?
The Panthers aren't doomed if Darnold can't turn it around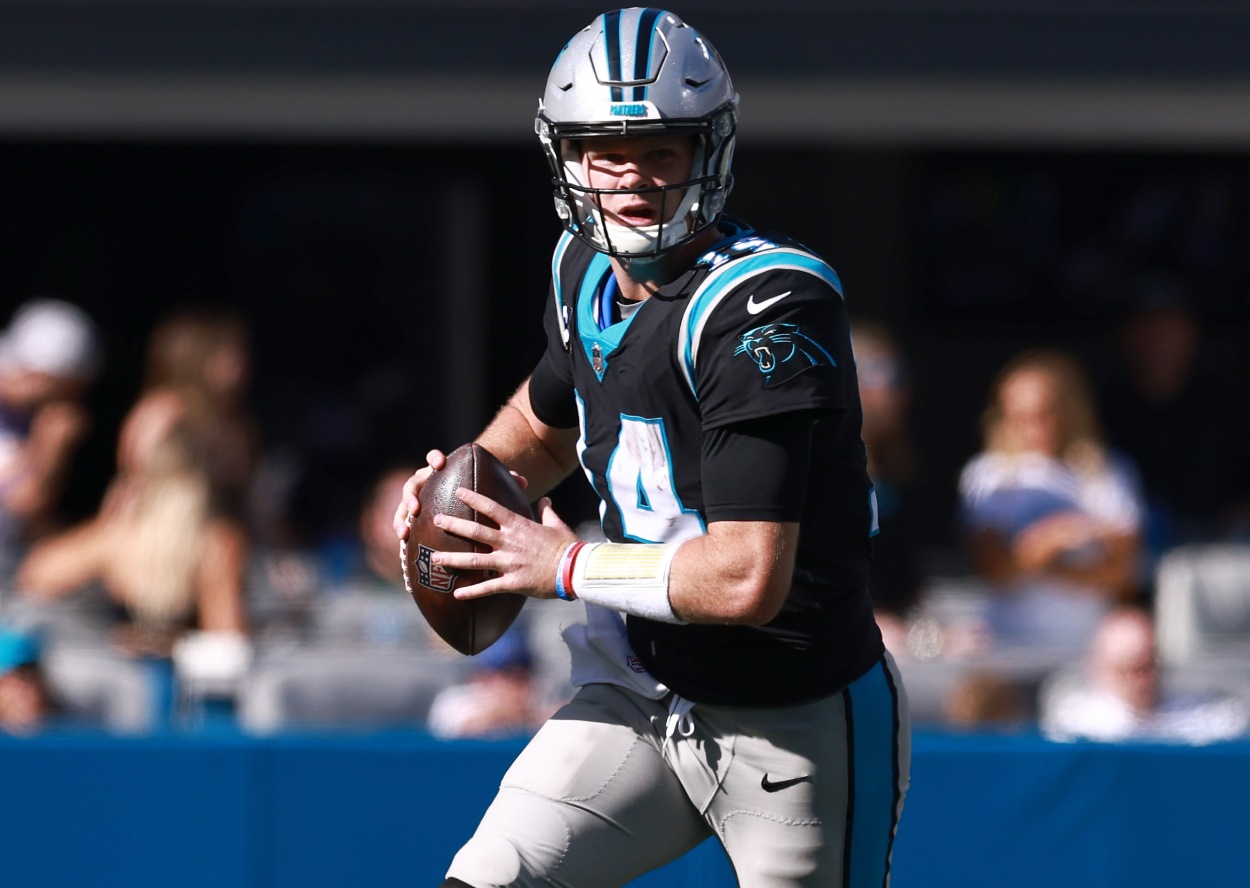 From the outside, it always appeared as if this season was a test year for Darnold and the Panthers. If he played well enough, the team would explore signing him to a long-term deal and keeping him as its franchise quarterback.
First off, the Panthers are in a transitional year, so the world won't end if they miss the postseason. Head coach Matt Rhule may need to make a change here and there, but 2022 is the big year for the Panthers. The goal right now should be a 9-8 campaign (or better, obviously) and having plenty to build off of entering next year.
The Panthers picked up Darnold's fifth-year option this spring, guaranteeing him $18.8 million in 2022. However, let's not pretend as if those financial obligations mean he's locked into the starting role. If Darnold can't turn it around, the Panthers would likely wisely explore the quarterback market.
Depending on how the Deshaun Watson situation plays out, the Houston Texans' fifth-year quarterback could potentially be in play via trade next spring. As of publication, the Panthers would have the 15th overall selection in the 2022 NFL Draft, which will probably be too low to select Ole Miss star Matt Corral, who could go as early as No. 1.
For now, Darnold's carriage has reverted to a pumpkin. There's still a couple of months left for him to find his glass slipper, earn a significant contract, and live happily ever after … at least, until he needs to play Tom Brady and the Tampa Bay Buccaneers.
Like Sportscasting on Facebook. Follow us on Twitter @sportscasting19.
RELATED: The Carolina Panthers' Devastating Injury Decision Should Put a Swift and Brutal End to Sam Darnold's Bounce-Back Season