Sam Darnold's Latest Crushing Injury Setback Could Doom Him to Life as a Backup Quarterback
When the Carolina Panthers first traded for quarterback Sam Darnold, the move was met with heavy criticism around the NFL. Darnold severely struggled during his three seasons with the New York Jets, rarely showcasing ability that would deem him a franchise quarterback.
However, the Panthers felt differently. With head coach Matt Rhule and offensive coordinator Joe Brady, the Panthers thought they had the tools to rebuild and remold Darnold. They felt so strongly about this that they sent over a second-round pick and change to New York for Darnold.
Fast forward to Week 10 of the 2021 season, and things couldn't be going worse for Darnold and the Panthers.
Sam Darnold failed to prove he's capable of being the Panthers' QB1
The Panthers started the season 3-0, and everything seemed to be going perfectly in this new Darnold-Carolina relationship. However, things have dramatically changed since.
The Panthers are 1-5 since their improbable three-game winning streak to begin the season, and Darnold is looking increasingly similar to his New York self. He ranks third-worst in passer rating and fifth-worst in quarterback rating (QBR) amongst qualified starting quarterbacks. He's also tied with Joe Burrow for the lead league in interceptions thrown with 11.
Things got so bad for Darnold that Rhule benched him for former XFL quarterback PJ Walker during the Panthers' Week 7 loss. The Panthers were also heavily connected to QB Deshaun Watson around the trade deadline, proving their lack of loyalty toward Darnold.
The magical bounce-back season the Panthers were hoping for hasn't occurred. To make matters even worse, Darnold is dealing with an injury that could see him miss the remainder of 2021, effectively ending his chance of winning back Carolina.
The Panthers placed their struggling QB on injured reserve
Before Darnold's scapula injury, it seemed unlikely that Carolina still viewed him as the long-term answer at quarterback. Now, it feels borderline impossible.
Darnold won't get a chance to prove his worth to Rhule and Brady anytime soon. Instead, he'll be sat on IR while the team moves forward with Walker at QB. The Panthers' most recent memory of Darnold is him passing for zero touchdowns and three interceptions against the New England Patriots.
What next for Sam Darnold?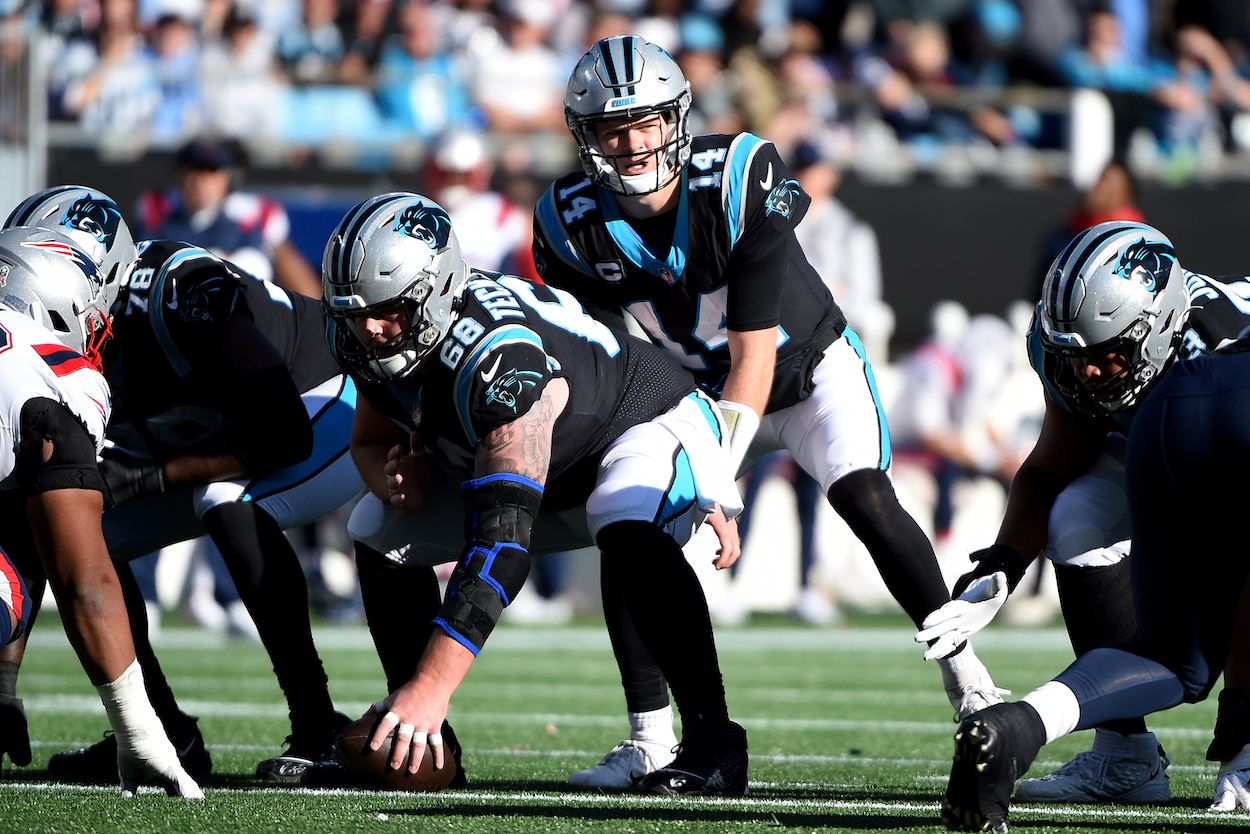 Darnold has now started at quarterback for two franchises, and both times things ended in disaster. The Jets held onto hope for three full years. It's unlikely the Panthers do the same.
For starters, the Panthers will presumably revisit the Deshaun Watson discussion in the offseason. There's a connection there due to Watson playing college ball at Clemson, and talks will likely heat up once teams' draft position is established.
If the Panthers do acquire Watson or a new starting QB in general, Darnold could be in a position where his only option is to operate as the team's backup. Carolina already picked up Darnold's fifth-year option, so he's likely staying in baby blue. However, there's a pretty decent chance he is asked to suit up as a very expensive QB2.
If Darnold doesn't get injured and has a productive second half to the 2021 season, maybe this isn't a discussion. However, with the direction things are heading, it feels unlikely that Darnold is the Panthers' unquestioned QB1 next season.
All stats courtesy of Pro Football Reference.