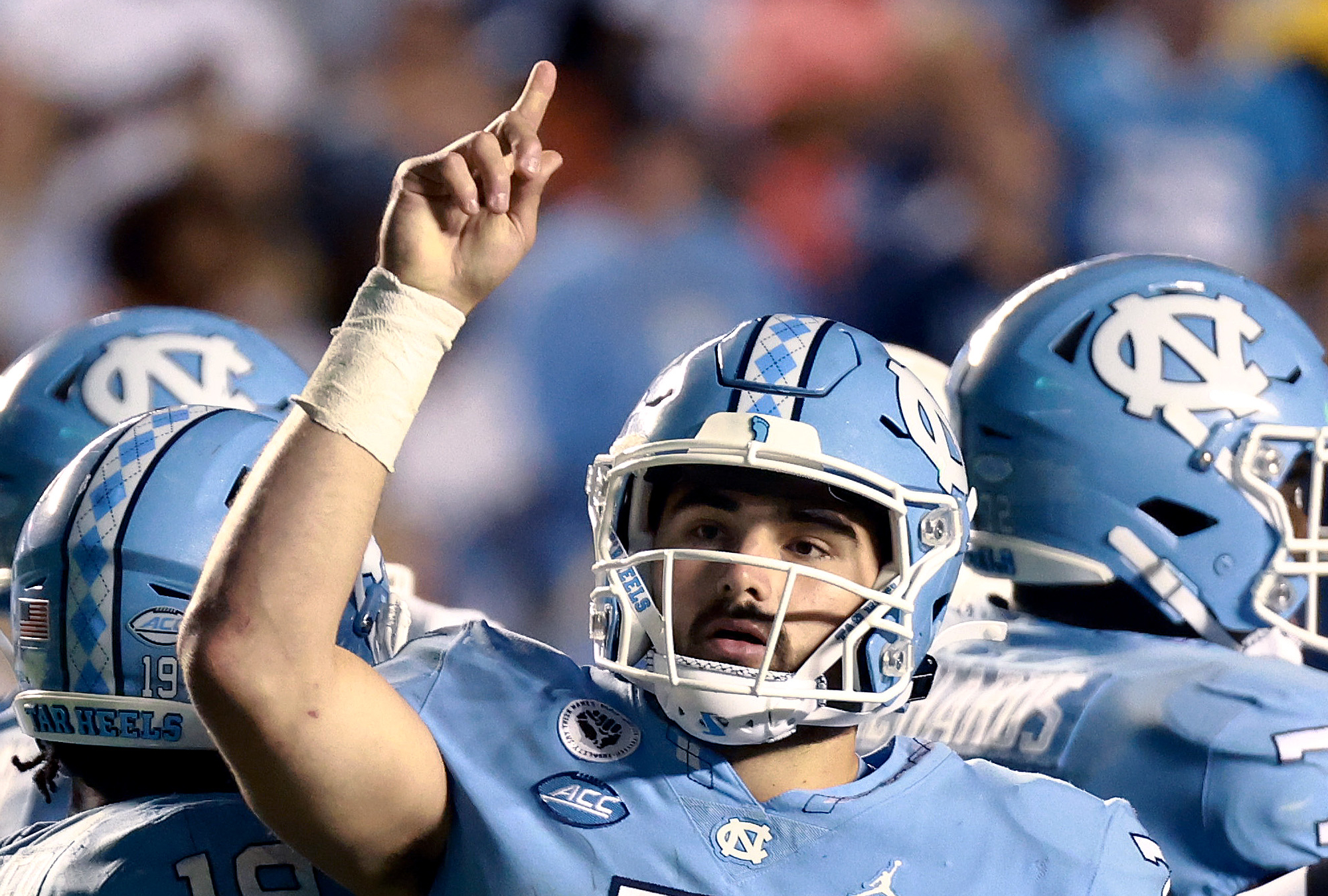 Sam Howell: The 4 Best NFL Draft Landing Spots for the UNC Tar Heels' Star QB
Although North Carolina quarterback Sam Howell isn't a perfect prospect, several intriguing teams should consider selecting him in the 2022 NFL Draft.
As the 2022 NFL Draft inches ever closer, former North Carolina quarterback Sam Howell should plan on hearing his name called sooner rather than later. The 2019 ACC Rookie of the Year is widely expected to be selected within the first two rounds, and he might even sneak into the draft's opening night after a stellar career with the Tar Heels.
So, which teams should select Howell later this week? For this list, we weighed everything from the current quarterback situation to the overall fit. In other words, something tells us the Cincinnati Bengals and Kansas City Chiefs don't plan on adding the two-time All-ACC quarterback. Also, teams are ranked alphabetically over preference.
Finally, although we did reference the possibility of teams trading up, we did not create detailed trade packages.
Based on consideration of the aforementioned prerequisites, we believe the following teams should target Howell in the 2022 NFL Draft.
Atlanta Falcons
As dangerous as it is to assume, we feel comfortable guessing the Falcons will strongly consider selecting a quarterback this week. There is no reason to believe Marcus Mariota, who spent the last two seasons backing up Derek Carr on the Las Vegas Raiders, will cement himself as the franchise quarterback in the coming months.
Although I'm a huge fan of Howell's ceiling and skillset, I do not believe he will be selected in the first round. Atlanta owns two second-round picks (No. 43 and No. 58), and the North Carolina product should still theoretically still be available in that range. It's worth noting that Howell's dual-threat traits could appeal to Falcons head coach Arthur Smith, who served as Ryan Tannehill's offensive coordinator on the Tennessee Titans.
Indianapolis Colts
Indianapolis only has two picks in the top 100, and new Colts quarterback Matt Ryan has hinted he plans on playing beyond the 2022 campaign. If the two-time Super Bowl champions select a quarterback this early, there is a realistic chance that the player in question will not see significant action until 2024 at the earliest.
That reality could work in the Colts' favor if they select Howell, who will spend the bulk of his rookie season at 22 years old. Head coach Frank Reich, who appears safe despite only recording a single postseason win in his four years with the team, is a former backup quarterback himself and has enjoyed consistent success with his various signal-callers.
And, fair or not, Howell might be the best quarterback option left when the Colts select at No. 42. Unless, of course, the team traded up for someone like Cincinnati's Desmond Ridder…
Philadelphia Eagles
Will the Eagles select a quarterback this weekend? Although Jalen Hurts earned Pro Bowl honors in 2021, his inconsistency and poor showing in the NFC Wild Card Round have created questions about the former Alabama star's long-term future.
Then again, Eagles fans have a habit of raising a stink, so Hurts shouldn't feel too bad.
Philadelphia picks 51st overall, so a trade-up might be required to ensure the 6-foot-1, 218-pound gunslinger trades his Carolina blue for midnight green. Although I believe the Eagles would be a good landing spot for Howell, I also haven't entirely given up on Hurts yet. Tough call.
Washington Commanders
Of the four teams on this list, the Commanders are the best fit for Howell, in my humble (and likely incorrect) opinion. Head coach Ron Rivera knows the benefits of coaching a dual-threat quarterback after spending nearly a decade with Cam Newton on the Carolina Panthers — and while I'm not saying Howell will be the next version of Newton, I also admittedly have high hopes for the UNC standout.
Although new Commanders quarterback Carson Wentz is under contract for both 2023 and 2024, he's not owed any guaranteed money. If Washington believes Howell is an ideal long-term option, don't be surprised to see the three-time Super Bowl champions consider trading up from No. 47.
Like Sportscasting on Facebook. Follow us on Twitter @sportscasting19.