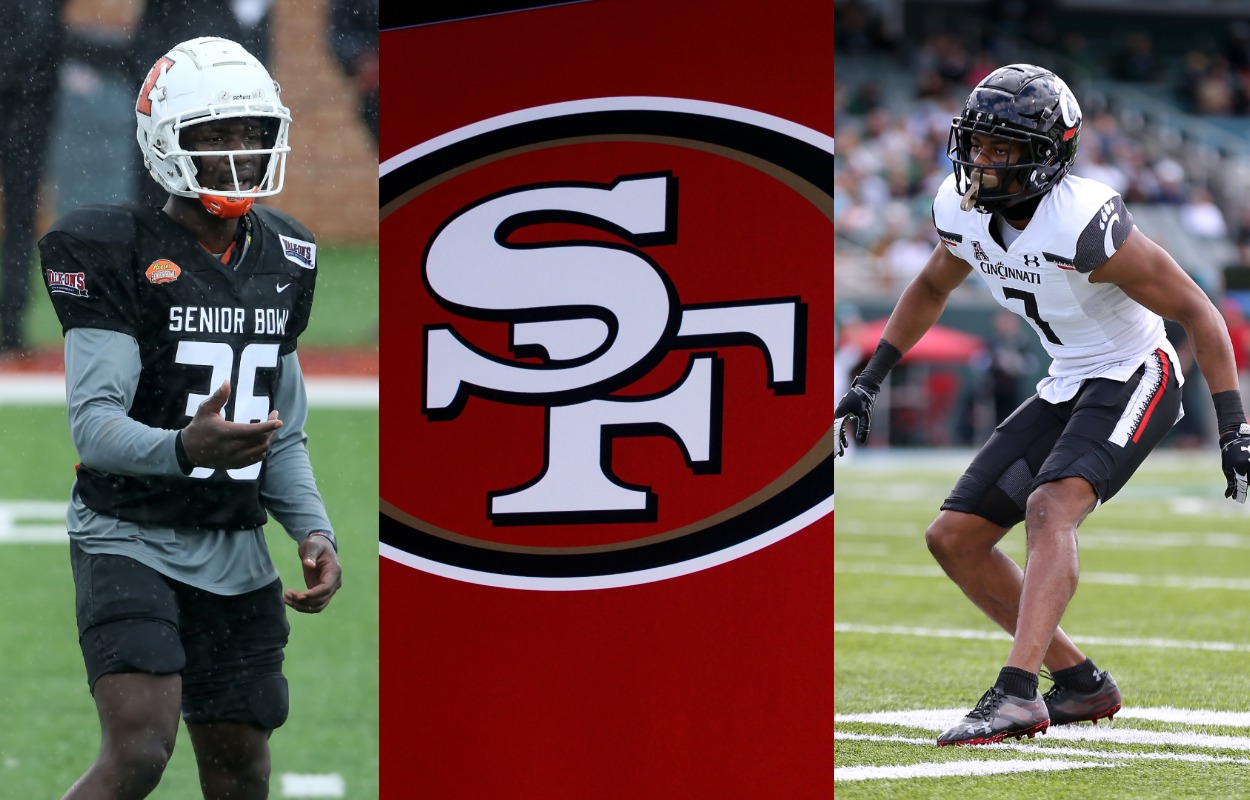 San Francisco 49ers 3-Round Mock Draft
The San Francisco 49ers have plenty they need to do in the 2022 NFL Draft. Good thing we're here to help the five-time Super Bowl champions out.
The 2022 NFL Draft is nearly upon us, and the San Francisco 49ers have plenty of work to do. No, that doesn't include whether or not they'll trade quarterback Jimmy Garoppolo in the coming weeks.
As of publication, the 49ers were slated to have nine total selections in the 2022 NFL Draft, but only one in the first two rounds. Now feels like the perfect time to analyze who the five-time Super Bowl champions could select within the draft's first four rounds. Although, given that this story covers rounds two through four, it's technically a three-round draft. Semantics are fun, aren't they?
For the sake of simplicity, we only used the 49ers' current draft selections; there are no trades here that have not already happened. We also drafted players based on need and team fit.
Based on consideration of the aforementioned prerequisites, our three-round mock draft looks as follows:
Round 2 (No. 61 overall): Coby Bryant, CB, Cincinnati
After Kobe Bryant dominated in Los Angeles, we'll let Coby Bryant (no relation) try to begin his own legendary path in San Francisco. The 6-foot-1, 193-pound cornerback was a four-year starter for the Bearcats and has exceptional vision and awareness. Although Bryant isn't the fastest cornerback (he ran a 4.54 40-yard dash at the NFL Combine), his ball skills and intelligence could easily propel him into the second round.
Even if Bryant isn't a Day 1 starter, he'd be a welcome addition to the 49ers' secondary. Don't be surprised to see San Francisco bite here.
Other options: David Bell, WR, Purdue; Drake Jackson, EDGE, USC; Phidarian Mathis, DT, Alabama
Round 3 (No. 93 overall): Kerby Joseph, S, Illinois
The 6-foot-1, 203-pound Joseph could use further development after only starting a single season at Illinois. However, his high ceiling and excellent physical traits could bring him a long way in the NFL. He snagged five interceptions for the Fighting Illini in 2021 and won't turn 22 until Nov. 14.
Although the 49ers could draft a receiver this early, we're projecting them to stick with defense. With that said, we won't be surprised when the team adds another running back in the waning hours of the draft's second night.
Other options: Calvin Austin III, WR, Memphis; Josh Jobe, CB, Alabama (if CB not selected in R2); Justyn Ross, WR, Clemson; Sean Rhyan, G, UCLA
Round 3 (No. 105 overall): Cole Strange, OG, Chattanooga
The 49ers need offensive linemen, and Strange is skyrocketing up draft boards. In fact, the UT-Chattanooga standout might be selected within the first 100 picks after a strong college season and an impressive week at the Senior Bowl in February.
The 6-foot-5, 307-pound Strange might profile as a long-term center, which could set him up to eventually replace seven-time Pro Bowler Alex Mack in the middle. NFL Media's Lance Zierlein compared the 23-year-old to former Cleveland Browns center J.C. Tretter, and that's a resemblance the 49ers should absolutely want to hear.
Other options: Any of the players listed as an option at No. 93 who might still be on the board; Joseph (if the 49ers select Strange at No. 93); Ed Ingram, G, LSU; Sam Williams, EDGE, Ole Miss; Verone McKinley III, S, Oregon (if safety not taken earlier)
Round 4 (No. 134 overall): Dominique Robinson, EDGE
Originally a standout high school quarterback in Ohio, Robinson initially played receiver for the Redhawks before moving to defense ahead of the 2020 season. The 6-foot-5, 253-pound pass-rusher totaled 10.5 tackles for a loss and seven sacks in the last two seasons.
Considering his history of bold and creative decisions, it wouldn't be surprising to see head coach Kyle Shanahan fight for the team to draft Robinson despite his recent transition to defense. His experience as a wideout coupled with his speed (he ran a 4.72 40-yard dash at the NFL Combine) make him a fascinating defensive prospect, and he makes perfect sense for the 49ers.
Other options: Alec Lindstrom, C/G, Boston College; Mario Goodrich, CB, Clemson (if CB not taken earlier); Max Mitchell, OT, Louisiana; Nick Cross, S, Maryland (if safety not taken earlier)
Like Sportscasting on Facebook. Follow us on Twitter @sportscasting19.