The San Francisco 49ers and Chicago Bears Are Trying to Turn Trey Lance and Justin Fields Into Patrick Mahomes
Patrick Mahomes is the best quarterback in the NFL, but he didn't start that way. After the Kansas City Chiefs drafted him 10th overall in 2017, Mahomes spent almost all of his rookie season sitting behind Alex Smith. He then exploded in his second season and became the NFL MVP. It's a path that some teams take their quarterbacks down and some don't. But the San Francisco 49ers and Chicago Bears are already trying to turn their rookie QBs, Trey Lance and Justin Fields, into Mahomes.
The handling of a rookie quarterback isn't a one-size-fits-all situation. Depending on the player and team need, some rookies are forced to start week one. The New York Jets' Zach Wilson and Jacksonville's Trevor Lawrence this season, for example. And not everybody is as physically gifted as Mahomes. But certain players need more development, and the 49ers and Bears are at least attempting to go the Mahomes route to start 2021.
Mahomes didn't take off until his second season because he sat behind Alex Smith for most of his first
There were plenty of questions surrounding Mahomes prior to the 2017 draft. According to NFL.com, some of those questions included inconsistency, a lack of discipline and footwork in the pocket, a propensity to go for the big play, impatience, and decision making. There are reasons the best player in the NFL almost fell out of the top 10 when he was drafted.
At first glance, a decent chunk of those question marks that surrounded the Texas Tech product could be fixed through time and practice. Chiefs' coach Andy Reid's track record with quarterbacks didn't hurt, but Mahomes had the chance to improve some of those weaknesses without the pressure of winning games. That was Smith's job.
The 6-foot-3 QB didn't start until the final week of his rookie season, when KC had already wrapped up a playoff spot. The future MVP was 22 of 35 for 284 yards, no touchdowns, and one interception. Smith then returned for the team's lone playoff game.
Mahomes won the MVP the next year after throwing for more than 5,000 yards and tossing 50 touchdowns.
San Francisco and Chicago are trying to build their own Mahomes with their approach to handling Lance and Fields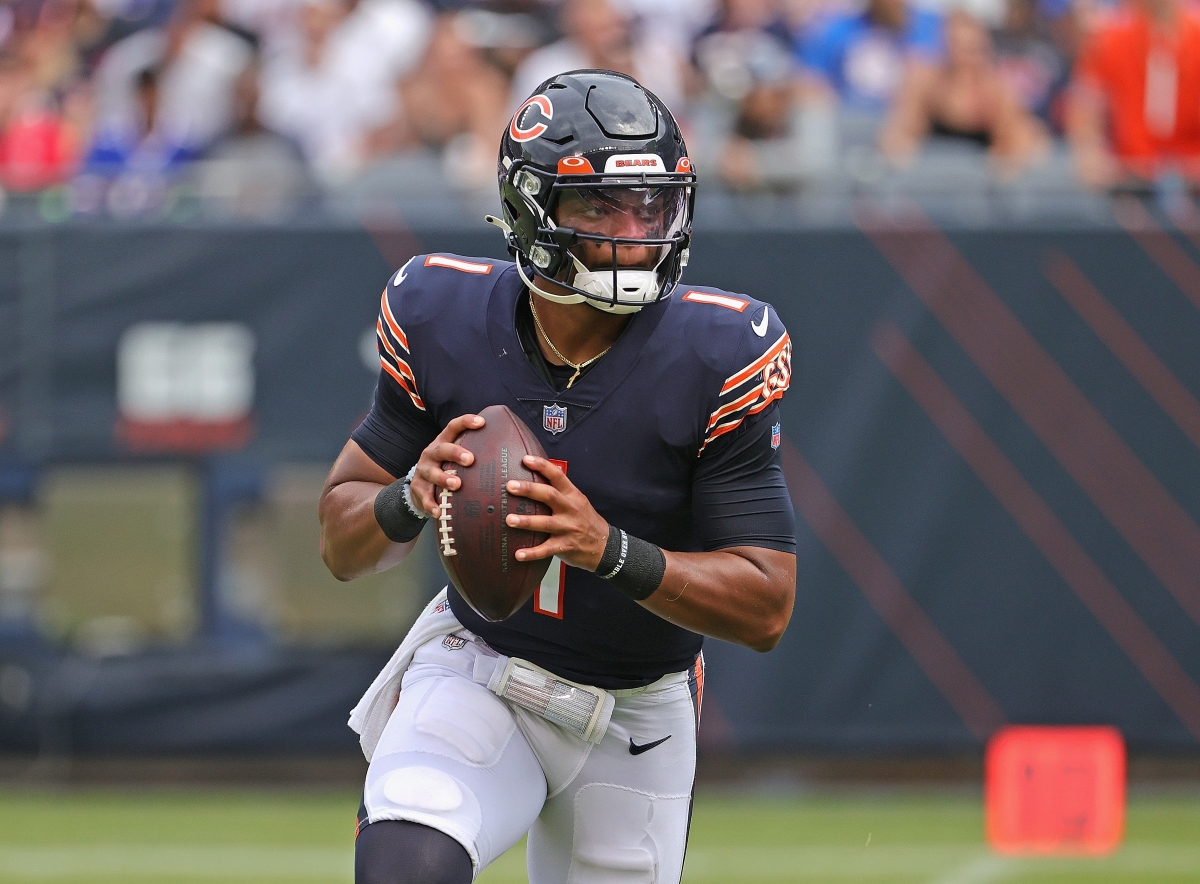 Lance and Fields had some of the same weaknesses coming out of college that plagued Mahomes: Inconsistency, lack of patience (or too much patience in Lance's case), undisciplined feet, and a lack of understanding of how to manage the pocket. Again, traits that can often be improved with time and patience.
Mahomes has often said how much Smith helped launch his early-career success, according to NCBSports:
"I learned a ton from Alex Smith. I attribute a lot of my success, especially so early in my career, to him.

"The way he was able to go about being a professional, going out and having the great year he had my first year, and just seeing how he went about it every single day. How he game-planned, how he recognized coverages."

Patrick Mahomes on what he learned sitting behind Alex Smith his rookie season
San Francisco Head Coach Kyle Shanahan has said he won't hesitate to start Lance if he's ready to play. The North Dakota State product has taken first-team reps in practice during training camp. But Lance is 20 years old and has played one season at the FCS level in college. The 49ers' incumbent, Jimmy Garoppolo, has been in the NFL for six seasons and took the Niners to the Super Bowl two years ago (and lost, ironically, to Mahomes and the Chiefs).
Fields' situation has been drastically different as the entire Bears' front office, and head coach Matt Nagy, have reiterated dozens of times that Andy Dalton will start week one for Chicago. Dalton said he was promised the starting job, which is why he signed with the team in the first place. Fields is having a standout preseason, but all signs point to the former Ohio State Buckeye beginning the year with a clipboard.
If teams are patient with their rookie QBs, the Mahomes Plan is the best plan
Wilson and Lawrence are on track to start week one because, well, their teams have no other options. That is unless Gardner Minshew continues to resist being a No. 2 for the Jags.
It's a relative certainty, though, that both Lance and Fields will start games in 2021. When that is has yet to be determined. But as Kansas City proved with Mahomes, letting a rookie sit, watch, and develop early in his career can have significant benefits for the seasons that follow.
All statistics courtesy of Pro-Football-Reference.