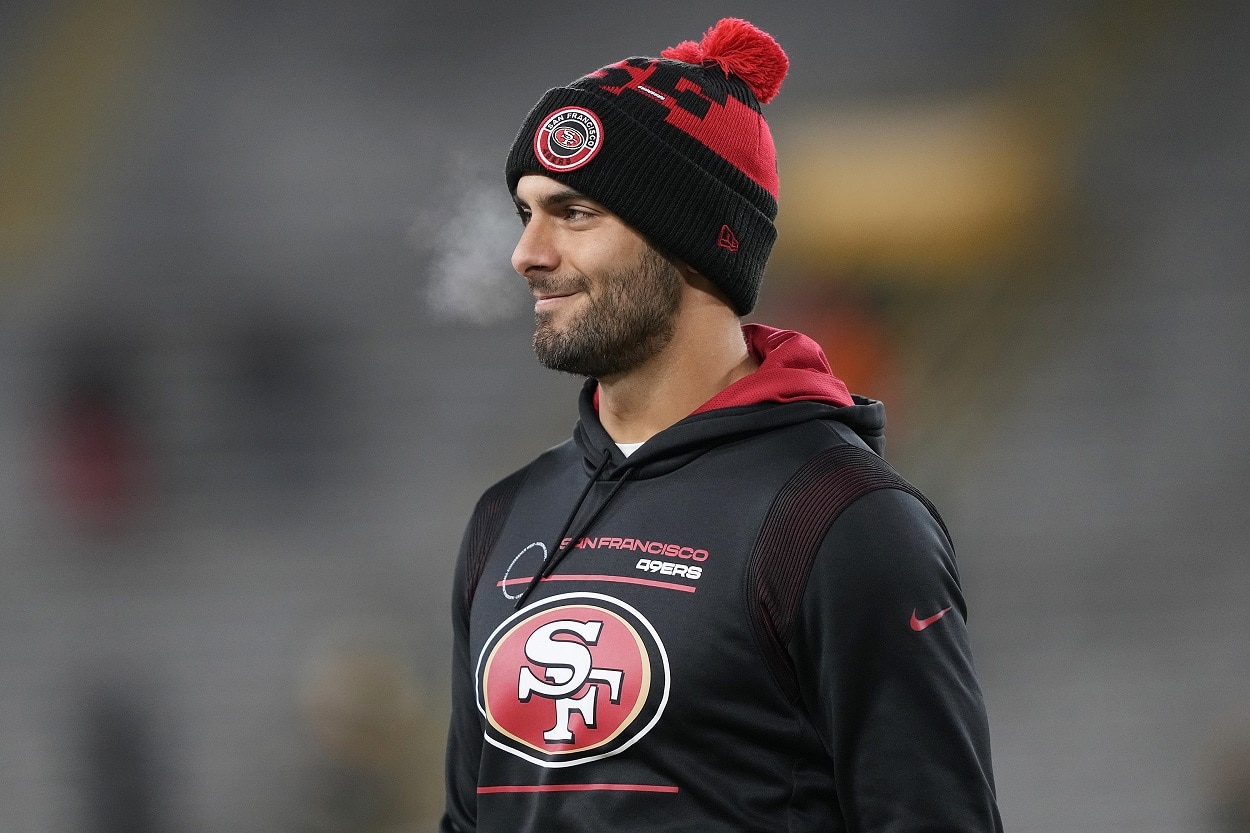 The San Francisco 49ers Have Officially Given Jimmy Garoppolo a Path to Secure $25 Million
Jimmy Garoppolo and his agent have been given permission by the San Francisco 49ers to seek a trade.
When the San Francisco 49ers signed Jimmy Garoppolo to a five-year, $137.5 million contract extension in February 2018, the organization seemed set at the most important position in sports for years to come. But after watching Tom Brady's former backup struggle to stay healthy, the franchise made the bold decision to trade up to the No. 3 pick in the 2021 NFL Draft to secure the uber-talented but incredibly raw Trey Lance. 
Naturally, the move led to immediate speculation about Garoppolo's future with the 49ers. And while he maintained his spot atop the depth chart for one season, it's clear the 30-year-old signal-caller will throw his next pass for another team. 
In fact, the 49ers have opened the door for their longtime starter to secure $25 million elsewhere.
The 49ers seemed primed to make a transition at quarterback
This week represented a monumental moment for the 49ers as a franchise. After all, it's rare for a team to give one of its most popular players the chance to find a new NFL home. 
Adam Schefter of ESPN reported the organization granted Garoppolo's agents permission to seek a trade. San Francisco's starter since 2017, Garoppolo has spent most of the offseason rehabbing from shoulder surgery. With just one year left on the pricey extension he inked during the 2018 offseason, the veteran quarterback needs to play well to prove he deserves another multi-year deal. 
While the 49ers can trade Garoppolo to any team of their choosing, putting the ball in his agents' court suggests they're willing to do what's best for him. However, it remains to be seen whether potential suitors will find the ninth-year pro's contract palatable.
Jimmy Garoppolo has an opportunity to secure $25 million from another NFL team
Set to count nearly $27 million against the salary cap, Garoppolo will certainly force other franchises to consider the financial implications of a trade. Between his $24.2 million salary and $800,000 in per-game roster bonuses, he has a chance to earn just north of $25 million in 2022. 
Of course, given Garoppolo's injury history (he's played a total of 63 games since 2014), it would be a mild surprise if he remained healthy and appeared in every game. However, with no semblance of financial or job security, he should have no shortage of motivation heading into his ninth year in the league. 
Still, it isn't easy to gauge the market for a quarterback who comes with several red flags. Not only does Garoppolo have a lengthy injury history, but he's also unlikely to be back to 100% until the middle of August.
Plus, will a team want to surrender draft capital and significant cap space to acquire a passer who hasn't exactly performed at a high level in the playoffs? With a 74.1 rating and six interceptions in six postseason starts, it's not as if Garoppolo has impressed when it's mattered most.
Where are the best landing spots for Jimmy G?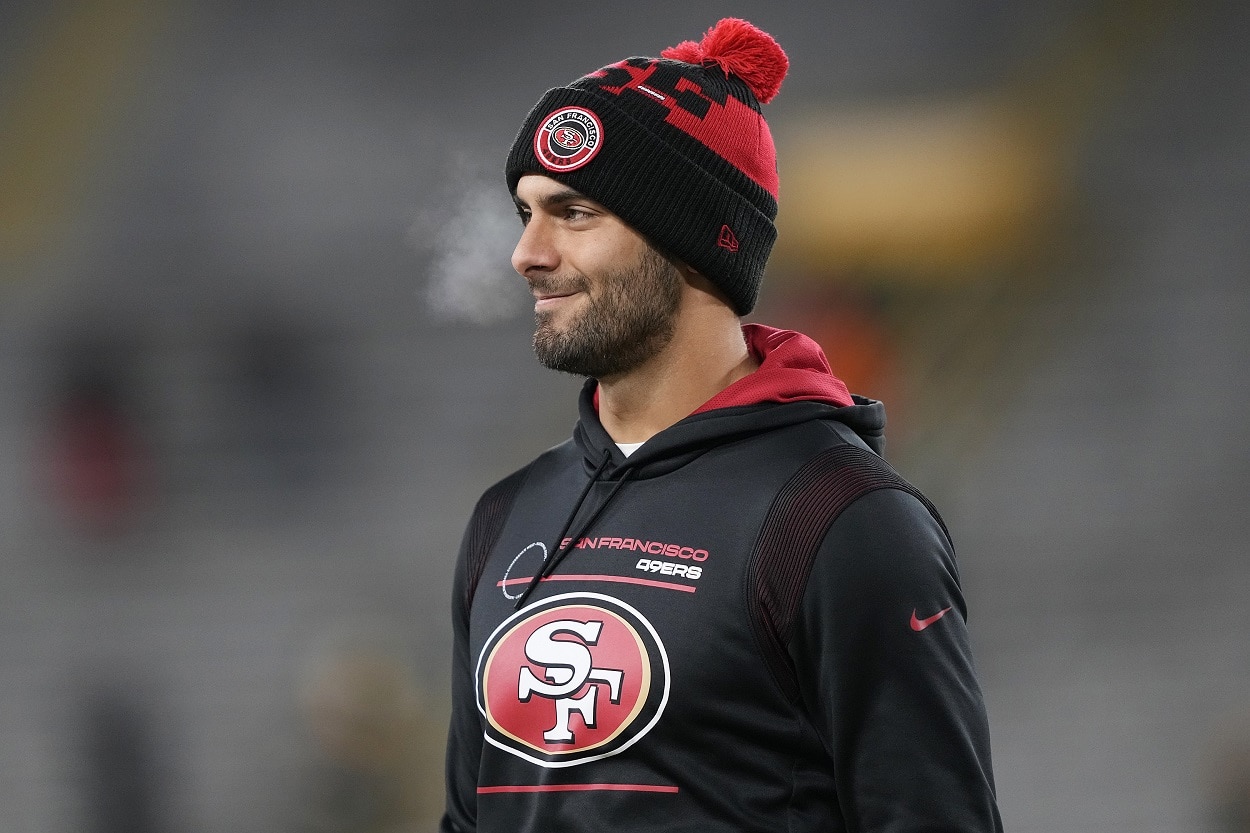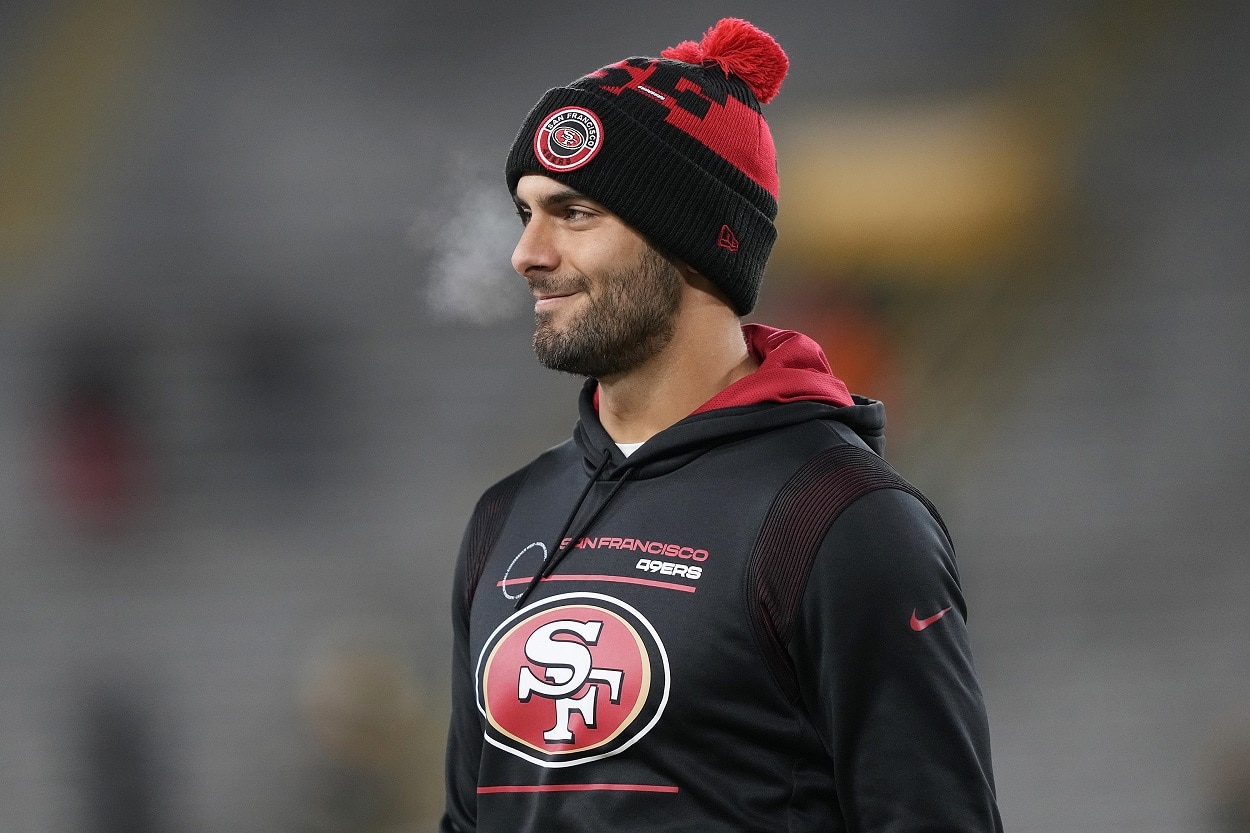 Ultimately, some NFL team will employ the veteran quarterback this season. Assuming the 49ers don't release Garoppolo, there are several potential trade partners who could look to secure his services. 
So, what are the most logical fits? 
First, don't count out the Cleveland Browns. Despite trading a considerable haul for Deshaun Watson and handing him the largest contract in NFL history earlier this offseason, the AFC North franchise remains in limbo at the most important position in sports. With the ex-Houston Texan facing the possibility of a lengthy suspension over alleged inappropriate sexual conduct, the Browns may have to play a large chunk of the season without him. 
Could Garoppolo be viewed as the best fallback option? Despite his shortcomings and durability concerns, he boasts more upside than Watson's current backup, Jacoby Brissett. In addition, the Browns have almost $50 million in cap space, which gives them plenty of wriggle room to take on Garoppolo's $24.2 million salary. 
Sticking in the AFC, Houston has to be considered a top landing spot, too. Sure, the Texans are in the middle of a rebuild. But don't forget general manager Nick Caserio was the Patriots' director of player personnel when New England selected Garoppolo in the second round of the 2014 draft. Acquiring the veteran and pitting him against promising second-year pro Davis Mills wouldn't be the worst move for a franchise that will have incredible spending power next offseason. 
The only hangup? 
According to Adam Coleman of The Athletic, Houston only has about $9 million in cap space at the moment. So, if Jimmy Garoppolo wants to take his talents to the Texans, he may have to sacrifice some of his $24.2 million salary to make that happen.
Stats courtesy of Pro Football Reference, Contract info courtesy of Spotrac
Like Sportscasting on Facebook. Follow us on Twitter @sportscasting19 and subscribe to our YouTube channel.