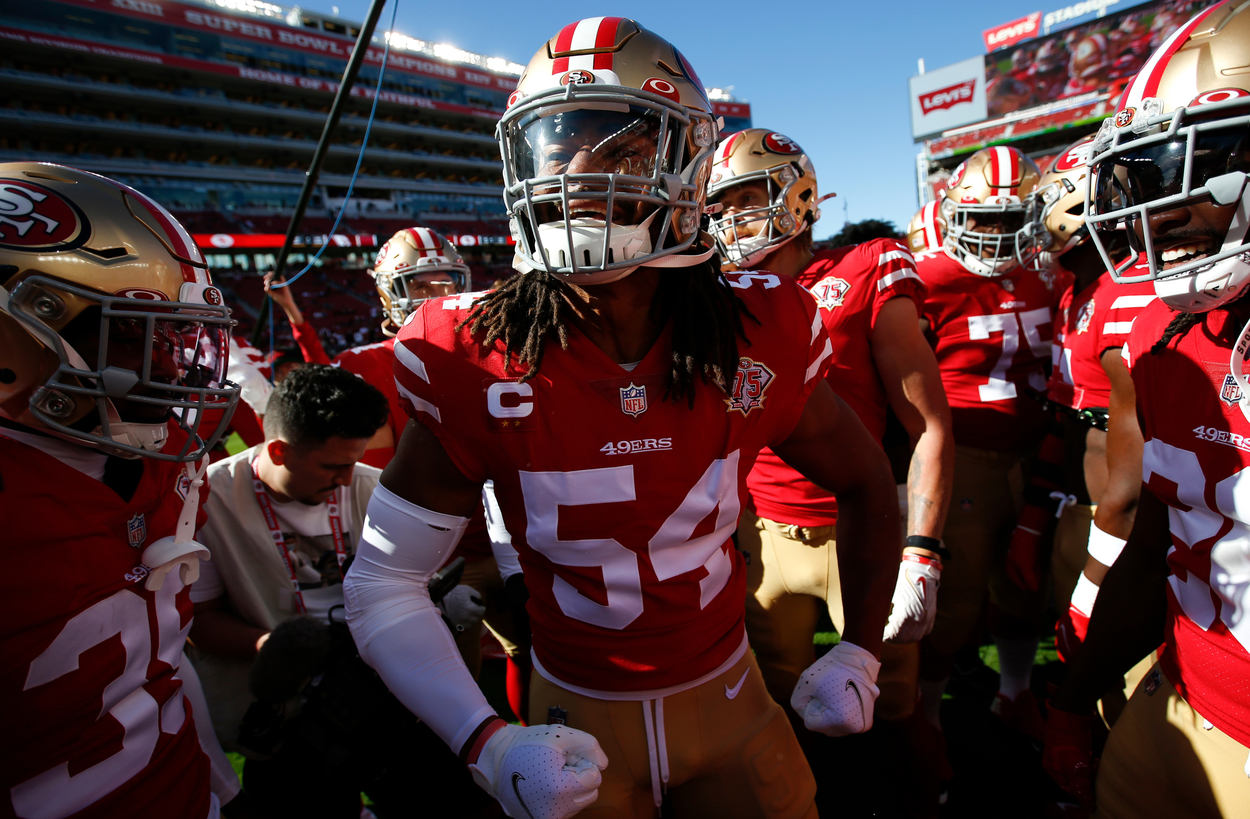 What the San Francisco 49ers' Plan of Attack Must Be for the 2022 NFL Offseason
For the San Francisco 49ers to return to Super Bowl contention in 2022, they must have a clear plan of attack in the coming months.
The San Francisco 49ers find themselves at an interesting crossroads. On the one hand, the five-time Super Bowl champions have a bright young core, especially on defense, that helped them rebound from a 3-5 start and reach the playoffs for only the second time since 2014.
However, the 49ers nonetheless enter the 2022 NFL offseason with questions often befitting a rebuilding team. Is Trey Lance, the third overall pick in last year's draft, really the franchise quarterback? Or will Jimmy Garoppolo return as the starter after a solid 2021 season? Elsewhere, are the 49ers prepared to make a significant splash in free agency and shore up an inconsistent secondary?
It appears head coach Kyle Shanahan and general manager John Lynch, each of whom arrived after the 2016 season, will return in 2022. However, both must approach next season as if their jobs are at stake, especially after a frustrating loss to the Los Angeles Rams in the NFC Championship Game.
Here's the plan of attack that duo should follow during the 2022 NFL offseason.
Biggest offseason questions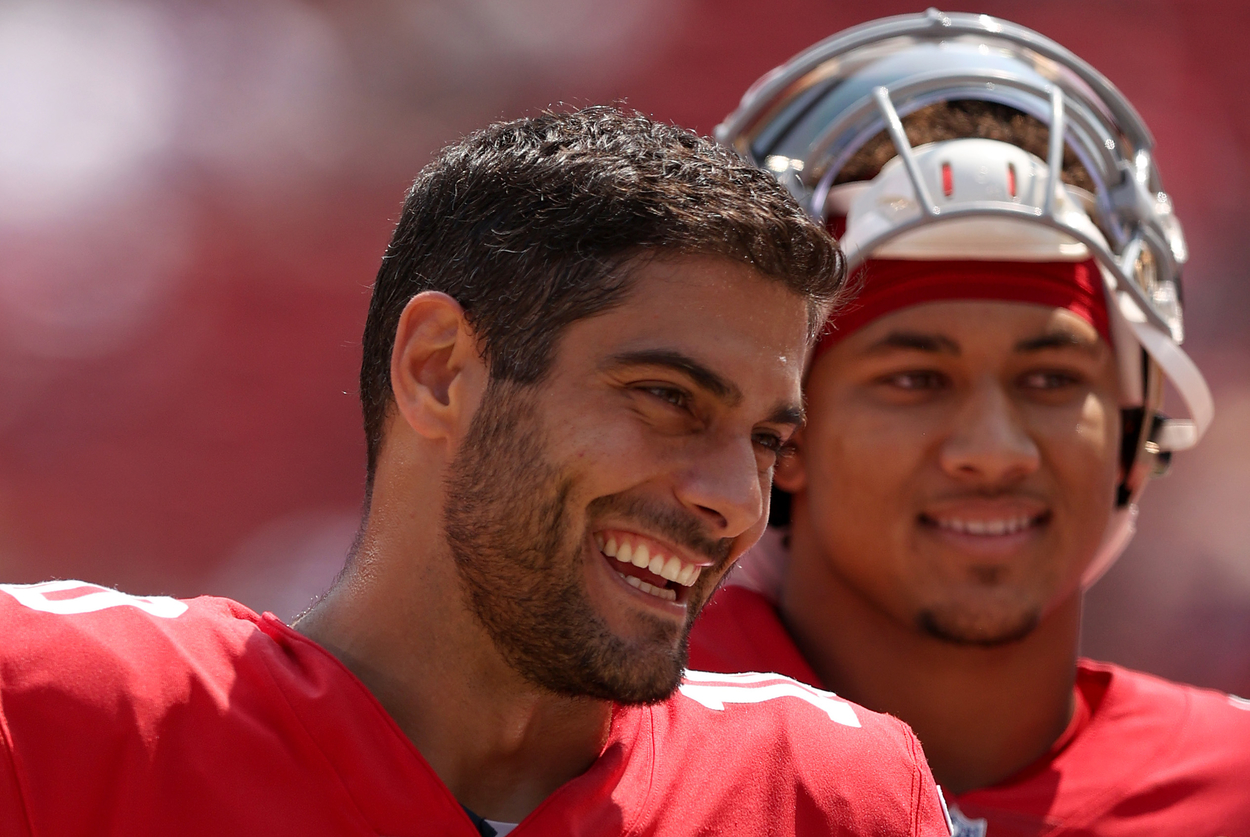 Every NFL contender must have an established quarterback plan, one they're willing to stick to if it means an increased chance at winning a Super Bowl. The 49ers made it as far as they did in 2021 because Garoppolo rebounded from last year's injuries and didn't succumb to the pressure of Lance breathing down his neck.
Garoppolo has one year left on his contract and should attract suitors either via free agency or the trade market if the 49ers go that route. However, Lance will play all of the 2022 season at 22 years old and could benefit from additional time behind a veteran quarterback.
Allowing a first-round quarterback to sit for a year, let alone two, hasn't happened often over the last decade. The days of Aaron Rodgers not starting until his fourth season are long over.
For everyone's sanity, the 49ers must decide on a plan in the coming weeks. San Francisco cannot play musical chairs at quarterback next season if it intends on returning to the Super Bowl.
Top free-agency decisions
Key free agents: Jaquiski Tartt (S), K'Waun Williams (CB), Raheem Mostert (RB), Laken Tomlinson (OG), Jason Verrett (CB)
Of the 49ers' five key free agents, Tomlinson is the only one who San Francisco must prioritize re-signing. The Duke product has been a steady starter at left guard since arriving in a 2017 trade and will play all of next season at 30 years old. He isn't the sexiest name, especially on an offensive line with All-Pro left tackle Trent Williams, but Tomlinson has grown into a key — and, perhaps most importantly, durable — member of Shanahan's offense.
Mostert, Verrett, and Williams all have injury histories, which could work in the 49ers' favor on the open market. However, a young group of running backs likely means a divorce between Mostert, who starred during the 2019 playoffs, and the team that gave him a chance all the way back in November 2016.
Tartt's missed interception in the NFC title game shouldn't determine his future one way or another. The Samford product started 14 games at safety in the regular season and didn't miss a defensive snap in three playoff games.
Fans should also keep an eye on linebacker Azeez Al-Shaair, a pending restricted free agent who had a career year in 2021. Don't be surprised if the 49ers extend the Florida Atlantic product and find a way to keep him in the starting lineup next year.
2022 NFL Draft needs and potential targets
Top picks: Second round (own), third round (compensation after the Washington Football Team hired former 49ers executive Martin Mayhew as its general manager in 2021), fourth round (own).
Draft needs: CB, S, OG, C, WR
San Francisco should attempt to address some holes, both on the offensive line and in the secondary, in free agency. We advise the 49ers to strongly consider players like New York Jets safety Marcus Maye and Denver Broncos cornerback Kyle Fuller, veterans who will likely need to settle for prove-it deals before re-entering the market in 2023.
However, the 49ers must also use the draft to fill those holes. Although San Francisco only has two picks in the first two days, that shouldn't stop them from landing a playmaking prospect who can make a difference on defense.
Alabama safety Jordan Battle and Cincinnati cornerback Coby Bryant were each widely considered second-day picks when the 2021 college football season ended. Bryant, a two-time first-team All-AAC selection, will have an opportunity to boost his stock at the Senior Bowl.
If the 49ers do not retain Tomlinson, Lynch should turn his attention to Georgia teammates Jamaree Salyer (left tackle) and Justin Shaffer (left guard). After primarily playing tackle in his first three seasons, Thayer Munford manned the left guard spot at Ohio State this year and earned first-team All-Big Ten honors.
Although the 49ers already have Brandon Aiyuk and Deebo Samuel at receiver, it never hurts to add one in the later rounds. Western Kentucky's Jerreth Sterns, who totaled a staggering 150 catches, 1,902 yards, and 17 touchdowns this season, is a mid-major prospect worth considering if he slips to the third day.
1 player on each side of the ball who must step up in 2022
Right now, no one has any idea who will be the 49ers' starting quarterback in 2022. As much of a copout as the answer might be, we're choosing that man — whether it's Lance or Garoppolo — as the offensive player who must step up next season.
Sometimes, things are that simple, and their inclusions should speak for themselves. Steady quarterback play is often the difference between a team going 6-10 — er, 6-11 in the 17-game era —- and 11-6.
Defensively, keep an eye on linebacker Dre Greenlaw and if he can stay on the field. The third-year linebacker missed most of the season with a groin injury, an issue that led to Al-Shaair's emergence at outside linebacker. Greenlaw is a proven playmaker who should be a vital part of the 49ers' future.
We'll see if the 49ers find a way to run a defense next season with Al-Shaair, Greenlaw, and Fred Warner all starting at linebacker. If so, San Francisco might want to start printing its "2022 NFC West Division Champions" hats in advance.
Like Sportscasting on Facebook. Follow us on Twitter @sportscasting19.