The San Francisco 49ers Are Quietly Being Connected to a Future Hall of Famer Following a Devastating Injury to 1 of Their Most Important Players
Coming off an injury-riddled season in 2020, the San Francisco 49ers were hoping for a major bounce-back year in 2021. Joey Bosa is returning to the starting lineup, Jimmy Garoppolo is back under center, and rookie Trey Lance could appear late in the season.
Everything was lining up for the 49ers to compete for a playoff spot this year. Then, disaster struck yet again.
The 49ers lost starting running back Raheem Mostert to a knee injury during their Week 1 victory over the Detroit Lions. The injury is reportedly causing Mostert to miss the remainder of the regular season.
The San Francisco 49ers are suddenly in the market for RBs
With Mostert done for the season, the 49ers find themselves in a rather tricky position just a few days into their new campaign. Niners head coach Kyle Shanahan is a master of finding production from unlikely candidates on offense, but he still entered the year under the belief that Mostert would be his primary back.
Regardless of the coach, scheme, or system, teams are rarely equipped to deal with losing a starter so early into the season.
Moving forward, the 49ers have a few options at their disposal. They can ride with their internal backup RBs, including Elijah Mitchell, Trey Sermon, JaMycal Hasty, Trenton Cannon, and the recently added Kerryon Johnson. Or, they can turn to free agency.
The current list of running backs available via free agency isn't super appealing. However, there's one familiar face that 49ers fans have seemingly latched onto.
Fans are calling for Frank Gore to be signed
Frank Gore is a 49ers legend. He spent the first decade of his NFL career in San Francisco, racking up an awe-inspiring total of 11,073 rushing yards.
Technically speaking, Gore is a free agent at the moment. Despite being 38 years old, the future Hall of Fame running back has yet to retire from the NFL formally. He appeared in 15 games for the New York Jets last season and actually performed admirably well. Gore finished the year with 742 total scrimmage yards and two touchdowns.
Not bad at all for a near 40-year-old.
The San Francisco 49ers may consider adding Gore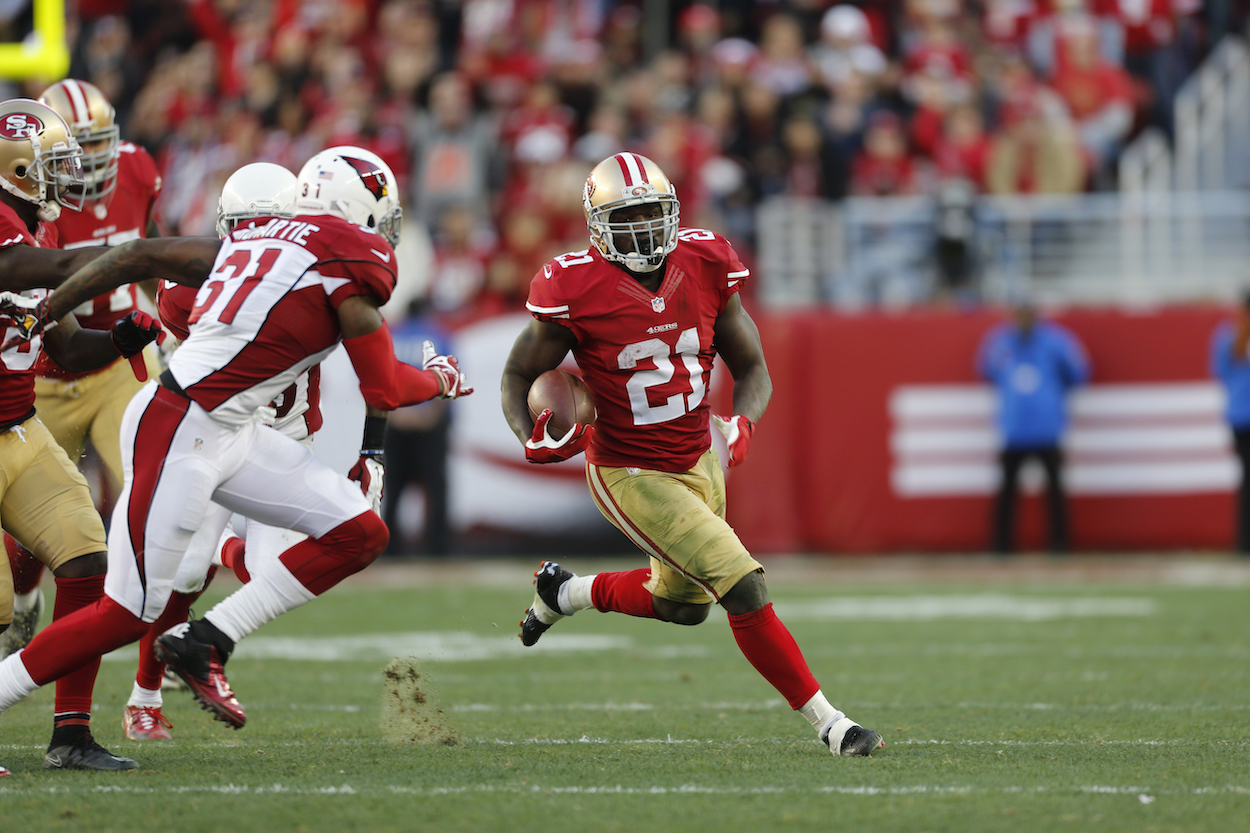 At first glance, the idea of San Fran turning to Gore in the year 2021 to save their running back room sounds rather foolish. However, upon a second look, it's really not the worst of ideas.
Gore is presumably still in good running shape considering his productive season with the Jets last year, and he's obviously pretty familiar with the 49ers and surrounding San Francisco area. Having to turn to Gore isn't ideal, but he could definitely help a hurting 49ers running back room.
It's also worth mentioning that Gore would likely be willing to latch on as a practice squad member. This allows the 49ers to add him without opening up a roster spot on the 53-man. The Niners could still elevate Gore on game days due to the recently implemented practice squad rules.
Gore publicly stated his desire to return to the 49ers this past offseason (Niners Wire) — the interest on his end is definitely there.
There's no immediate, concrete news regarding a Gore/49ers reunion. However, it's something worth keeping an eye on. If the Niners lose another RB this season, they may have no choice but to go begging Gore to come back home.
All stats courtesy of Pro Football Reference.
RELATED: The San Francisco 49ers Are Quietly Considering Adding a Top Free Agent Who Would Completely Transform 1 Aspect of Their Roster
Related post url: