Saquon Barkley Gives Giants HC Joe Judge a Ringing Vote of Confidence After Confusing Rant
The New York Giants have endured many issues ever since Joe Judge has become the head coach. Now, not all of the blame can be placed on him.
However, he hasn't done himself any favors, and he continues to dig himself an even deeper hole. The Giants fired Jason Garrett as offensive coordinator only to continue to struggle. Daniel Jones looks like a draft bust, and Saquon Barkley needs a solid offensive line to run behind, not to mention the massive overpay of Kenny Golladay.
With all of that, Judge is one name commonly discussed among coaches potentially being fired after the season.
With so many questions about his future, Barkley went out of his way to give Judge a massive endorsement just before the season's conclusion — and after Judge delivered a confusing, fiery rant.

Joe Judge delivered a rant after an ugly Giants loss to the Bears
Following an ugly 29-3 loss against the Chicago Bears, Judge delivered quite the rant and has come with a ton of controversy. Over 10 minutes of speaking from Judge, and so many things to question in it. Here's the whole thing, courtesy of Zack Rosenblatt of NJ.com, if you want to look.
There is just so much to unpack, but Judge certainly didn't look too good while delivering this statement, and he insisted that the Giants aren't a "clown show organization" (h/t Dan Benton of Giants Wire).
"So this ain't a team that's having fistfights on the sidelines. This ain't some clown show organization or something else. You talk about the foundation built, you talk about the things that — the toughest thing to change in a team, the toughest thing to change in a club is the way people think. You understand that? That's the toughest thing. You can get new players, you can't get out of your damn locker room all you want, you got to change how people thinking."

Joe Judge
Judge is all about avoiding distractions. Well, he walked right into a massive one with his name already swirling as Black Monday approaches in the NFL.
Nonetheless, Barkley and other Giants players offered support for Judge.
Saquon Barkley offered support for Joe Judge after a questionable rant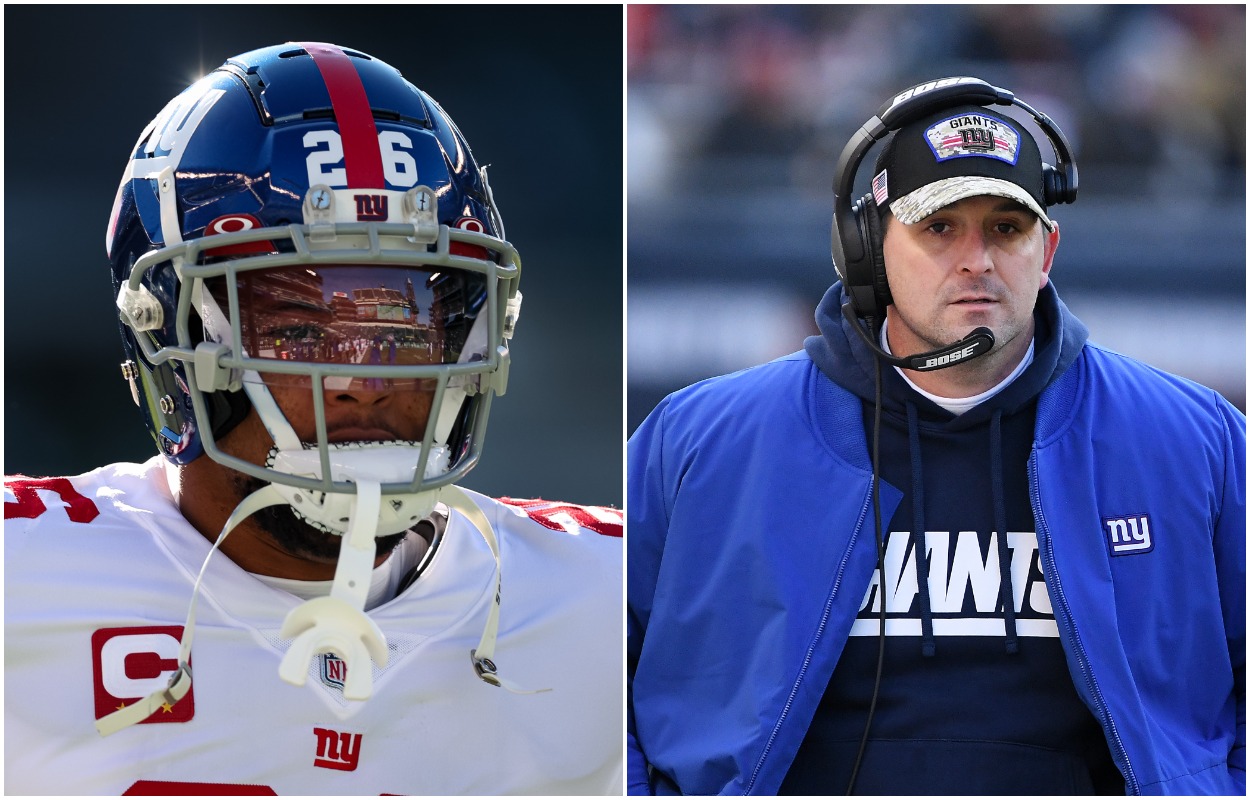 While Judge has been the talk of the town this season, Barkley and others quickly went to defend him. Now, keep in mind they still have a game to play, so bad-mouthing the head coach wouldn't go over too well.
Nonetheless, here's what Barkley had to say about his head coach.
Getting an endorsement from a player of Barkley's caliber is huge for Judge, especially with so many questions swirling about his future. The Giants haven't looked good all year, but Barkley insists that they are in the "right direction."
The Giants star running back wasn't the only member of the team to defend Judge as defensive coordinator Patrick Graham rushed to back up his boss (h/t Zack Rosenblatt).
"I'm here because of Joe. I trust in Joe's vision."

Patrick Graham on Joe Judge
Well, that's undoubtedly a good sign for Judge and his future with the team.
On the other hand, backup running back Devontae Booker had some interesting comments that might make you think he doesn't think too highly of his head coach.
So many things to figure out regarding Judge, and there is a chance he doesn't make it to the 2022 season.
What will the Giants decide to do with Joe Judge?
Recently, a report came out that the Giants were committed to Judge as the head coach in the 2022 season.
Since then, they have managed to look even worse. Sure, Jones is dealing with an injury, but this team was a dumpster fire, even with the former first-round choice.
Does Judge get the boot?
Does Jones get sent to the bench for another quarterback in 2022?
There are many more questions than answers for the Giants, and clarity should reveal itself as the season concludes.