Saquon Barkley Is Forcing the New York Giants to Reluctantly Accept a Harsh Reality
The New York Giants likely envisioned their own Barry Sanders when the franchise selected Penn State running back Saquon Barkley second overall in the 2018 NFL Draft. 
If that's what the Giants imagined, then the franchise still happily resided in 1989. Conventional wisdom and modern trends didn't scare the organization away from using such a high pick on a running back. However, the time is quickly approaching when one of the NFL's oldest franchises might soon feel a growing pit in its stomach over its fourth-year running back. 
The Giants are progressing cautiously in Saquon Barkley's return from a knee injury
You'll be forgiven for forgetting that, yes, Barkley played last year. The dynamic running back totaled 34 yards on 19 carries, an ugly 1.8 yards per attempt, before tearing his ACL in a Week 2 loss to the Chicago Bears.
Nearly a year later, Barkley is still making his way back. He returned to practice in mid-August and recently began participating in seven-on-seven and 11-on-11 drills.
According to the Giants' official website, Barkley said he is champing at the bit to play again. The Giants kept the 24-year-old running back out of any preseason action.
"I definitely want to get hit again. To me, it's not just the hitting; it's just playing football. Even though I only took two reps and a couple of reps in seven-on-seven, those reps are so valuable right now and going to help me in the long run."

Saquon Barkley
As of publication, the Giants had not announced if Barkley would play against the Denver Broncos in Week 1.
The Giants may need to soon accept they shouldn't have drafted Barkley so high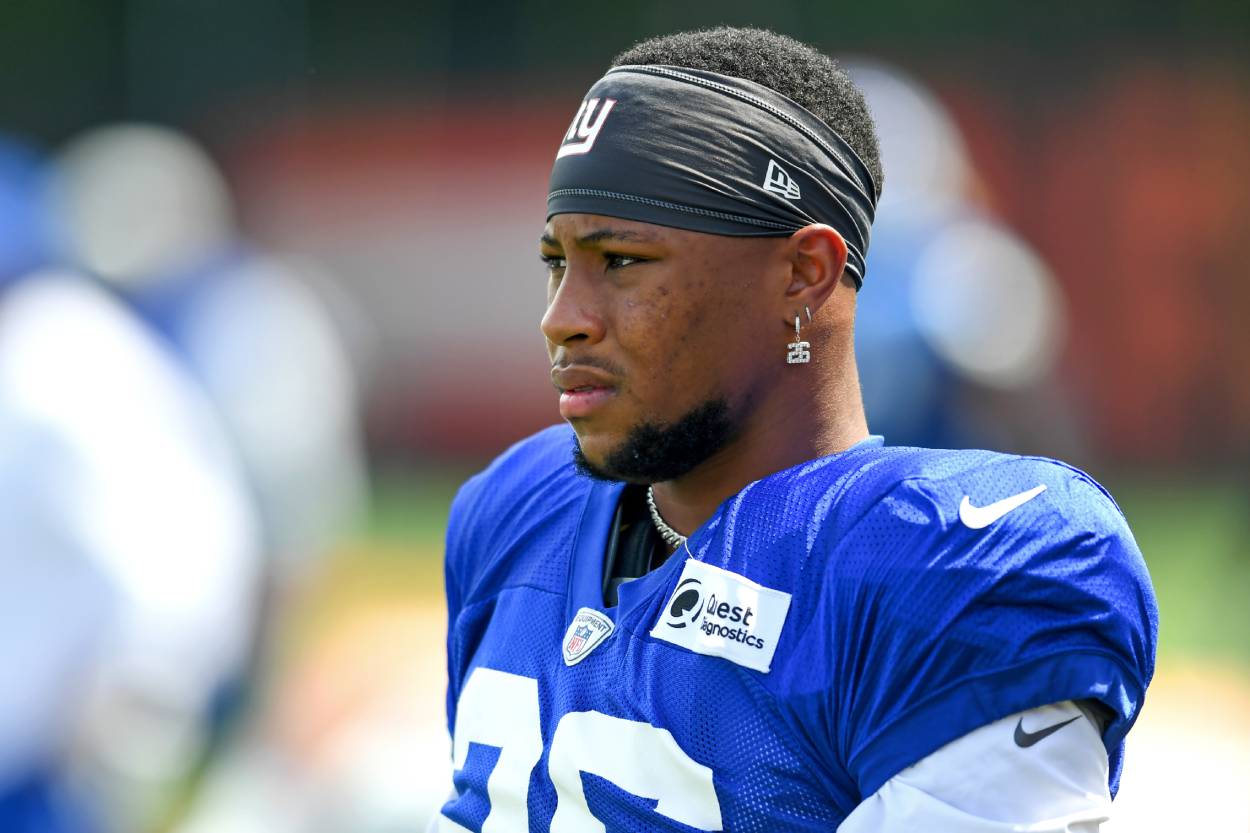 Barkley immediately did his best to silence his critics in 2018, earning Offensive Rookie of the Year honors and running for 1,307 yards and 11 touchdowns in 16 starts. He also turned 91 receptions into 721 yards and four touchdowns.
However, those doubters were never going to go away so quickly. The once-common sight of running backs going early in the NFL draft is now on vacation with the dodo. Teams realized in the 2010s that it made far more logistical and financial sense to select a potential game-changing running back in the second or third round instead of within the first 20 picks.
Think about the best active running backs in the NFL right now. New Orleans Saints standout Alvin Kamara was a third-round pick in 2017. The Green Bay Packers selected Aaron Jones two rounds later that year. Tennessee Titans star Derrick Henry, who joined the 2,000-yard rushing club last year, was a second-round pick in 2016.
All arrived on cheap four-year contracts and eventually signed extensions. Depending on what happens with Barkley, the Giants may not even re-sign him following the 2022 season. He missed time in 2019 with an ankle injury and had an embarrassing start to the 2020 season before he tore his ACL.
Although Barkley dazzled in his rookie year, the Giants need to soon consider the possibility they made the wrong move. Instead of going for the sexy pick, the franchise could have drafted Notre Dame guard Quenton Nelson, who went four picks later and has become an All-Pro force for the Indianapolis Colts. Which would you rather have? A running back coming off a knee injury or a three-time first-team All-Pro guard?
Barkley still has plenty of time to prove his critics wrong
Look, Barkley is still only 24 years old. He'll play the entire 2021 season at that age unless the Giants somehow find themselves representing the NFC in Super Bowl 56.
His age and experience as an explosive weapon should give Giants fans some level of optimism, but we'll let others determine if those feelings are naive or not. If he runs for 1,100 yards and averages 4.5 yards per attempt this season, the selection won't look as bad as we're making it out to be.
The key, though, is victories. History looks back fondly on the Sanders selection in spite of the Detroit Lions' lack of success because of the All-Pro running back's dominance and the NFL's trends at that time. Running backs went early and carried the ball over 300 times per season.
People will always criticize the selection unless Barkley lands in the Pro Football Hall of Fame or becomes a great running back who helps the Giants reach the postseason each year. The pressure is on the Penn State product to start working on proving his critics wrong.
Like Sportscasting on Facebook. Follow us on Twitter @sportscasting19.