Saquon Barkley Learns From His Dad, a Former Boxer and Rikers Island Inmate
Saquon Barkley struggled with injuries last season, but other than a few hiccups, he's had a stellar NFL career so far. The 2018 first-round draft pick is a lone bright spot on a terrible Giants team. Barkley has played so well he reminds fans of his childhood idol, a running back who was one of the best to ever play the game. 
What led Barkley on his path to greatness? There's no question his family, including his father, played a big role. Despite having a rough go at times himself, Barkley's dad served as a role model for his successful son. 
Saquon Barkley's family
The Morning Call wrote an article on Barkley and his family. The piece referred to his father, Alibay Barkley, as his "biggest fan." Saquon's other biggest fan is his mother, Tonya Johnson. Both watched his games growing up as he moved through high school and college football. They initially lived in the Bronx, where they were originally from. 
Alibay had a tough life but persevered. He got into trouble with drugs and crime, ending up in prison at a young age. When he got out, he returned to drugs before getting himself into rehab. At one point, Johnson urged the family to move from the Bronx to Bethlehem, Pennsylvania. Alibay went with them and he cited that move as one that may have saved his life.
The lessons Barkley's father taught him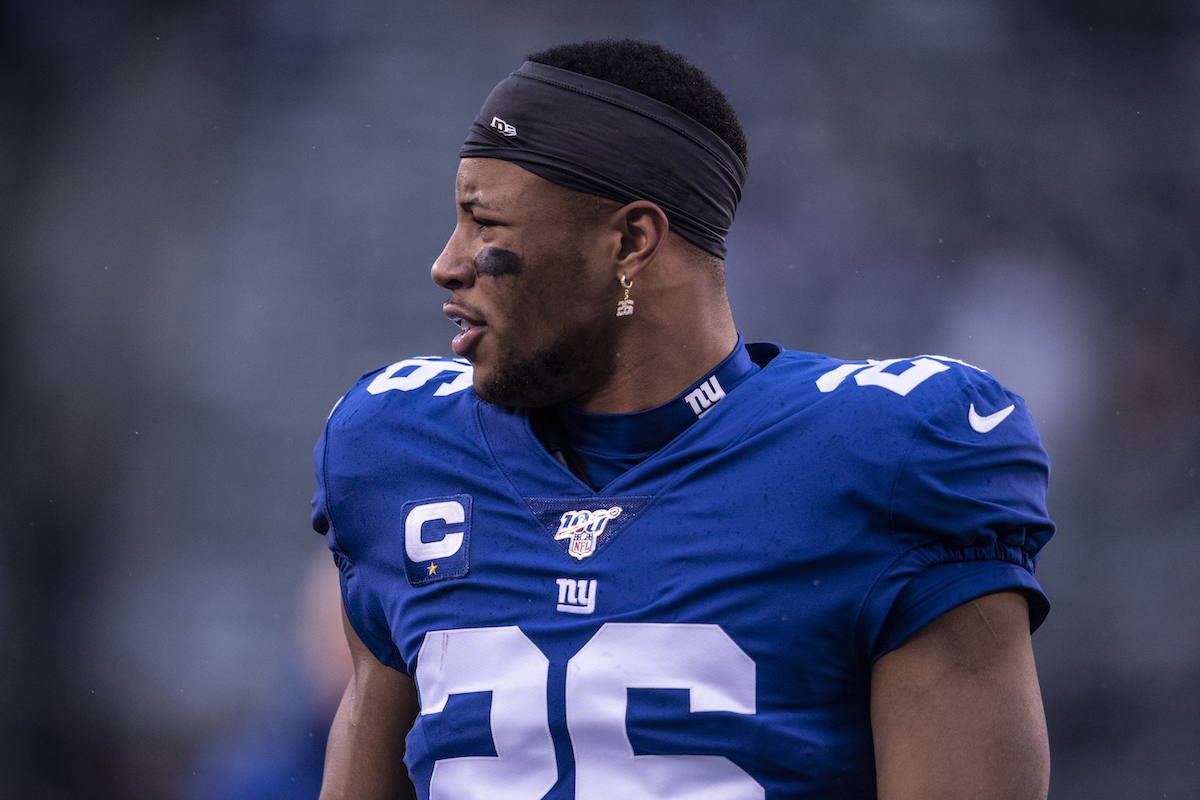 Alibay also turned to boxing after getting out of prison. Unfortunately, he battled injury and quit at a rather young age. Although he did attempt a short-lived comeback when he reached his thirties. According to Alibay, he used this experience in teaching his kids a valuable lesson later on: 
"I know what I did; I gave up when I was 21 … That's why I tell my kids, don't quit. If you quit this, it will be easy to quit jobs, quit relationships, quit on your kids. That's probably why Saquon is so adamant when he gets hurt about still being in there."
He's right about Saquon not wanting to miss the action. He also learned from his dad's mistakes. Alibay turned his life around for his family. He gave his son an example of what not to be: "I love my family … My dad, he's my biggest fan, him and my brother [Rashard]. My dad has been through a lot. He made that a big point when I was young: Don't make the same mistakes he did in life."
Where is Saquon Barkley's family now? 
It's hard to say Saquon's family has had a happy ending since their story is still being told, but they're in a good place. Alibay and Johnson have raised a great young man who's one of the most talented playmakers in the NFL. To thank his parents, Saquon bought them a house after being drafted.
According to PennLive, Saquon says it was a payoff after years of hard work: "Finally be able to achieve that goal is the most amazing feeling. Every kid out there that has a dream continue to keep your head down and work your butt off, great things will come along the way."
The Barkleys may not be done at the next level, either. Saquon's brother, Ali, is a promising prep star according to Fanbuzz. With a family foundation as strong as the Barkleys seemingly have, it's no wonder they may have another potential star on their hands.