Saquon Barkley's Net Worth: How Much Is the Young Running Back Currently Worth?
The New York Giants are sitting at the bottom of the NFC East this season. Many NFL players have come and gone over the years, taking the hopes of resurrecting the struggling team with them. When Saquon Barkley joined the Giants in 2018, fans hoped the running back would restore the team to its former glory. But after a game-ending injury, Barkley spent most of last season watching from the sidelines.
The humble RB signed a significant contract with the Giants, so what is Saquon Barkley's net worth?
Getting back in the game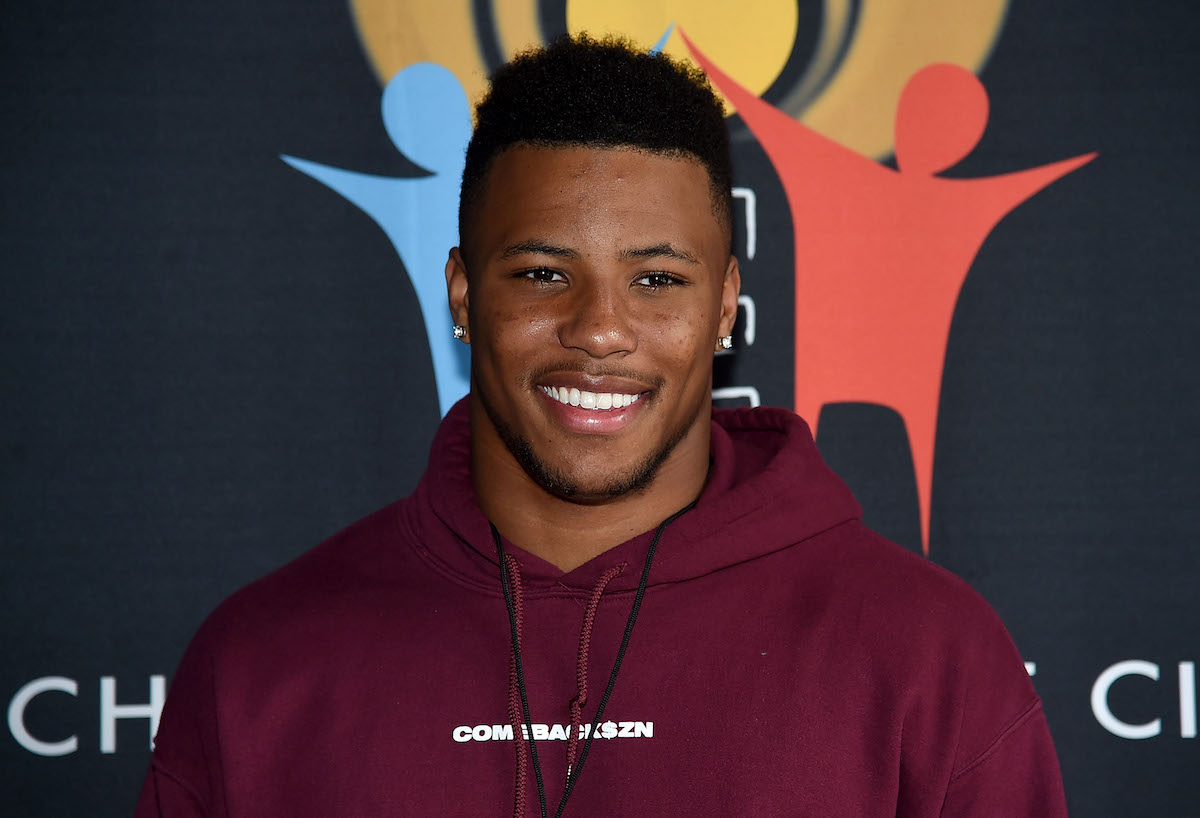 Barkley played at Penn State from 2015 to 2017. In his rookie season, he was named the Big Ten Offensive Player of the Year. According to ESPN, Barkley holds the school's record for 43 career rushing touchdowns. As a Nittany Lion, he achieved 3,843 running yards and 1,195 receiving yards.
The New York Giants selected Barkley as the second overall pick in the 2018 NFL Draft. He enjoyed a phenomenal first season, earning Offensive Rookie of the Year. Pro Football Reference reports Barkley had 261 rushing attempts for 1,307 yards in 2018, scoring 15 touchdowns. That year, he also played in his first Pro Bowl.
Since then, the 24-year-old running back has had a hard time staying healthy. Barkley sat out most of the 2020 season because of a torn right ACL. He returned in 2021, ready to play, but got sidelined once again. In the Giants' Week 5 matchup against the Dallas Cowboys, Barkley had to be carted off the field after "sustaining what looked like a fairly serious ankle injury," Sporting News reported.
According to The Washington Post, Barkley "could be leaving the ranks of elite running backs." The Post explained that since his "brilliant rookie season," he has played 20 games out of 37. The Penn State alum is "averaging 3.6 yards per carry," a mediocre performance compared to other running backs in the league. Wayne Gallman, who replaced Barkley last season, was averaging 4.6 yards.
The Giants are hopeful that Barkley can play in Week 7, but that depends on how quickly he heals.
What is Saquon Barkley's net worth?
Barkley signed a four-year contract with the Giants in 2018. The deal was worth $31.2 million and included a $20.76 million bonus. Saquon Barkley's net worth is an estimated $32 million, Wealthy Gorilla reports.
According to Spotrac, in 2021, the Giants picked up a fifth-year option on Barkley's current contract, with a $7.2 million salary cap. He becomes a free agent in 2023. To date, the running back has career earnings totaling $31,384,750.
Barkley decided early on not to touch the money he earns from playing professional football. Instead, he chooses to invest it and "live off the endorsement deals," ESPN reports.
Saquon Barkley wants to be paid in bitcoin for endorsement deals
According to CNBC, Barkley earns more than $10 million per year on endorsement deals. His biggest brand sponsors include Nike, Pepsi, and Toyota.
Barkley announced that "he plans to convert all of his income from marketing deals and endorsements to bitcoin." He appears determined to create "generational wealth" for his family and says he cannot do that on his NFL salary alone.
The young running back is not alone in his decision. Several other NFL players have also requested payment in bitcoin. Barkley is also friends with the creator of an app that manages bitcoin transactions. Meanwhile, the Giants have partnered with a cryptocurrency asset management firm.
The father of a 3-year-old daughter understands the volatility of a career in the NFL and how abruptly it can end. In an interview on The Best Business Show, Barkley said, "When you sit out of football for a whole year, you realize that this game could be taken away from you."
RELATED: Saquon Barkley Is Forcing the New York Giants to Reluctantly Accept a Harsh Reality