Saquon Barkley's Newest Teammates Consist of an NBA Superstar and a Famous ESPN Personality
Saquon Barkley has become a superstar with the New York Giants. He was a No. 2 overall pick in the NFL draft, and he won the 2018 Offensive Rookie of the Year. Now, though, Barkley is teaming up with a few other major sports stars, including a big-time NBA player and a famous ESPN personality.
Saquon Barkley's talents have helped him become a massive superstar. He was a No. 2 overall pick with the New York Giants, won the league's 2018 Offensive Rookie of the Year award, and also earned a Pro Bowl selection during that 2018 season. However, his stardom is now growing.
Barkley is teaming up with multiple big-time celebrities from the sports world, as the running back recently joined an investment group that includes NBA superstar Kawhi Leonard and ESPN reporter Adam Schefter.
Saquon Barkley has invested in X2 Performance
As Barkley looks to get back on the field for the Giants following an injury-shortened 2020 season, the superstar running back recently became a shareholder in X2 Performance.
According to USA Today's Giants Wire, X2 is an all-natural performance line with energy drinks and supplements.
"I have been a big believer in X2's line of clean products for a long time because it gives me sustained energy and there is no crash or jitters, like many other products," Barkley said, per Giants Wire. "I am very selective of brands I endorse and even more selective of companies I choose to invest in. X2 checks all the boxes for me; amazing product, filling a void in the marketplace, and a stellar leadership team."
Barkley isn't the only superstar investing in the performance line, though.
He joined the likes of Kawhi Leonard and Adam Schefter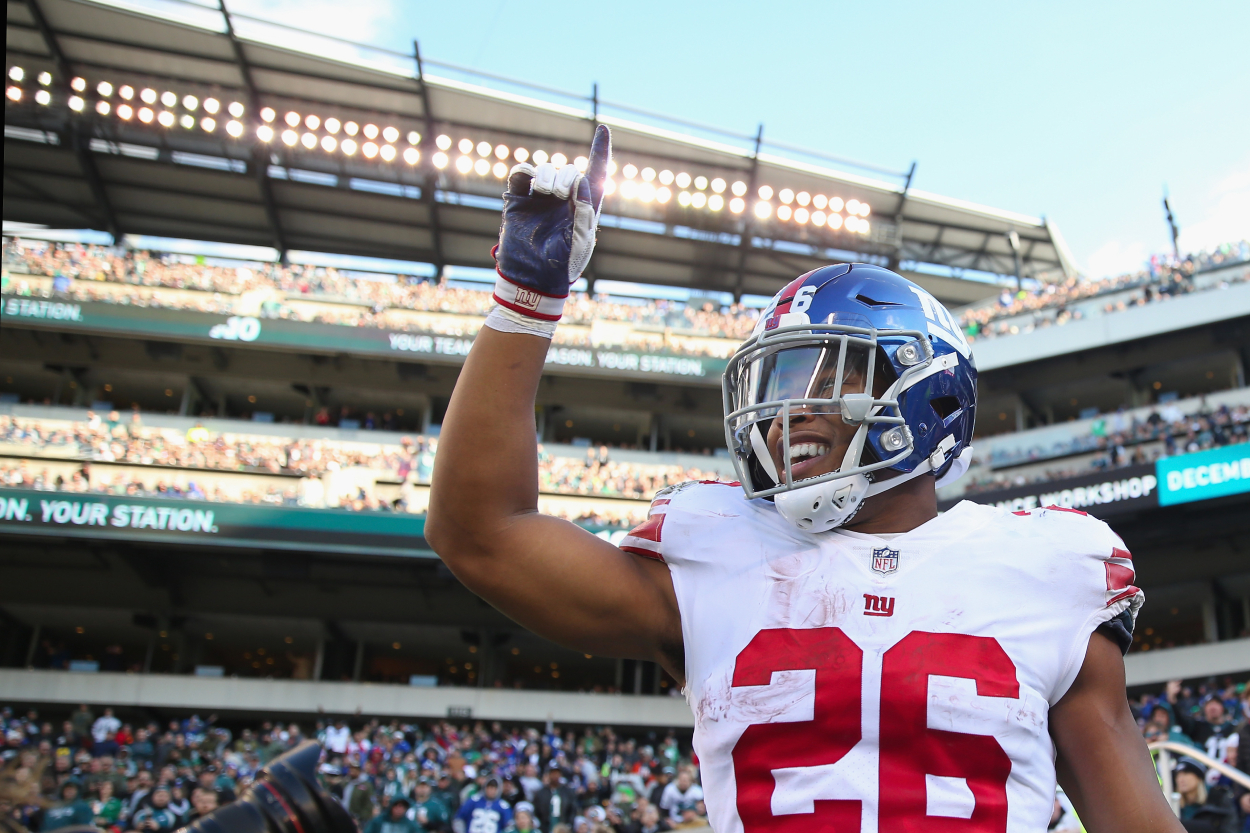 The other sports stars investing in X2 include Los Angeles Clippers forward Kawhi Leonard and Tampa Bay Buccaneers linebacker Lavonte David. ESPN's Adam Schefter is also an investor.
"To be able to align yourself with the likes of those guys, who are very special players and who have done a lot of great things on and off the field and the court, that's also an important thing for me too, to be able to align myself with those players and just know that this thing's gonna be special; and this thing's gonna really help change the world," Barkley said on the July 8 episode of The Rich Eisen Show.
Barkley said he hasn't been in contact with Leonard since investing, but he thinks they'll talk soon.
According to Giants Wire, Barkley's investment is included in the company's $16 million Series D raise, so if everything ends up working out, this could help Barkley only grow his total career earnings.
Saquon Barkley has made millions in the NFL with the Giants
Barkley is still on his rookie contract with the Giants, but given the fact that he was a No. 2 overall pick, he has made boatloads of money so far throughout his NFL career.
According to Spotrac, Barkley is on a four-year, $31.19 million deal with the Giants. His contract also includes a fifth-year option. After making an estimated $26.55 million in his first three years, Barkley saw his fifth-year option exercised by the Giants for 2022. He will make an estimated $4.8 million in 2021 and $7.2 million in 2022.
With Barkley playing in the New York market, though, he has also made plenty of money off the field. Forbes reported in 2019 that Barkley made an estimated $4.5 million annually in endorsements, and had sponsorships with Bose, Dunkin' Donuts, Pepsi, Nike, and Visa.
Barkley only played in two games in 2020 due to a torn ACL. So, while he led the NFL in yards from scrimmage during his rookie season with 2,028, and ran for over 1,000 yards in 13 games in 2019, Barkley's NFL future is unclear. Some may now wonder whether he can make it all the way back to where he was pre-injury.
Whether he can or not, though, Barkley's endorsements and business endeavors will help set him up for life once he's done with football. Barkley appears to be a wealthy man, and that wealth will most likely keep growing.
Stats courtesy of Pro Football Reference