Saquon Barkley's Generous Move in High School Confirms His 'Humble' Character
Talk to anyone who knew Saquon Barkley before he was a star and you'll hear the same story: He's unassuming, gracious, and humble. Barkley may be one of the NFL's most promising young talents. But his good-guy persona doesn't seem like an act he adopted when he got to the NFL. The running back has been this way for a long time. 
Let's look back at Barkley's origin story, and how one story from his high school days, in particular, showcases his great character. 
Saquon Barkley, an all-around good guy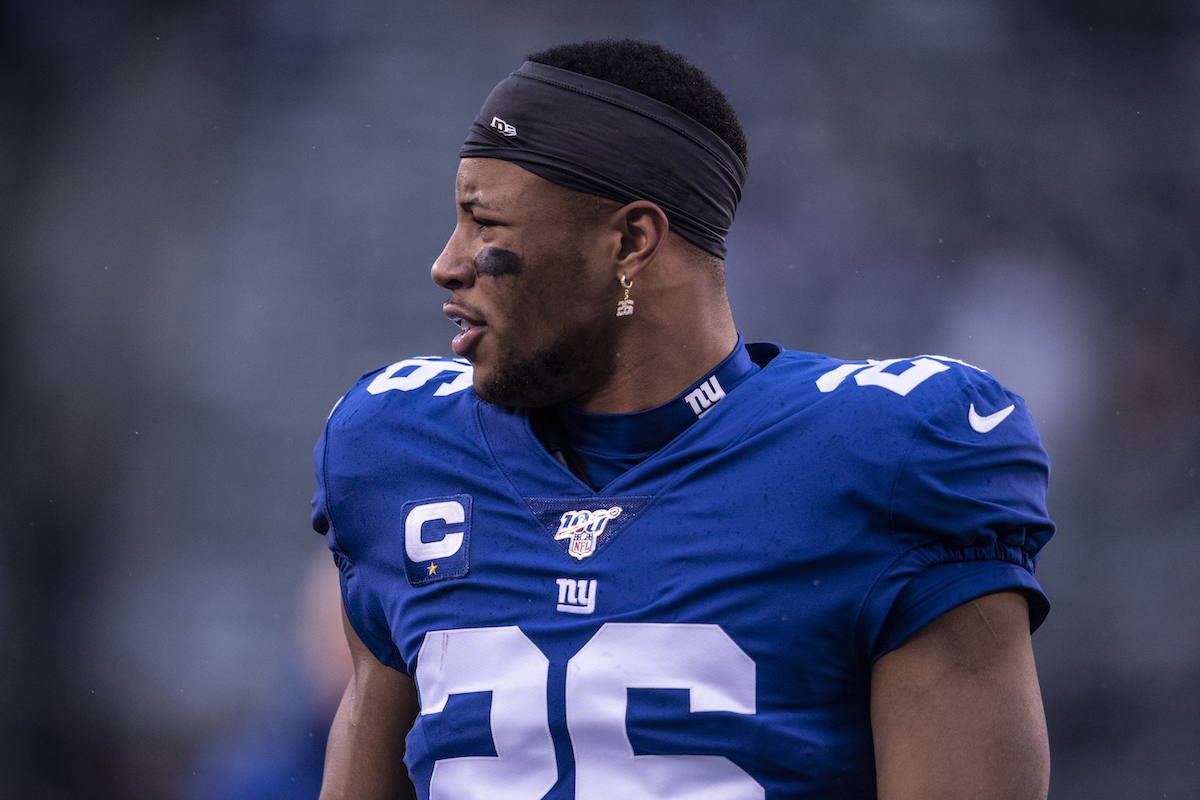 RELATED: Why Saquon Barkley Can Be an MVP Without Doing Anything Special
A great example of Barkley's humility was on display in an ESPN piece about how the star remained humble despite his meteoric rise through the ranks of the NFL. On an off-day during the 2018 NFL season, Barkley was filming a commercial. The plan was for Barkley to pop out of a car to surprise a Bronx-area youth football team. 
Some superstars might get annoyed at the interference with their schedules. Others might see it as an inconvenience. But what emotion was Barkley experiencing that day? Nervousness. 
Despite being the biggest rookie running back sensation to hit the NFL in years, Barkley was nervous the fans that day wouldn't recognize him: "You never know. That's embarrassing if nobody notices and is like, 'Who is this cat?'" They don't make them any humbler than that. 
Barkley's high-school football career
RELATED: Saquon Barkley Tried to Get a Second Job This Spring Before Pandemic Shutdown
Typically, pro athletes can excel in multiple sports as they rise through high school and college ranks. Look at a superior athlete like LeBron James, who lettered in basketball and football in high school. Barkley was no different. He starred at running back for Whitehall High School, but he also participated in basketball and track. 
According to Cleveland.com, Barkley was a freakish athlete on the basketball court as well, though his game did have one flaw. Whitehall's athletic director, Bob Hartman, recounted it years later: 
"He was the guy that rebounded and blocked shots and defended…and hopefully didn't go to the foul line because he was horrendous."
Barkley's athleticism helped him overcome his poor free-throw shooting, and he still contributed in a big way. He had one memorable track and field contribution that occurred after he won his race, however. 
The generous move that confirmed Saquon Barkley's humble character
According to The Morning Call, in 2015, Barkley crossed paths with Pennsylvania high school hurdler Rachel Panek in a way that touched her forever. Panek won her race (the girls' 100-meter hurdle) but because of a clock error, she had to race again. In the second race, she finished eighth.
Barkley and Panek met after the first race when Panek held Barkley's starting block in the boys' 100-meter race. Barkley, who was only competing in track and field to stay in shape for football, came in first place. He'd take home the event's gold medal. Following his race, Barkley found Panek and did something surprising. Panek recounted the story following the race: 
"It was about two hours after my race…and one of my friends came over and pulled me into the group of friends [Barkley] was with. He said to me, 'You held my blocks. I saw your race and you should've won. You deserve this.' He literally handed me his gold medal. I was kind of in shock. I hugged him, we took a couple pictures. I have the medal."
If that doesn't prove what a good person Barkley is, nothing will. The small gesture certainly meant a lot to Panek. It was further evidence of Barkley's sportsmanship and grace.