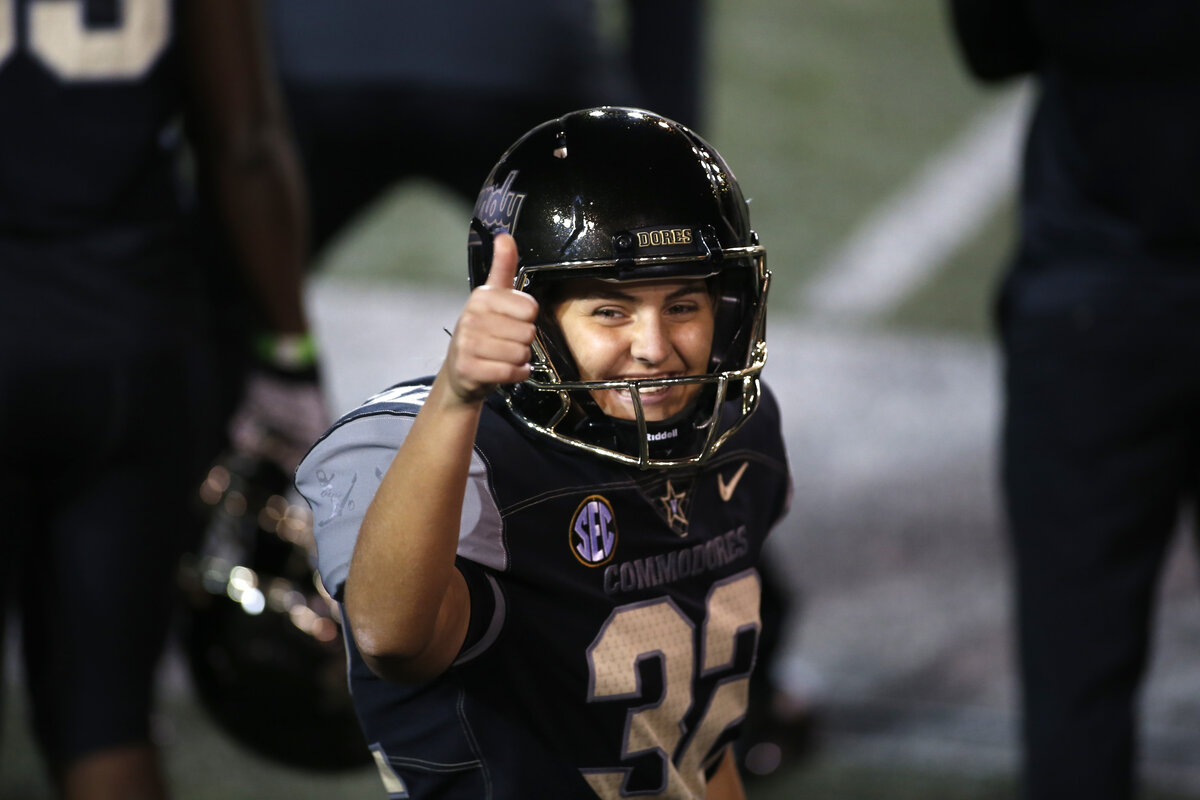 Sarah Fuller's Next School Just Gave Her Football Career a Promising Endorsement
Vanderbilt soccer player Sarah Fuller made history as an emergency football kicker. Fuller's next school, North Texas, is open to her also playing football there.
When all is said and done about 2020, Vanderbilt soccer player Sarah Fuller can look back at this year in pure wonder and pride.
Fuller made college football history earlier this year when she suited up for the Commodores' football team. A goalkeeper for the women's soccer team, Fuller had a successful squib kick and drilled two extra points.
Fuller's time at Vanderbilt is rapidly approaching its ending. However, Fuller's new school is open to the possibility of her playing football there.
Sarah Fuller made history at Vanderbilt this year
The COVID-19 pandemic had a tremendous impact on college football, and the amount of players that teams could field any given week.
Some schools have had better COVID success than others. Injuries and contact tracing decimated Vanderbilt's special teams unit earlier this year, and the Commodores needed extra bodies.
Enter Sarah Fuller, an SEC champion goalkeeper on the women's soccer teams. Fuller tried out at kicker for the Commodores' football team in November, and head coach Derek Mason added her to the roster.
Fuller had a successful squib kick to open the second half of a 41-0 loss to Missouri. Vanderbilt fired Mason the next day for performance reasons, not because he played a female kicker.
Two weeks later, Fuller kicked two extra points in a 42-17 loss to Georgia.
Fuller is transferring from Vanderbilt next year
Sarah Fuller isn't long for Vanderbilt, although that is not a bad thing.
Fuller majored in medicine, health, and society at Vanderbilt. Next year, she will transfer to the University of North Texas and attempt to obtain her master's in hospital administration.
Fuller will play goalkeeper for the Mean Green women's soccer team, which plays in Conference USA.
North Texas has won three straight C-USA women's soccer titles. Conference USA pushed its soccer seasons, both men's and women's, to the spring of 2021.
North Texas is open to Sarah Fuller kicking on the football team
Sarah Fuller will arrive at North Texas as a graduate student, one hoping to help the soccer team and earn her degree.
However, if the opportunity arises for her to put the football pads on again, Fuller is ready. Fuller told Yahoo Sports that she is open to kicking for the North Texas football team if they need her to play next season.
In a seperate interview with Yahoo Sports, North Texas athletic director Wren Baker addressed the possibilty of Fuller suiting up for the Mean Green football team.
"We've watched with admiration and great respect how Sarah has handled herself in making history at Vanderbilt. We look forward to welcoming her to the Mean Green family and helping her extend her platform. I know she's a role model for lots of people in the country, particularly young female athletes."
The North Texas football team went 4-5 in the 2020 regular season. North Texas plays Appalachian State (8-3) in the Myrtle Beach Bowl on Monday, December 21.
North Texas is a combined 8-13 in football the last two years.
Like Sportscasting on Facebook. Follow us on Twitter @sportscasting19.